CHANDLER, Ariz — (BUSINESS WIRE) — The Arizona Bioindustry Association (AZBio) today announced that NeoLight has won a 2018 AZBio Fast Lane Award in recognition of its success in moving from its initial development stage into commercialization and for its commitment to develop innovative products that can help more babies thrive. The NeoLight team will be honored by Arizona's bioscience and business communities at the 2018 AZBio Awards on October 3, 2018 at the Phoenix Convention Center.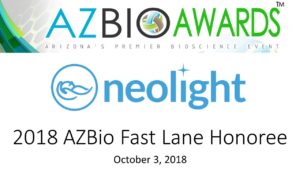 Helping Babies Thrive
According to the World Health Organization, six out of 10 infants, and eight out of 10 pre-term infants, develop jaundice by default.
If not addressed, neonatal jaundice can affect some of the baby's brain cells. This may cause the baby to be less active. In rare cases, a baby may develop seizures (convulsions). The effects of this kind of jaundice may also lead to deafness, cerebral palsy and/or other developmental disorders.
NeoLight is an Arizona based medical device company that develops empathy-driven and best-in-class technologies for the newborn care market. The company started off with care solutions for jaundice and is currently working on developing therapeutic and diagnostic solutions for the condition.
What started off as an Arizona State University spin-out, with $7,000 in funding from the university after winning their Edson student entrepreneurship competition in 2014, has been steadily gaining momentum.
"Putting babies first is at the heart of our mission as a company," shared NeoLight co-founder and CEO Vivek Kopparthi. "It's a promise we make to every parent of an infant in need. Our approach always starts with one question – what is best for the baby? This question drives everything we do."
NeoLight has raised over $4.5M from strategic healthcare investors including Dignity Health, Honor Health, Cook's Children's, Steve Case, Ben Roethlisberger and likes.
The company has also been successful in innovation competitions including taking first prize in the Rise of the West competition (2016), and the Flinn Foundation's Bioscience Entrepreneurship Program. NeoLight has received recognition as one of Inc Magazine's Top 5 promising healthcare startups in the US and the Kairos Society's Top 50 most innovative companies across the world.
In October of 2017, NeoLight received FDA clearance for its Skylife phototherapy system – a novel innovation that can treat Jaundice in infants with 4x more spectral power while not causing any side-effects. The technology is also cleared by the FDA for at-home treatment thereby enabling Jaundice treatment by the comfort of home instead of the baby being away from the mom at a NICU in a hospital setting.
Over the past 18 months, the team size more than tripled. To make room for its current and planned growth, the company graduated from the CEI accelerator in Phoenix and now makes its home in a commercial suite at SkySong, the ASU Scottsdale Innovation Center.
For its success in moving from its initial development stage into commercialization and for its commitment to develop innovative products that can help more babies thrive, NeoLight is being honored with the 2018 AZBio Fast Lane Award.
The AZBio Fast Lane is awarded on a competitive basis to the select few companies that have achieved outstanding milestones in the past 18 months. Significant progress can be measured by clinical results, regulatory approvals, certifications, collaborations, funding awards, product launches, job growth or product sales milestones.
A key component of Arizona Bioscience Week, The AZBio Awards & Life Science Fiesta brings together Arizona's life science and leadership community with visitors from around the country to celebrate life-science innovation and innovators. The AZBio Awards takes place on the evening of October 3, 2018 at the Phoenix Convention Center. Highlights of the evening will include honoring Dr. Daniel D. Von Hoff with the AZBio Pioneer Award for Lifetime Achievement and a celebration of the achievements of leading researchers, educators, and innovator companies. The Life Science Fiesta following the award ceremony features a Student Discovery Zone that showcases the work of fifty students from Arizona high schools, community colleges, and universities along with exhibits featuring Arizona companies and patient advocacy organizations. The AZBio Awards & Life Science Fiesta are presented by AZBio and the Arizona Commerce Authority.
The following day, the White Hat Life Science Investor Conference (White Hat 2018) brings together the next generation of biotech and healthcare pioneers from across the Rocky Mountain & Southwest Region with investors locally, nationally, and internationally. Held at the Phoenix Convention Center on October 4, 2018, White Hat 2018 is a collaboration between the bioscience industry associations across the region. The conference showcases investment opportunities for investment into privately-held companies in the areas of diagnostics, therapeutics, medical devices, and health information technology. Thirty-two companies have been competitively selected by a committee of experienced life science investors to present at White Hat 2018. Companies that presented at White Hat in 2014 and 2016 have gone on to receive almost $200 million in investment from private investors and corporate investors.
For more information on Arizona Bioscience Week, visit www.AZBio.org/AZBW2018.
For more information on the 2018 AZBio Awards, visit www.AZBioAwards.com
For more information about White Hat 2018, visit www.WhiteHatInvestors.com.
About AZBio
For 15 years, the Arizona Bioindustry Association (AZBio) has supported life science innovation and life science innovators in Arizona. A key component in Arizona's life science ecosystem, AZBio is the only statewide organization exclusively focused on Arizona's bioscience industry. AZBio membership includes patient advocacy organizations, life science innovators, educators, healthcare partners and leading business organizations. AZBio is the statewide affiliate of the Biotechnology Innovation Organization (BIO) and works in partnership with AdvaMed, MDMA, and PhRMA to advance innovation and to ensure that the value delivered from life-changing and life-saving innovation benefits people in Arizona and around the world.
For more information visit www.AZBio.org and www.AZBio.TV
---
AZBio Media Contact:
Joan Koerber-Walker, Arizona Bioindustry Association
jkw@azbio.org 480-332-9636
Images available upon request.