Hamed Abbaszadegan, MD, MBA, will lead the Clinical Informatics Fellowship with Plans to Revolutionize Health Care Through Information Technology
The new director of the Clinical Informatics Fellowship at the University of Arizona College of Medicine – Phoenix has plans to revolutionize health care. As director of the fellowship program, Hamed Abbaszadegan, MD, MBA, will train fellows with the goal to improve quality and safety by integrating data and technology into medicine.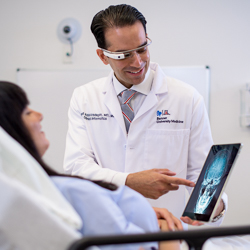 "Go big is my ultimate goal," Dr. Abbaszadegan said. "Health care needs a bigger revolution. In order to optimize health care outcomes, it's essential to use data and to get health information technology tools integrated into how we practice medicine."
Dr. Abbaszadegan is a board-certified physician in internal medicine and clinical informatics. He began his new role as program director for the Informatics Fellowship on Sept. 1, 2017. In his role with the fellowship-training program, he is responsible for core informatics training and program development at multiple health care systems.
"I became involved with informatics after my residency at Banner – University Medical Center," Dr. Abbaszadegan said. "I did a year of chief residency in quality and patient safety. This allowed me to see that a lot of the work I was doing involved people, process and the platform — platform being the electronic health record system. A lot of the initiatives I worked on in safety and quality were related to data use and how we can improve outcomes with appropriate information."
After his chief residency, Dr. Abbaszadegan took a position at the Phoenix VA Health Care System in 2013 as chief health informatics officer. Dr. Abbaszadegan will continue his role at the Phoenix VA while leading the clinical informatics fellows. As a chief health informatics officer, he is responsible for the initiation and development of clinical analytics, clinical applications and the enhancement of the online patient web portal system.
With focus on informatics and patient safety initiatives, Dr. Abbaszadegan's research directly involves development of big data applications for front-line clinical care. Through his position with the VA, Dr. Abbaszadegan has helped train the clinical informatics fellows since the inception of the program. He has worked with the fellows to create innovative analytics approaches to enhance intelligent mobile health care use and has incoporated the involvement of fire departments in clinical care.
As program director, Dr. Abbaszadegan will continue his research on improving quality and patient safety, the use of big data analytics for health care delivery redesign, population health segmentation and management, predictive clinical modeling, prescriptive clinical modeling and redesign of health care information technology platforms.
"I learned a lot from Howard Silverman's mentorship over the last couple years," he said. "I have a lot to thank him for as the founding program director. Ultimately, my goal is to continue the excellence that Dr. Silverman has started."
The Clinical Informatics Program was the fifth accredited fellowship in the country to become ACGME-certified. This year, the College graduated its first class of fellows, who subsequently received executive informatics positions in Arizona.
Dr. Abbaszadegan recommends physicians join the field because they will be able to help patients on a large scale by being on the frontline of designing tools and using what they know from medical school and residency to improve processes that will lead to outcome improvements.
"Whether it be prediction or changing processes, the time is now to revolutionize how health, health care, the digital world and data all come together and improve the health of mankind," Dr. Abbaszadegan said. "The fact that we now have physicians in this field and that the University of Arizona was a pioneer in this, it is really exciting, and I'm thrilled to be a part of this and to expand the University's role in the world of clinical informatics."
The Clinical Informatics Fellowship is a new subspecialty designed to prepare fellows for a career in Clinical Informatics — whether as a physician informaticist, associate or chief medical information officer, through a job with industry vendors or with a technology or insurance company. The ACGME-accredited program at the College began in July 2015 and has a total of four fellows, two per year.
The program is currently accepting applications for its July 2018 fellows.
Media Contact:
Teresa Joseph(link sends e-mail)
Phone: 602-827-2657