The Arizona Bioindustry Association will honor NuvOx Pharma with an AZBio Fast Lane Award at the 2017 AZBio Awards.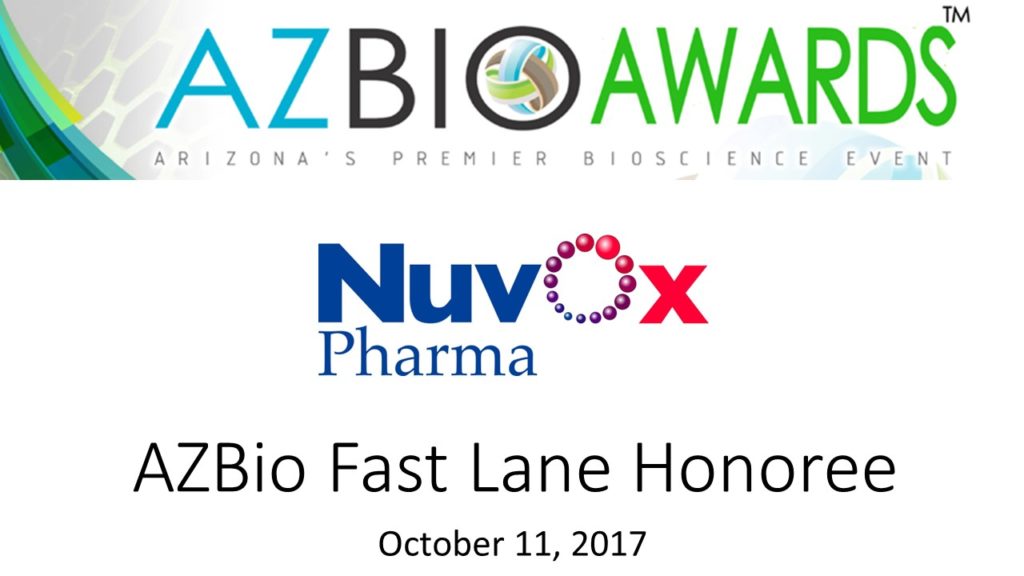 Arizona life science and business leaders as well as guests from across the country will be on hand to applaud the NuvOx Pharma team for their progress in developing new therapies for patients.
NuvOx Pharma is a biotechnology company based in Tucson, Arizona that is developing an innovative nanotechnology for oxygen delivery to treat life-threatening diseases where hypoxia plays a role. The company is ready to start a Phase II clinical trial brain cancer, is in a Phase Ib/II clinical trial in stroke, is Phase Ib ready in sickle cell crisis, and has animal studies in heart attack, hemorrhagic shock, and traumatic brain injury.
The company is led by Evan C. Unger, MD who serves as President & CEO. Dr. Unger has founded three biotech companies. His first company, ImaRx Pharmaceutical, developed 3 FDA approved drugs and was acquired by DuPont yielding a > 20x ROI. Dr. Unger's second company, ImaRx Therapeutics, went public and performed clinical trials using a pioneering new technology to treat stroke. Dr. Unger co-founded NuvOxand is an inventor on 115 issued US patents. He is a board-certified radiologist and has an appointment as a Professor of Radiology and Biomedical Engineering at the University of Arizona.
Teaching an old drug new tricks.
NuvOx's formulations are based on dodecafluoropentane emulsion (DDFPe). Upon intravenous administration, DDFPe travels through the bloodstream arriving first at the lungs to pick up oxygen and finally to hypoxic tissue where it passively delivers the oxygen. Animal studies have shown efficacy in several indications including cancer, stroke, sickle cell disease, hemorrhagic shock, traumatic brain injury, and heart attack. Compared to other oxygen delivery technologies studied previously, NuvOx's DDFPe is active at less than 1/200th the dose because it delivers oxygen so much more effectively. Lower doses often result in less side effects which is an additional benefit for patients.
DDFPe was originally developed as an imaging agent. It was tested in 2,200 patients and approved in Europe, but never marketed due to competitive pressures. NuvOx was formed to reposition the drug for its oxygen carrying capability, and the company has benefitted from the abundance of data from the original developers, saving millions of dollars in development costs. The FDA has allowed NuvOx to reference that data as they build a case for the drug in new indications. The company also has data from over 20 animal studies showing oxygen delivery and or therapeutic benefit in multiple indications.
The company is currently in clinical trials for brain cancer and stroke.
NuvOx completed enrollment in a Phase Ib/II clinical trial in brain cancer. The results of the trial showed safety, statistically significant evidence of tumor reoxygenation (the primary mechanism of action of the drug), and evidence of increased survival. The resulting data allowed NuvOx to file an Investigational New Drug (IND) Application for a Phase II clinical trial.
In April 2017, the FDA allowed the IND for a randomized, placebo controlled Phase II clinical trial in brain cancer. The trial will be led by Dr. Baldassarre Stea from the University of Arizona and will be performed at 4 different clinical sites, Banner – University Medical Center Tucson (AZ), Banner Gateway MD Anderson (AZ), Barrow Neurological Institute (AZ), and Miami Cancer Institute (FL). This is one of three IND's allowed in the last 18 months.
Another IND that the FDA allowed was for a randomized, placebo-controlled Phase Ib/II clinical trial in acute ischemic stroke. This was allowed in August 2016. In February 2017, NuvOx and the University of Arkansas collaborated to enroll the first patients in the Phase Ib/II clinical trial in stroke.
The FDA also allowed an IND for a Phase Ib clinical trial in sickle cell disease. NuvOx is on track to start the trial near the end of this summer in collaboration with the University of Pittsburgh.
The company also continues to develop its pre-clinical pipeline.
In January of 2017, the company signed a licensing agreement with a corporate partner, Jiangsu Nhwa Pharmaceutical Co. Ltd. Nhwa paid up-front fees, will pay for clinical trials for the drug for peri-operative blood loss and hemorrhagic shock and registration in China. NuvOx will receive milestone and royalty payments. NuvOx retains rights in the rest of the world for treatment of hemorrhage and right of reference to the Chinese data.
In March of 2017, NuvOx won a grant for $317,000 for a pre-clinical study in heart attack in collaboration with the University of Nebraska. Successful results of the study could allow the technology to move into clinical trials in heart attack.
"Drug development is a long and challenging process," stated Joan Koerber-Walker president & CEO of AZBio. "NuvOx has made tremendous advancements in the past 18 months as they have progressed in clinical trials for their indications in both brain cancer and stroke. This work, combined with new partnerships to explore additional indications for health challenges that affect millions of patients, is an excellent example of how innovative thinking and perseverance can lead to new life science innovations that make life better for patients."
A ceremony honoring NuvOx Pharma will take place at the AZBio Awards on October 11, 2017 at the Phoenix Convention Center.
The AZBio Awards ceremony celebrates Arizona's leading educators, innovators and companies. Each year, AZBio honors bioindustry leaders from across the state of Arizona who are illustrative of the depth, breadth and expertise of its bioscience industry. The AZBio Awards ceremony is held annually during Arizona Bioscience Week. AZBW 2017 was proclaimed by the Arizona Senate earlier this year. Multiple educational events focused on the value of life science innovation will take place from October 8, 2017 to October 14, 2017 including the BMES Annual Meeting in Phoenix. The Biomedical Engineering Society (BMES) is the world's leading society of professionals devoted to developing and using engineering and technology to advance human health and well-being. Attendees at BMES 2017 in Phoenix are expected to include nearly 4,000 professional scientists, engineers, researchers and students from academia and industry who are leaders in biomedical engineering.
###
For registration and more information, go to www.azbioawards.com
For more information on Arizona Bioscience Week, visit www.AZBio.org/AzBW2017
About AZBio
A key component in Arizona's life science ecosystem, the Arizona Bioindustry Association (AZBio) is the only statewide organization exclusively focused on Arizona's bioscience industry. AZBio membership includes patient advocacy organizations, life science innovators, educators, healthcare partners and leading business organizations. AZBio is the statewide affiliate of the Biotechnology Innovation Organization (BIO) and works in partnership with AdvaMed, MDMA, and PhRMA to advance innovation and to ensure that the value delivered from life-changing and life-saving innovation benefits people in Arizona and around the world.
For more information visit www.AZBio.org and www.AZBio.TV
Contact:
Joan Koerber-Walker, Arizona Bioindustry Association
jkw@azbio.org 480-332-9636
Amanda Vega
Amanda@AmandaVega.com (480) 275-9797
John McGonigle, NuvOx Pharma
Photos available upon request.