Study to test drug designed to help patient in late stages of disease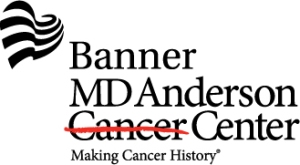 The drug known as PEGPH20 is designed to crack the protective shell around the pancreatic tumor, so that the chemotherapy can more effectively reach the cancer cells inside the tumor. The drug, made by Halozyme Therapeutics, contains an enzyme that breaks down a hard tissue component produced by most pancreatic tumors. The removal of this component from tumors in earlier studies has been shown to increase the ability of chemotherapy to penetrate the tumor. In this trial, the drug PEGPH20 is given in combination with chemotherapy drugs.
"We're excited to be involved in this clinical trial, which takes on a new and unique approach in targeting pancreatic cancer," said Tom Dragovich, MD, PhD, Division Chief of Medical Oncology and Hematology, who is leading the study at Banner MD Anderson. "There remains a significant need for better treatment options for pancreatic cancer patients, and we need to accelerate investigations of the new and promising therapies for this disease."
Pancreatic cancer is currently the fourth leading cause of cancer death in the United States, and is anticipated to become second by 2020, according to the American Cancer Society.
Several standard treatment options are available to pancreatic cancer patients. Early detection of pancreatic cancer is difficult and surgical removal is possible in only about 15 percent of patients with ductal adenocarcinoma, the most common type of pancreatic cancer. For those patients whose tumors cannot be removed surgically, chemotherapy, radiation therapy or investigational therapies are considered. Several new therapies are currently being explored in clinical trials such as this study.
The study is specifically for patients with stage IV metastatic pancreatic cancer. To learn more about the trial, call (480) 256-6444.
Banner MD Anderson, located on the Banner Gateway campus, delivers cancer care to patients in Arizona through the collaboration of Banner Health and MD Anderson Cancer Center. Banner MD Anderson offers focused disease-specific expertise in the medical, radiation, and surgical management of the cancer patient; an evidence-based, multidisciplinary approach to patient care; access to clinical trials and new investigative therapies; state-of-the-art technology for the diagnosis, staging and treatment of all types of cancer; oncology expertise in supportive care services. For more information, visit www.BannerMDAnderson.com.
Contact: Public Relations
media@bannerhealth.com
SOURCE Banner MD Anderson Cancer Center