Chandler, Arizona —-The Arizona Bioindustry Association will honor Rowpar Pharmaceuticals, Inc, manufacturer of ClōSYS® oral health products, with an AZBio Fast Lane Award at the 2017 AZBio Awards.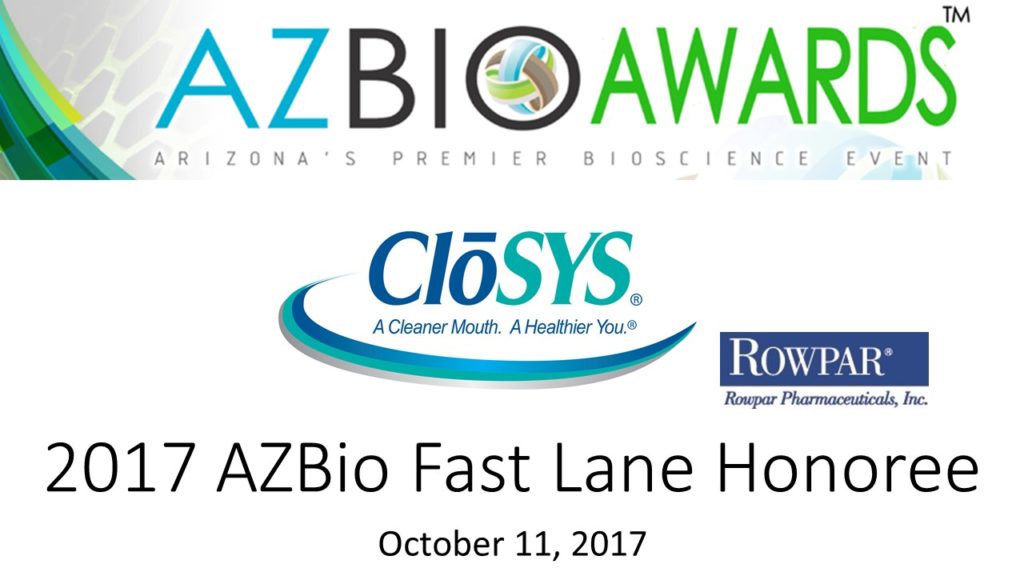 Arizona life science and business leaders as well as guests from across the country will be on hand to applaud the Rowpar Pharmaceuticals team for their progress in developing products and protocols that people can use to promote good oral hygiene and overall health.
Headquartered in Scottsdale, Arizona, since 1991, Rowpar Pharmaceuticals, Inc. is an organization dedicated to providing innovative oral health solutions. ClōSYS® Oral Health products help people live healthier lives.
Rowpar provides innovative oral health solutions to dental and medical professionals and to the general consumer, helping people get well and stay well in North America, Europe, Australia and Asia. Its ClōSYS® brand is recommended by dentists and hygienists, doctors and nurses, and is among the top 10% of oral care products in CVS, Walgreens, Walmart and Amazon nationally with new retailers, new stores and new shelves being added over the past 18 months.
Its motto is "A Cleaner Mouth, A Healthier You®," connecting oral and systemic health. Cloralstan® is Rowpar's patented core technology. ClōSYS products are proven effective in killing various oral pathogens associated with plaque, gum diseases and other oral diseases, and for reducing oral malodor, dry mouth, sensitive mouth, and oral mucositis resulting from chemotherapy as well. ClōSYS products accomplish this without impeding the healing process or killing bacteria that are beneficial to health.
Dr. Perry Ratcliff, one of America's leading periodontists and experts on dental health and gum disease, and a team of leading dental professionals created ClōSYS in 1991. During Dr. Ratcliff's 50-plus years of clinical practice, he discovered that stabilized chlorine dioxide helped to significantly reduce the harmful bacteria in the mouths of his patients; this discovery has evolved to the patented formula Cloralstan®, the active ingredient that makes ClōSYS unique, safe and effective. Dr. Ratcliff remained active in Rowpar's development until 2000.
Originally envisioned as a company selling a boutique product line exclusively to dentists, today Rowpar competes successfully in the world of fast-moving consumer goods, nationally and internationally. While a team of less than a dozen seasoned professionals, Rowpar competes successfully in a world dominated by firms such as Colgate-Palmolive, Proctor & Gamble, and GlaxoSmithKline. Breaking new ground, CloSYS products are dispensed by Novartis with each Afinitor™ (breast cancer chemo) prescription to counteract medically induced oral sores.
Today James Ratcliff, Ph.D., is the second generation of the Ratcliff family leading Rowpar. Prior to joining the company as Chairman and CEO in 2000, Ratcliff worked in higher education administration, assisting colleges, universities, accrediting agencies, NGOs, and ministries of education in countries on six continents to assess their programs, services, policies and practices and to implement new or enhanced procedures. Jim Ratcliff has been a driving force behind expansion of the company's product line and its penetration of global markets.
Since its establishment in 1991, Rowpar has maintained its leadership position by way of inventing new products and applications and acquiring patents worldwide.
In the last 18 months, Rowpar was recognized for product excellence and has expanded both its distribution network and its product line.
In May 2017, ClōSYS® Unflavored Oral Rinse and ClōSYS® Gentle Mint Oral Rinse became the first mouth rinses to be awarded the American Dental Association (ADA) Seal of Acceptance for the management of oral malodor, also known as halitosis and commonly referred to as bad breath. In addition, ClōSYS® Anticavity Toothpaste and ClōSYS® Fluoride Rinse received the ADA Seal as anticavity treatments in 2016 and 2017, respectively.
Rowpar received the ADA Seal, a well-respected symbol of excellence in dentistry, for four of its products in the past 18 months from the American Dental Association.
In addition, Rowpar received three awards in the recent past: Proficient Exporter in May 2017 from Sun Corridor EDGE (Economic Development of the Global Economy), 2017 Innovation in Oral Healthcare Award for North America from Corporate LiveWire.com (UK), and AdStudy® Award from Signet Research Inc.
Oral Health Innovations
In 2016 Rowpar developed and commercialized ClōSYS® Fluoride Rinse, specially formulated for adults 55+. This is the first oral rinse that provides a solution to common oral health issues that the growing elderly population faces.
In addition, Rowpar was granted 10 patents in 2016 and 2017 in USA, Europe, Canada, Australia, Japan and Mexico.
Embraced by Customers
Rowpar services the dental, healthcare and consumer markets. The company has become a recognized leader in the focus on overall health through oral health. The company sells its oral care products throughout the United States, Australia and Canada at dental offices, retail outlets and online. In the last 18 months ClōSYS® products have been added to all stores within the Albertsons and Walmart chains and all CVS Health stores that include new oral rinses and toothpaste products.
Amazon sales have broken all-time Rowpar sales records in four of the first five months of 2017. ClōSYS is 5 Star rated by Amazon consumers. ClōSYS® Unflavored mouth rinse sold at Walgreens now ranks as one of the top 20 selling items in their entire oral care line of 500+ items.
Rowpar products are sold under the ClōSYS® brand in Australia and the U.S., under the Dentists' Choice brand in Africa and Asia, and under private label in Europe and India.
"Successfully developing and delivering consumer-oriented health products requires more from entrepreneurs than the average consumer product," shared Joan Koerber-Walker, president and CEO of AZBio. "It requires perseverance, a commitment to health innovation, and the ability to earn the confidence of both healthcare professionals and consumers. The team from Rowpar provide a great example of how to succeed in an important and highly competitive market."
"Rowpar is about more than great oral health products," shared Jim Ratcliff. "We have fun and try to delight our customers – because the greatest contributor to good health is happiness."
A ceremony honoring Rowpar Pharmaceuticals will take place at the AZBio Awards on October 11, 2017, at the Phoenix Convention Center.
The AZBio Awards ceremony celebrates Arizona's leading educators, innovators and companies. Each year, AZBio honors bioindustry leaders from across the state of Arizona who are illustrative of the depth, breadth and expertise of its bioscience industry. The AZBio Awards ceremony is held annually during Arizona Bioscience Week. AZBW 2017 was proclaimed by the Arizona Senate earlier this year. Multiple educational events focused on the value of life science innovation will take place from October 8, 2017, to October 14, 2017, including the BMES Annual Meeting in Phoenix. The Biomedical Engineering Society (BMES) is the world's leading society of professionals devoted to developing and using engineering and technology to advance human health and well-being. Attendees at BMES 2017 in Phoenix are expected to include nearly 4,000 professional scientists, engineers, researchers and students from academia and industry who are leaders in biomedical engineering.
For registration and more information, go to www.azbioawards.com.
For more information on Arizona Bioscience Week, visit www.AZBio.org/AzBW2017.
About AZBio
A key component in Arizona's life science ecosystem, the Arizona Bioindustry Association (AZBio) is the only statewide organization exclusively focused on Arizona's bioscience industry. AZBio membership includes patient advocacy organizations, life science innovators, educators, healthcare partners and leading business organizations. AZBio is the statewide affiliate of the Biotechnology Innovation Organization (BIO) and works in partnership with AdvaMed, MDMA, and PhRMA to advance innovation and to ensure that the value delivered from life-changing and life-saving innovation benefits people in Arizona and around the world.
For more information visit www.AZBio.org and www.AZBio.TV
Contact:
Joan Koerber-Walker, Arizona Bioindustry Association
jkw@azbio.org 480-332-9636
Amanda Vega
Amanda@AmandaVega.com (480) 275-9797
Photos available upon request.