On June 24th, 2022 Rowpar was acquired by Arcadia Consumer Health Care. Arcadia provides simple, efficacious, high quality solutions to help you achieve the harmony of feeling good and looking good. The acquisition includes the ClōSYS Oral Care brand. Rowpar Pharmaceuticals Inc., remains a subsidiary of Arcadia Consumer Healthcare Inc.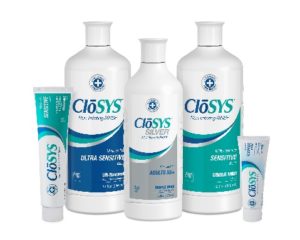 Arcadia Consumer Healthcare is one of the fastest growing U.S. OTC platforms with a portfolio of differentiated brands including:
Nizoral, a highly efficacious anti-dandruff and scalp care brand.
Naturelo, premium wholefood-based Vitamin, Mineral, and Supplement brand.
Fungi-Nail / Opti-Nail / HC Max, antifungal, and cosmetic nail whitening brands.
Kaopectate, an iconic anti-diarrheal and gastrointestinal health brand.
Safetussin, cough/cold brand specially designed for people with high blood pressure and/or diabetes
With the adddition of the ClōSYS brand to its existing portfolio and Arcadia Consumer Healthcare offers a terrific oral care solution to consumers. Arcadia is committed to aggressively drive growth through incremental innovation, increased awareness, and enhanced support.
About Arcadia Consumer Healthcare
Arcadia Consumer Healthcare, formerly known as Kramer Laboratories, is a recognized leader in the consumer healthcare market for over-the-counter medicines and premium vitamins, minerals and supplements. For over 35 years, the company has been delivering innovative healthcare products to help consumers self-treat their everyday problems. Arcadia's flagship brands include Nizoral®, a highly efficacious therapeutic dandruff shampoo brand, NATURELO®, a premium VMS brand derived from 'whole food' ingredients, Kaopectate®, a leader in treatment of diarrhea and upset stomach, Fungi-Nail®, a specialty anti-fungal product formulated with a clinically proven ingredient that cures and prevents fungal infections, and Opti-Nail™, a new and unique cosmetic fungal nail repair brand. Additional portfolio brands include HC Max™, a maximum strength anti-fungal remedy, and Safetussin®, a pharmacist-developed cough relief solution for adults suffering from diabetes and/or high blood pressure. Arcadia Consumer Healthcare's products are sold in over 60,000 stores nationwide, including major drug, food and mass merchandiser outlets. Learn more at www.arcadiach.com.
Arcadia Consumer Healthcare was acquired by Bansk Group in August 2021. (Read the press release.)
About Bansk Group
Founded in 2019, Bansk Group is a New-York based private equity firm focused on consumer buyouts and growth investing. With over $1.5 billion in assets under management, the firm partners with distinct brands across four primary consumer categories: household products, beauty & personal care, consumer health and food & beverage.
Bansk's tenured group of investors and operators have invested more than $30 billion of equity capital across more than 40 transactions with some of the most innovative and well-known consumer companies in the world. www.banskgroup.com