The Center for Sustainable Health has launched a major initiative called Sustainable Aging aimed at two powerful and global demographic forces—rapid population aging and plummeting birth rates—that will draw on affordable technology, social innovation and effective behavioral interventions to meet this unprecedented dual challenge, and receives support in the form of a $3 million grant from the Virginia G. Piper Charitable Trust.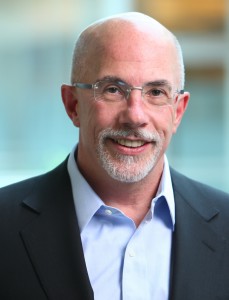 "It's imperative that health systems shift from an expensive and ineffective late-stage response to an effective prevention and early detection approach to health. We need to connect the elements of a health system—people, science, industry and policy—and create a new model that values quality, cost-effective, preventative healthcare focused on improving health outcomes. Piper Trust's leadership and investment in this type of innovation and action will contribute to the transformation of health systems locally and globally."
—Michael Birt, Director, Center for Sustainable Health, Biodesign Institute at Arizona State University
The Trust's investment to expand ASU's Center for Sustainable Health will further the Center's innovative work addressing the collective power on how technology, economics and human behavior—when functioning effectively together—can greatly improve health outcomes and reduce the financial and human cost of disease. A key focus of the Center's efforts with the grant will be healthy aging—a core area of engagement for the Virginia G. Piper Charitable Trust.
Sustainable Health brings it all together: 
The Center for Sustainable Health (CSH) at Arizona State University's Biodesign Institute harnesses technology, economics and behavior to improve health outcomes and reduce the financial and human cost of disease.  Drawing upon the broader efforts of Sustainable Health and the Center's Global Biosignatures Network, Sustainable Aging builds on three key elements.
Engagement of key stakeholders across the healthcare spectrum—including clinicians, delivery systems, payors, researchers, regulatory bodies, and policymakers—very early in the technology development process. The establishment of Biosignature Centers, in conjunction with the Forum for Sustainable Health and Pacific Health Summit, has given CSH a unique platform for convening these stakeholders.
Assessment of the potential clinical and economic outcomes associated with the implementation of new technologies in order to prioritize for the greatest potential to improve human health and cost-effectiveness.
Incorporation of powerful new information technologies and devices to capture and analyze personal data that will provide metrics for health and behavioral interventions crucial to prevention, early detection and successful control of chronic diseases, particularly important for lifestyle and aging-related diseases.
Combining Biology and Behavior:
With the proliferation of lifestyle and aging-related diseases, health systems now recognize the urgent need to capture more complex sets of data based on biology and behavior. While the diagnosis and treatment of any disease remains as important as ever, effective long-term behavioral interventions based on the acquisition of accurate personal data have emerged as a critical component in an effective therapeutic response. Recent advances in information technology and inexpensive sophisticated data capture devices promise to dramatically improve our ability to diagnose and alter these important behavioral components.
CSH's Sustainable Aging approach provides a powerful model at multiple levels.
At the personal level, individuals need powerful technological and social solutions to help "age in place" and sustain their health as long as possible.
Communities, in turn, require an entire spectrum of innovative responses to meet the diverse needs of their residents.
At the national and global level, sustainable aging will require "health in all policies," not just effective "health" policy.
In conjunction with the global reach of the Forum for Sustainable Health, the CSH hopes to use Sustainable Aging as a platform to connect innovative policies, programs, products, and services to build a more innovative and cost-effective set of responses to the global challenges of a rapidly aging population and a looming shortage of caregivers.  In addition to Maricopa County, The Center for Sustainable Health's  geographical focus includes key economies in Asia such as Japan, Korea, Taiwan, Singapore, and China.
Learn More:
About the Grant:
On Jan 7th, 2012, Virginia G. Piper Charitable Trust announced a $3 million grant that will
expand the Center for Sustainable Health at Arizona State University (ASU). A key focus of the Center's efforts with the grant will be healthy aging—a core area of engagement for Piper Trust. Piper Trust expands the Center for Sustainable Health at Arizona State University (ASU)