We have the technology to collect massive amounts of healthcare data on a single patient.  Systems Imagination, Inc. will be honored at the 2016 AZBio Awards on September 21, 2016 with the AZBio Fast Lane Award for their work on helping patients and physicians find the key information they need in mountains of data.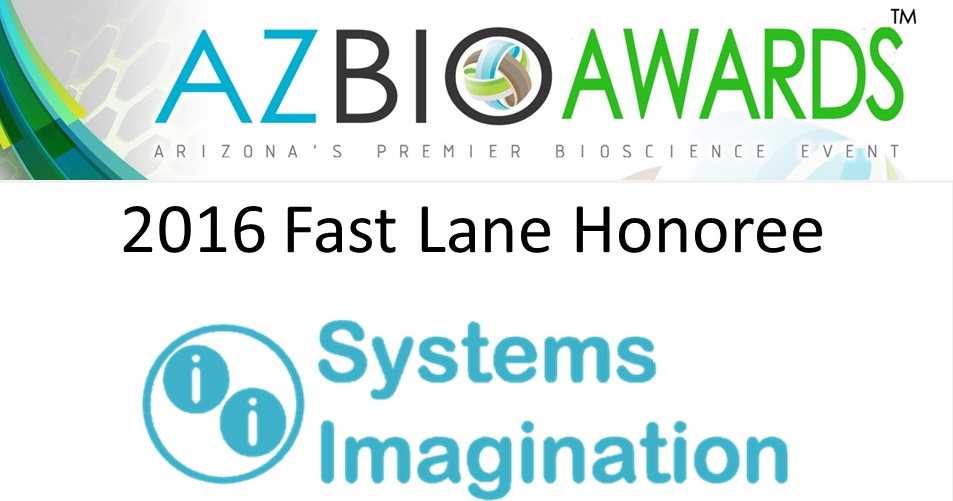 "Using that data to make life better for patients is one of our greatest opportunities for improving the human condition," shared Joan Koerber-Walker, president & CEO of AZBio.  "Finding the right information in all that data is as much an art as it is a science.  By bringing together a stellar team of experts and the latest techniques in data analysis, Systems Imagination, Inc, is making life better for patients and the medical professionals dedicated to helping them."
Systems Imagination (SII) is a privately held big data analytics company that offers Ultra High Definition Translational Medicine services and Bioinformatics On Demand™ to accelerate the discovery and evolution of scientific knowledge. SII's Big Data to Knowledge (BD2K) Solution uses a proprietary knowledge computing platform and expert analytical services by a world-class team of scientific and clinical experts, enabling clients to translate Big Data into useful scientific knowledge with unprecedented speed and precision.
"Technologies that enable us to understand the causes of diseases like cancer in extraordinary detail have created massive data analysis bottlenecks," stated Chris Yoo, co-founder, Chairman and CEO of Systems Imagination, Inc.  "We vastly improve the ability of our customers to rapidly determine which promising research questions to pursue by breaking through those bottlenecks."
LIFE in the Fast Lane
Over the past 18 months, Yoo and the team at Systems Imagination, Inc. (SII) have built systems that accelerate the real world application of genomics and other cutting edge technologies from life sciences research and computational techniques to clinical utility.   SII's has recruited top talent with backgrounds in IT, healthcare, and life sciences research.  Together they are leveraging industry relationships to develop partnerships with companies across the translational medicine ecosystem.
Recognizing the need for more than technology, Yoo has built Systems Imagination from an intellectual concept with his co-founder, Spyro Mousses, in 2014, to a vibrant company of over a dozen PhD level bioinformaticists, computer scientists, and life sciences and computer technology knowledge workers in Arizona. Since then, Systems Imagination has established multi-year, multi-million dollar customer agreements with top 10 Pharma, created a new category of service offering – Bioinformatics On Demand™ for the industry, incubated and launched a new, stealth biotechnology company, filed game-changing patents in translational medicine and computational biology, and attracted angel investment in ventures that build the biotech industry in Arizona.
Inspiring future innovators
In the summer of 2016. Systems Imagination followed through on its commitment to encouraging STEM activities for local high schools by hosting 10 high school students as interns, having them complete projects on computational biology and scientific content work (all 10 wish to continue throughout their high school careers as interns), as well as bringing on board ASU bioinformatics students for exciting intern projects.
Systems Imagination is now in the process of bringing together angel-network organizations to build more effective funding mechanisms, starting with a structure modeled after Sand Hill Angel's network so that more Arizona companies can move forward faster too.
"We are really honored to have been selected for the AZBIO Fast Lane Award," commented Chris Yoo.  "It's through the focused support of organizations like AZBIO, and the companies, universities, and local and state government that we will have the best chance to succeed, and we look forward to being a big part of the growing ecosystem of innovators in the valley."
The Arizona Bioindustry Association created the AZBio Fast Lane Award in 2011 to recognize companies that have achieved outstanding milestones in the past 18 months. Significant progress can be measured by clinical results, regulatory approvals, certifications, collaborations, funding awards, product launches, job growth or product sales milestones.
"We believe that it takes more than just a great idea to create a great company," said Koerber-Walker. "It takes a team that knows how to map the course, execute on a plan, and get results.  We are happy to welcome Systems Imagination to the Fast Lane where they join a cadre of successful life science companies that are moving forward faster and working to make life better for patients."
Systems Imagination, Inc. will be honored during the 11th Annual AZBio Awards at the Phoenix Convention Center on September 21, 2016, in front of an audience of local, national, and international leaders.
###
For registration and more information, go to www.azbioawards.com
For more information on Arizona Bioscience Week, visit www.AZBio.org/AzBW
About AZBio
A key component in Arizona's life science ecosystem, the Arizona Bioindustry Association (AZBio) is the only statewide organization exclusively focused on Arizona's bioscience industry. AZBio membership includes patient advocacy organizations, life science innovators, educators, healthcare partners and leading business organizations. AZBio is the statewide affiliate of the Biotechnology Innovation Organization (BIO) and works in partnership with AdvaMed, MDMA, and PhRMA to advance innovation and to ensure that the value delivered from life-changing and life-saving innovation benefits people in Arizona and around the world.
For more information visit www.AZBio.org  and www.AZBio.TV
CONTACTS:
Joan Koerber-Walker, Arizona Bioindustry Association
jkw@azbio.org   480-332-9636
Amanda Vega
Amanda@AmandaVega.com   (480) 275-9797
Photos available upon request.