Fighting Coronavirus/COVID-19 with Public Health Data
The City of Tempe and Arizona State University are working together to study wastewater as a strategy to advance community health. Tempe is in a unique position for an innovative response to the coronavirus/COVID-19 pandemic due to the Wastewater Data Analytics – Opioids program supported by the Tempe City Council's Innovation Fund in 2018 and the community trust cultivated by the city's compassion, science and services approach in using public health data.
The presence of COVID-19 in the wastewater accounts for a collective of individual samples, that include both diagnosed and undiagnosed cases in the community. This community-level viral biomarker is important in analyzing the presence of the SARS-CoV-2 virus in the City of Tempe and represents part of a set of tools to address important public health questions.
Studying Wastewater for COVID-19 Data
When it comes to fighting the spread of COVID-19, community leaders and first responders need relevant and up-to-date information to make strategic and operational decisions about this public health crisis.
In an innovative partnership to prevent and reduce the spread of COVID-19, the City of Tempe is working with scientists from Arizona State University's Biodesign Institute to study the city's wastewater. Wastewater-based epidemiology (WBE) is the science of studying community sewage for public health information.
This data can inform the city's strategic efforts in the community and measure progress to stop the spread of the virus.
Over 400 cities, nationally and internationally, receive data about their cities' wastewater from Arizona State University. However, Tempe is the first city to incorporate wastewater data with other strategies to drive decisions that advance community health outcomes.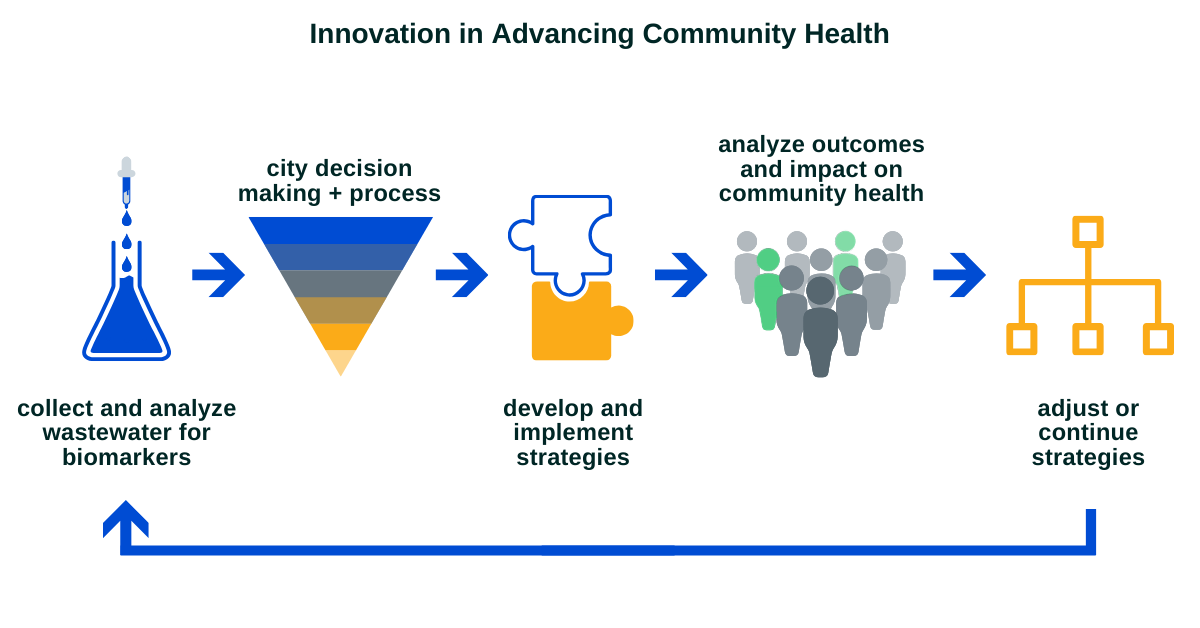 Potential Benefits – Why study wastewater now?
There are many benefits to using data-driven evidence through wastewater analysis. The main benefit is ensuring a healthy community. When used alongside information on diagnosed cases and deaths, state and national data, the study of wastewater for COVID-19 also provides:
Evidence of the virus' presence in the community, for both diagnosed and undiscovered cases;
Potential leverage for mobile testing and additional public services;
Data to inform policy makers for continued social distancing, business/school closures;
Opportunity for data-informed decisions to re-open businesses and schools;
Forecasts for public health conditions and threats;
Scientific partnerships and research with Arizona State University; and,
Innovative use of wastewater epidemiology to set the standards for the region, state and nation for advancing community health and wellness.
Looking at the Data: The Wastewater Dashboard
Initial data indicate the benefit of the public health interventions (lockdown) implemented in the city
The dashboard will be operated and updated at least weekly until the pandemic subsides
The National Science Foundation (NSF) has invested in $200K into this project to study not only virus presence and abundance by city area, but also other sewage-borne biomarkers indicative of population health under extreme stress
Wastewater Dashboard
In utilizing public health data, Tempe integrates data and sciences. The following dashboard displays the wastewater collection areas.
The wastewater dashboard and data will be available the week of May 4, 2020 at https://covid19.tempe.gov/
About COVID-19
Patients with COVID-19 have had mild to severe respiratory illness with symptoms of fever, cough and shortness of breath. Severe complications from this virus include pneumonia, multi-organ failure, and, in some cases, death. The virus is thought to spread mainly between people who are in close contact with one another (within about 6 feet) through respiratory droplets produced when an infected person coughs or sneezes. It also may be possible that a person can get COVID-19 by touching a surface or object that has the virus on it and then touching their own mouth, nose, or possibly, their eyes.
---
Sources and Resources:
City of Tempe: https://covid19.tempe.gov/ (Images used with permission)