National Institutes of Health funds project to stabilize high-quality samples for use in proteomic analysis of disease diagnosis and treatment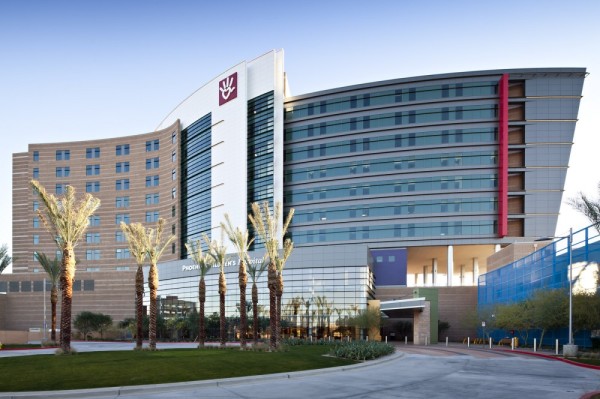 PHOENIX, Ariz. — June 16, 2015 — The Translational Genomics Research Institute (TGen) and Phoenix Children's Hospital are developing new economical methods of preserving, storing and transporting high-quality blood plasma proteins for use in diagnosing and treating disease.
Under a $698,502 three-year grant from the National Institutes of Health, the Phoenix Children's Hospital Biorepository and TGen's Proteomics Division are using special filter papers to devise a test that is highly accurate, yet simple enough that patients could provide their own blood samples from home, even under a variety of room temperatures.
Leading the project are Dr. David F. Carpentieri, M.D., Pediatric Pathologist and Biorepository Director at Phoenix Children's Hospital; Dr. Patrick Pirrotte, Ph.D., Technical Director of TGen's Center for Proteomics; Lizzie K. Neylon, MBA, Biorepository Coordinator at Phoenix Children's Hospital; and Dr. Kostas Petritis, Ph.D., Principal Investigator at Phoenix Children's Hospital.
In the initial phase of the study, researchers seek to reduce, and even eliminate, both immediate and long-term protein degradation by selecting the best methods of collecting, stabilizing and storing blood proteins. This combined effort holds the promise of significantly improving existing protocols with a simple and cost-effective method suitable for highly sensitive mass-spectrometry proteomic analysis.
Preliminary work has already been presented at meetings of Human Proteomics (HUPO) and the International Society of Environmental and Biological Repositories (ISBER). Researchers began collecting blood samples on May 2 from 20 consenting volunteers.
According to Dr. Carpentieri, this project is critical for the future of cost-effective proteomics research as suggested by similar DNA and RNA protocols that quickly stabilize molecules at ambient, or room-temperature, conditions.
"It is the vision of this working group, that this study will substantially contribute to the reduction of pre-analytical laboratory errors and will lead the way to reliable discoveries in the field of proteomics and pediatric diseases," Dr. Carpentieri said.
Dr. Pirrotte said a key to the project is the use of dried blood-derived plasma proteins for the early detection of disease biomarkers. By storing dried blood on pre-treated filter paper, protein storage costs could be alleviated. Furthermore, samples would not need to be kept cold during shipment.
"We could collect samples without a clinician or trained personnel even being present. We could envision a skin-prick test that patients could conduct themselves, the sample could then be mailed to laboratories for analysis," Dr. Pirrotte said. "Such a method would empower the patient, and increase the number potential medical follow-ups, while reducing costs. This could ultimately lead to better long-term monitoring of the patient's health."
In a second phase of the project, expected to start sometime in 2016, Phoenix Children's Hospital and TGen would apply the best methods towards a study of 20 leukemia patients.
# # #
About TGen


Translational Genomics Research Institute (TGen) is a Phoenix, Arizona-based non-profit organization dedicated to conducting groundbreaking research with life changing results. TGen is focused on helping patients with cancer, neurological disorders and diabetes, through cutting edge translational research (the process of rapidly moving research towards patient benefit). TGen physicians and scientists work to unravel the genetic components of both common and rare complex diseases in adults and children. Working with collaborators in the scientific and medical communities literally worldwide, TGen makes a substantial contribution to help our patients through efficiency and effectiveness of the translational process. For more information, visit: www.tgen.org.
Media Contact:
Steve Yozwiak
TGen Senior Science Writer
602-343-8704
syozwiak@tgen.org