To enable a new era of medicine through research, technology, and policies that empower patients, researchers, and providers to work together toward development of individualized care. (Mission Statement of the White House Precision Medicine Initiative.)
On February 25, the White House hosted the Precision Medicine Initiative Summit marking the one-year anniversary of President Obama's Precision Medicine Initiative (PMI) .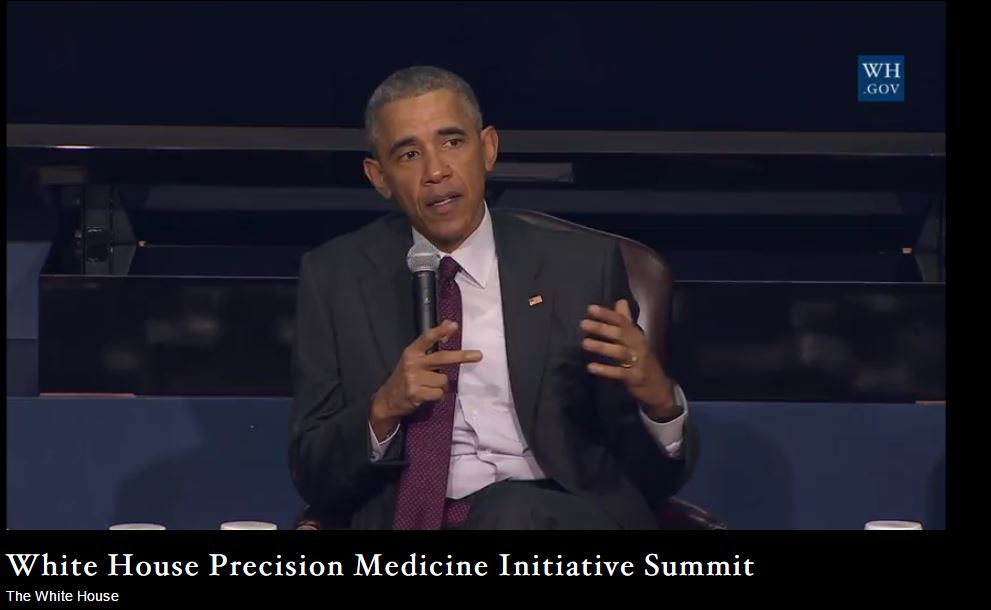 White House Precision Medicine Initiative Summit (Source:  The White House)
Dr. Robert Califf, M.D. – Precision FDA
PrecisionFDA provides a private area where participants (individuals or organizations) can conduct genome analysis and comparison against reference material, and a community area where they can publish and share results, reference materials, and tools. The precisionFDA community continues to grow and includes:
Genome Test or Software Providers
Standards-making Bodies
Pharmaceutical & Biotechnology Companies
Healthcare Providers
Academic Medical Centers
Researchers
Patients
FDA & Other Government Agencies
Click here to see the list of precisionFDA Community Participants
Dr.Francis Collins: Precision Focused Health
"The Vision of Precision Medicine Takes another Leap Forward"- Dr. Francis Collins
Participants (people sharing their data) in the PMI will be partners in the Precision Medicine Initiative Cohort.
The PMI Cohort will represent America's unique diversity
Data sharing across research partners will be swift
Dr. Collins announced Four Key First Steps
awarding the Direct Volunteers Pilot Studies Program to Vanderbilt University, Nashville, Tennessee, in collaboration with advisors from Verily (formerly Google Life Sciences), Mountain View, California, to explore the optimal approaches and systems for engaging, enrolling, and retaining participants from across the United States in the PMI Cohort Program.
collaborating with the Health Resources and Services Administration (HRSA) to begin partnerships with several Federally Qualified Health Centers to develop, pilot, and refine approaches for bringing underserved individuals, families, and communities into the PMI Cohort Program
working with the HHS Office of the National Coordinator for Health IT (ONC) on a program called "Sync for Science," which will pilot use of open, standardized applications to give individuals the ability to contribute their data to research, including for the PMI cohort when it is launched.
establishing a central PMI Cohort Program Institutional Review Board (IRB)—with expertise in mHealth, bioinformatics, health disparities, epidemiology, genomics, and environmental health—for oversight and review of the research conducted in the Program. NIH has been at the forefront in creating central IRBs to ensure consistent, thoughtful, and timely review of human research participant issues.
Click here to read the complete post by Dr.Francis Collins
Precision Medicine Initiative: Privacy and Trust Principles
The principles provide broad guidance for future PMI activities regarding: governance; transparency; participant empowerment; respect for participant preferences; data sharing, access, and use; and data quality and integrity. The principles articulate a set of core values and responsible strategies for sustaining public trust and maximizing the benefits of precision medicine.
The principles include:
Creating a dynamic and inclusive governance structure
Building trust and accountability through transparency
Respecting participant preferences
Empowering participants through access to information.
Ensuring responsible data sharing, access, and use
Maintaining data quality and integrity
Click here to view the PMI Privacy and Trust Principles
Closer to Home: The University of Arizona's Role in the PMI
The University of Arizona Health Sciences (UAHS) is announced  its participation in the national Precision Medicine Initiative®, as released earlier today by the White House.
In response to the national PMI, UAHS has committed significant resources to expand the clinical utility of its open-source, patient-centric analytic methods, such as the N-of-1-pathways software, which aids physicians in interpreting the dynamic changes of disease-associated gene expression arising from patients' own DNA blueprints. As part of the initiative, UAHS will translate large-scale clinical and genomic data into actionable individual outcomes through two of its centers: the UA Center for Biomedical Informatics and Biostatistics (CB2) and the UA Center for Applied Genetics and Genomic Medicine (TCAG2M).
Both centers bring together physicians, scientists, patients and other key stakeholders to develop strategies that advance understanding of the factors contributing to individual health and disease and personalized approaches to disease prevention, early detection and treatment.
Looking at How it Began:  The Promise of Precision Medicine
(Jan.2015)