In a 344 to 77 vote, the U.S. House of Representatives passed H.R.6: The 21st Century Cures Act on the morning of July 10, 2015.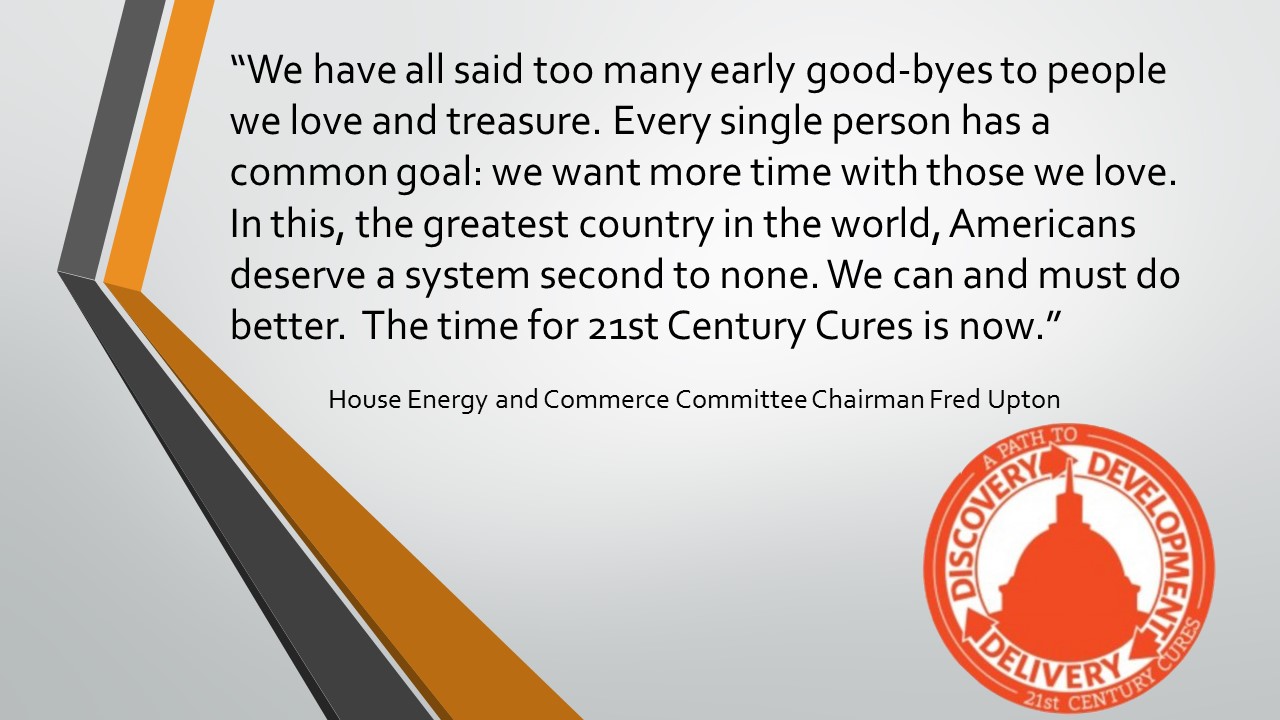 The journey towards 21st Century Cures began as an initiative of the Energy and Commerce Committee in the U.S. House of representatives in May of 2014.  For over a year, committee members held town halls, round tables and other public meetings to gather together insights from patient groups, industry, and federal agencies including the NIH and the FDA.   A discussion draft was released in early 2015, followed by a public comment period and a revised final draft. In May of 2015, the final draft passed out of committee unanimously (51 -0) and was assigned bill number H.R.6.
Bipartisan support is key to such an extensive measure and the bill garnered 230 co-sponsors including Representatives Ann Kirkpatrick, Matt Salmon, and Kyrsten Sinema from Arizona.
H.R. 6:  The 21st Century Cures act was brought to the floor for a vote on on the morning of Friday,July 10, 2015.  After discussion on 8 potential amendments, the bill was brought to a vote and passed with a resounding 344 – 77 vote (12 not voting).
What comes next?
The next step in the process is the Senate. Lama Alexander (R-TN) serves as Chairman of the Senate Committee on Health, Education, Labor and Pensions (Senate HELP Committee). The Committee announced its own bi-partisan healthcare innovation initiative in early 2015 with committee hearings beginning in March.  In the opening statements, Chairman Alexander shared:
"Today discoveries supported by NIH often do not come to FDA's door for six, eight, ten, or even twelve years," Alexander said. "And the average cost to get a single drug from the laboratory through the approval process to the medicine cabinet is, according to some estimates, about $1 billion. Other estimates say it's double that or even more."
He added: "This work will affect every single American – from a very ill patient who has run out of treatment options and is counting on the most cutting-edge drug, to an active child with asthma who's hoping to run faster and farther with the aid of a new drug."
Following passage of 21st Century Cures in the House, Senate Health, Education, Labor, and Pensions (HELP) Committee Ranking Member Patty Murray (D-WA), released the following statement:
"I'm pleased that the House has taken a bipartisan step forward by passing the 21st Century Cures Act as work continues in the Senate on efforts to advance biomedical innovation for patients and families. I believe strongly that our federal laws and resources should support our nation's tradition of leadership in the life sciences, while upholding the highest standards of patient and consumer safety. I look forward to continuing work with Chairman Alexander, Chairman Upton, Ranking Member Pallone, and all of our colleagues on bipartisan policies to advance biomedical innovation for the families and communities we serve."
Industry's Commitment to the process
"AdvaMed commends the passage of the 21st Century Cures Act" shared AdvaMed President & CEO Steve Ubl.  "The bill includes a number of proposals designed to strengthen the innovation ecosystem and support the development of life-saving, life-enhancing medical technology. This includes key improvements to FDA's premarket program for medical devices – most significantly the establishment of an expedited pathway for breakthrough, innovative technologies – which will increase the efficiency, predictability and transparency of the agency's review process and improve patient access to the best in medical progress.  The bill also provides resources to FDA to implement these important reforms and would exempt industry-paid user fees from the threat of sequestration. User fees are not taxpayer funds but rather voluntary fees paid by industry to ensure that FDA can conduct timely reviews."
"This bill represents forward-looking public policies that sustain scientific discovery and promote biomedical advancement" shared The Honorable James C. Greenwood,, President & CEO of BIO. "The future of medicine will harness 21st century scientific tools, advancements in molecular biology, and novel bioinformatics to develop and improve upon therapies that can prevent, diagnose, and treat all stages of disease. This landmark legislation would lay the groundwork for transforming patient care by encouraging innovative approaches to drug discovery, development and delivery. The legislation prioritizes placing patients at the center of the drug development process, which we believe will help spur the development of therapies for the most prevalent conditions, as well as encourage development of treatments focused on unmet medical needs. Together with numerous patient groups, we strongly support establishing a framework for incorporating patient views into the development and regulatory review processes in a more structured and transparent way with respect to both patient input for benefit-risk assessments and use of patient experience data in regulatory decision-making."
Pharmaceutical Research and Manufacturers of America (PhRMA) president and chief executive officer John J. Castellani shared "PhRMA applauds the House of Representatives for the overwhelming passage of the 21st Century Cures Act and looks forward to continuing our work with the Senate to ensure biomedical advances continue and are available to the patients who need them to live longer, healthier lives.
Will 2015 be the year that we accelerate the process from discovery to development to delivery?
Most likely so.  With unprecedented bi-partisan support for the end goals of providing the best options for patients and for our healthcare innovation ecosystem, a broad coalition from government, industry and the healthcare and patient communities are committed to working together to get the job done.
As the Senate continues its process, we'll be working with our national partners and our Arizona Delegation to keep you up to date and informed as this initiative moves through the Senate, the Conference Committee process and ultimately to the President's desk.
After all, as Chairman Upton shared, "The time for 21st Century Cures is now."
Summary of HR 6: 21st Century Cures (Congressional Research Service)
Summary of the 21st Century Cures Act
This bill amends the Public Health Service Act to reauthorize the National Institutes of Health (NIH) through FY2018. The NIH Innovation Fund is established to fund a strategic plan, early stage investigators, and high-risk, high-reward research.
The NIH may require scientific data to be shared if the research is fully funded by the NIH.
The NIH and the Food and Drug Administration (FDA) must implement a system that allows further research on clinical trial data.
The Centers for Disease Control and Prevention must expand surveillance of neurological diseases.
The Council for 21st Century Cures is established to accelerate the discovery, development, and delivery of innovative cures, treatments, and preventive measures.
The Department of Health and Human Services must monitor the use of antibacterial and antifungal drugs and resistance to these drugs.
Requirements are established for interoperability and certification of health information technology. Practices that discourage the exchange of electronic health information are prohibited.
This bill amends the Federal Food, Drug, and Cosmetic Act to revise the drug approval process, including by: (1) allowing patient experience data to be considered in the risk-benefit assessment of a new drug, (2) requiring the FDA to qualify drug development tools, (3) allowing the FDA to rely upon data previously submitted for a different purpose to expedite the development of certain drugs, and (4) establishing a streamlined data review program for approval of a drug for an additional indication.
Manufacturers and distributors of investigational drugs for serious conditions must publish their policies on compassionate use requests.
The marketing exclusivity period is extended by six months for a drug approved for a new indication that is a rare disease or condition.
The priority review voucher program for rare pediatric diseases is revised and extended.
The FDA must: (1) establish a program for priority review of breakthrough medical devices, (2) identify types of devices that do not require a report preceding introduction, and (3) rely on a third-party to determine the safety and effectiveness of changes to medical devices.
Regarding medical devices, this bill defines "valid scientific evidence" and makes changes to classification panels and the humanitarian device exemption.
"Health software" is defined and, with certain exceptions, exempted from FDA regulations.
This bill amends title XVIII (Medicare) of the Social Security Act to require the Centers for Medicare & Medicaid Services (CMS) to: (1) increase certain payments for new antimicrobial drugs, (2) establish a payment methodology for certain medical devices, and (3) publish online estimated payments for certain outpatient items and services.
A pharmaceutical and technology ombudsman within the CMS must respond to complaints from manufacturers of medical products.
Medicare prescription drug plan sponsors may limit the access of certain beneficiaries to frequently abused drugs.
This bill amends the Controlled Substances Import and Export Act to allow exported controlled substances to be re-exported within the European Economic Area.
Source:  Summary of HR 6: 21st Century Cures (Congressional Research Service)