Proposed rule has long been a top AdvaMed priority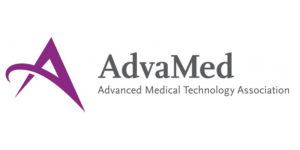 WASHINGTON, D.C. – Following today's issuance by the Centers for Medicare and Medicaid Services (CMS) of a proposed rule on Medicare coverage of innovative technologies, the Advanced Medical Technology Association (AdvaMed) issued the following statements from President and CEO Scott Whitaker and other medtech industry leaders commending the agency's action:
"In order to incentivize innovative medical breakthroughs, the federal government must ensure those breakthrough technologies are covered by Medicare," said Scott Whitaker, AdvaMed president and CEO. "We are pleased that this proposed rule gets us closer to this goal as it would help ensure the patients who need these innovative technologies have access to them. We thank HHS Secretary Azar and CMS Administrator Verma for their leadership. The Administration's continued focus on the value of medical technology and innovative breakthroughs will without question help to alleviate human suffering and save lives."
The CMS announcement represents another significant step forward in providing patient access to transformational medical technologies that save and improve lives.
"The proposed rule will improve patients' lives by providing more timely access to safe and effective breakthrough therapies," said Mike Mussallem, Chairman and CEO of Edwards Lifesciences. "At a time of heightened national awareness of the importance of health care innovation to quality patient care, it will also help support an innovation ecosystem and bring value to the health care system. The medtech industry looks forward to working closely with CMS on this and additional ways to facilitate the coverage and payment process for the benefit of patients."
"CMS's proposal complements provisions in several recent Medicare rules that have enhanced new technology add-on payments (NTAP) and transitional pass through (TPT) payments for FDA-designated breakthrough technologies," said Dr. John Liddicoat, executive vice president and president, Medtronic Americas Region. "While we are still reviewing the proposed rules to understand their full impact, it appears that combined, these rules will go a long way toward modernizing payment and coverage of transformational medical technologies, incentivizing innovation, and most importantly, improving patient care by ensuring Medicare beneficiary access to these new therapies."
"These proposals are especially important to start-ups and small company innovators, which are an essential part of the medtech ecosystem," said Simos Kedikoglou, CEO of Impulse Dynamics. "For such companies, which often have limited capital resources, CMS's action will help support patient access to life-changing breakthroughs and their development."
We look forward to reviewing the proposed coverage rule in more detail, and working closely with CMS on implementation.