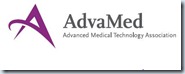 WASHINGTON, D.C. & Chandler, AZ – The Advanced Medical Technology Association (AdvaMed) has named Joan Koerber-Walker as chair of the association's State Medical Technology Alliance (SMTA). Joan is president and CEO of the Arizona Bioindustry Association (AZBio), Arizona's statewide life science trade association, representing emerging and established leaders across the full spectrum of medical technologies and industrial biotechnology.
SMTA is a consortium of state and regional trade associations representing local medical technology companies. SMTA's mission is to collectively support the medical technology industry on the local, state and national levels by fostering a collaborative environment through sharing of best practices, promoting the industry, and advocating for public policies that support innovation.
"Now more than ever, our communities and our nation rely on the innovations being developed and delivered by our medical technology innovators," said Koerber-Walker. "Medtech innovations are saving, sustaining and improving the lives of people here at home and around the world. From the state house to our nation's capital, SMTA members are providing the information our elected leaders need to make decisions on key issues, to foster medtech innovation and ensure that we remain a global leader in this vital industry."
Koerber-Walker began her term as SMTA chair on Oct. 7 at AdvaMed 2014: The MedTech Conference in Chicago, where she moderated a roundtable discussion among state medtech association leaders. The roundtable featured an update by U.S. Representative John Shimkus (R-Ill.), a senior member of the House Energy and Commerce Committee, on the 21st Century Cures Initiative.
The fourth leader to serve as SMTA chair, Koerber-Walker will build on the initiatives established by past SMTA Chair Stephen Rapundalo of MichBio (2011-2014).
"I look forward to Joan's  leadership as we advance our competitiveness agenda and highlight the important role our industry plays as an engine of medical and economic progress," said Stephen J. Ubl, AdvaMed president and CEO. "SMTA has consistently supported the medical technology industry on the state and local level, an industry that helps patients live longer, healthier lives while lowering long-term health care costs."
"It is an honor to have this opportunity to work together with our SMTA members, the team at AdvaMed, and our elected leaders to support our medical technology innovators in delivering life changing innovations," said Koerber-Walker. "Medical technology products and services make life better for our loved ones and our communities, and that is what innovation is all about."
# # #
About the Arizona Bioindustry Association (AZBio)
AZBio is a 501c6 trade association comprised of members driving innovation in the areas of medical devices, diagnostics, therapeutics, mobile health, health information and health care delivery, along with academic and research institutions and related organizations. In the 11 years since AZBio's founding, Arizona's life science industry has grown jobs by 45% (including a 7% gain during the recession of 2007-2009) and created significant economic value (totaling $36 Billion in 2013) through the development and delivery of medtech products and services that save, sustain and improve the lives of people worldwide while helping to contain health care costs. For more information, visit www.azbio.org and www.AZBio.TV.
About The Advanced Medical Technology Association (AdvaMed)
AdvaMed member companies produce the medical devices, diagnostic products and health information systems that are transforming health care through earlier disease detection, less invasive procedures and more effective treatments. AdvaMed members range from the largest to the smallest medical technology innovators and companies. For more information, visit www.advamed.org and www.lifechanginginnovation.org/.