Arizona is home to a leading "emerging bioscience sector"…yet for most non-Arizonans, and many residents of the state, the industry and its value as a scientific and economic contributor is still unrecognized.
Who Knew?
Since joining the Arizona Bioindustry Association as its president and ceo in March of 2011, there have been many opportunities to meet with people outside of Arizona's bioscience community to share what is going on in the industry and in the state. In almost every meeting I hear the same comment, "Wow, who knew?"
Support from our community, partnerships across it and from outside of it, access to capital; all of these are dependent on making sure that more people know about the great work being done in the Arizona bioscience sector.  So how can we get the job done?
Branding Arizona's Biosciences
Don C. Hoefler (c. 1922 – April 15, 1986) was an American journalist, well known for using the term "Silicon Valley" for the first time in print. His friend Ralph Vaerst suggested the name "Silicon Valley" in a series of articles entitled "Silicon Valley, USA" in the weekly trade newspaper Electronic News starting on January 11, 1971. (source: Wikipedia)
While it started as a headline moniker based on a core group of semiconductor firms including Fairchild, National Semiconductor, AMD, and of course Intel, it blossomed in the PC era to encompass a wide range of innovators and innovation based companies and the regional technology eco-system.  It was not "the name" that created the brand, it was a body of evidence born of actions and results repeatedly and successfully executed across the region.
Branding is more than a catchy name.  It is building and presenting a body of evidence that supports your claims and is memorable.  At the end of the day, your brand is not what you say you are.  Your brand is what people remember and associate with you when they hear your name or are looking for what you have to offer.
Today, here on AZBio.org, there are over 700 ages of stories and features that highlight what is happening in the Arizona biosciences and in the first 6 months of 2013 the site has had over 30,000 unique visitors and over 128,000 page views.   These stories highlight Arizona bioscience companies and leaders through events and articles.  Other pages, like the AZBio Fact Sheet, provide quick references for community members and visitors. Yet others, including the AZBio Purchasing Power section, connect AZBio Members to industry specific business resources or, as in the case of the Member Directory, connect Members with each other.
Branding Requires That You Reach Out To Your Target Audience.
AZBio reaches out across the country and across the world at industry gatherings and events like the BIO International Convention and the AdvaMed MedTech Conference through one on one meetings with key influencers to share Arizona's story.  In addition, we speak at industry gatherings held by the tech community and other industry groups to spread Arizona's messages. We also reach out to Patient Advocacy Groups at the local and national level to share with patients the work being done here that will benefit them in the future.
From traditional media to social media outlets including, AZBio.TV, LinkedIn,  Twitter, and YouTube, AZBio shares your stories, building a body of evidence around the work being done in Arizona's bioscience community across the web.
The Power of Recognition
Having a  positive and recognized brand for our companies and our bioscience community is a powerful tool for achieving our growth goals and helping Arizona move from being an emerging bioscience leader to a global one.    When people in our state and around the world know what is happening here and see how it complements their needs and goals for achievement we can attract:
Investments
Talent
Strategic Partners
Clinical Partners
Research Partners
Companies to add to what is already growing here and to help us to  reach critical mass.
How You Can Help build Arizona's Bioscience Brand
AZBio offers a number of ways that YOU can be part of Arizona's branding efforts in the biosciences:
The AZBio Member Directory provides a vehicle for both print distribution and on line access.  Each AZBio Member has the opportunity to have a full page on AZBio.org to tell their story.  Check the directory to  see what your page says.  If it needs an update, just click here.  Be sure that your page is current BEFORE July 1st so that your message appears in the 10th Anniversary edition of the AZBo Awards Program and Member Directory.
Press releases sent to AZBio get posted on AZBio.org and circulated via IN THE LOOP each week.  Add jkw@azbio.org to your media distribution list at we will do the rest.
AZBio Purchasing Power helps you distribute press releases to a wider audience and save money on the costs through our relationship with Business Wire.  Learn more here…
AZBio Signature Events connect you to hundreds of leaders in one day at one location.  Company showcases at the AZBio Expo and the AZBio Awards are a great opportunity to demonstrate what you are doing, connect with partners, and help to build our community's bioscience brand.
Leverage AZBio relationships with local and national media.  From our local Arizona media outlets to national industry outlets including BIO, Fierce Biotech and BioPharm Insight (Infinata/Financial Times); AZBio has built relationships with media leaders who can help you get the word out.
Whose Actions Inspire You?
Help us spread the word…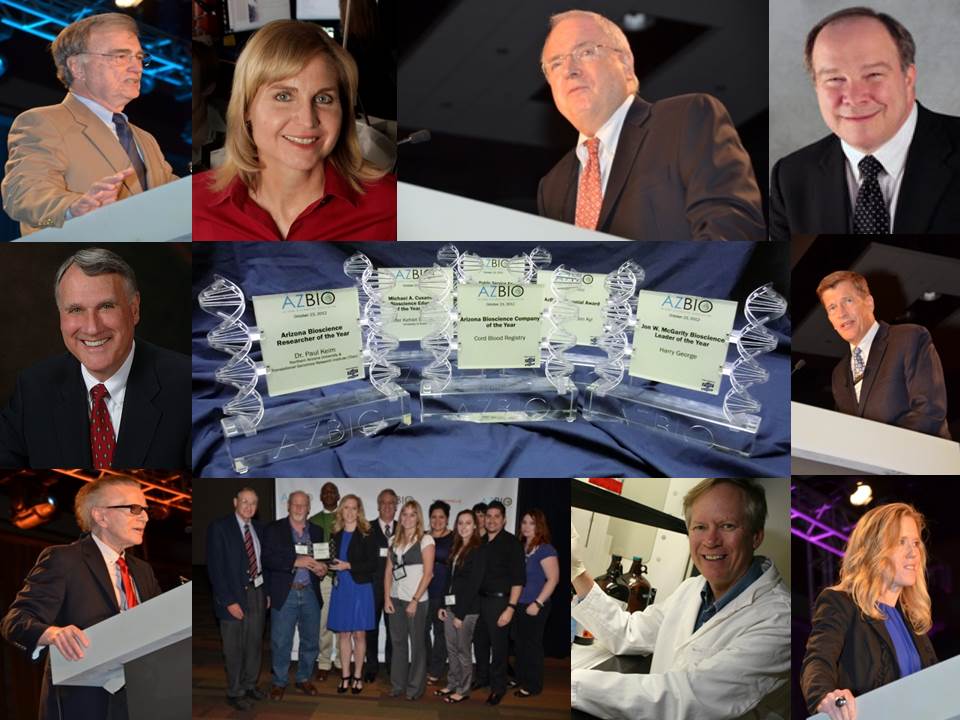 2012 AZBio Honorees (from upper left clockwise):  Dr. Raymond Woosley – AZCert, Dr. Jennifer Kehlet Barton – University of Arizona, Harry George – Solstice Capital, Regent Rick Myers – Arizona Board of Regents,  Matthew Likens – Ulthera, Kristen Swingel – CBR, Dr. Paul Keim – Northern Arizona University/TGenNorth, The Team from CBR, Dr. David Alberts – University of Arizona Cancer Center, U.S. Senator John Kyl.
Nominations are now open for the 2013 AZBio Awards and will close July 1st.  As AZBio ramps up to celebrate its 10th Anniversary as Arizona's statewide bioindustry association, help us to shine a spotlight on our industry's leaders by nominating the companies and the individuals who are leading the way.
Events like the AZBio Awards are more than a way to connect our community and bring us together, they are how we can help our industry and our members to put the power of recognition to work.
About the author:
Joan Koerber-Walker serves as president and ceo of AZBio (the Arizona Bioindustry Association).  An entrepreneur, investor, and former Fortune 500 executive, she can be reached at jkw@azbio.org.