COVID-19 Vaccines are viewed as the light at the end of the tunnel. We are not there yet but we will get there. Hundreds of millions of people in the United States and billions of people globally will need to be immunized against COVID-19. But, are these vaccines safe and effective? Would you recommend that someone you love get one?
At this writing, two COVID-19 vaccines have received Emergency Use Authorization (EUA) from the U.S. Food and Drug Administration. First doses of vaccines from Pfizer and Moderna have now been administered to more people in the United States than positive COVID-19 tests have been reported. The current COVID-19 vaccines are held to the same regulatory standards for receiving EUAs and approvals as other medicines, and FDA has reviewed extensive clinical trial data for the vaccines granted EUAs.
Janssen, the Pharmaceutical Companies of Johnson & Johnson, (J&J) has reported data from its Phase3 ENSEMBLE clinical trial and is expected to have its review meeting before the end of February, 2021 and based on the review findings may be considered for FDA Emergency Use Authorization. If this is granted, it will be the first single-dose vaccine to receive an EUA and help to expand the availability of vaccines in the United States.
Like the Pfizer and Moderna clinical trials, the Phase 3 ENSEMBLE trial is a randomized, double-blind, placebo-controlled clinical trial designed to evaluate the safety and efficacy of the vaccine. Unlike Pfizer and Moderna that require 2 doses, J&J is requesting authorization of a single dose regimen.
J&J has also initiated a two-dose regimen ENSEMBLE 2 trial. ENSEMBLE 2 is a complementary, planned, pivotal, large-scale, multi-country Phase 3 trial that will study the safety and efficacy of a two-dose regimen of the investigational Janssen vaccine candidate for the prevention of COVID-19.
AstraZeneca's COVID-19 vaccine has been approved for emergency use in Europe, India, and Mexico. The company is currently expected to submit data for an EUA in the United States following the completion of its Phase3 U.S. Trial.
Novavax, Inc., a biotech company based in Maryland, is in Phase3 studies on NVX-CoV2373, the company's recombinant protein-based COVID-19 vaccine.
Are these Vaccines Safe and Effective?
Each Vaccine is vaccine unique.
Pfizer and Moderna are Messenger RNA or mRNA based. As explained by the Centers for Disease Control, mRNA vaccines are a new type of vaccine to protect against infectious diseases. To trigger an immune response, many vaccines put a weakened or inactivated germ into our bodies. Not mRNA vaccines. Instead, they teach our cells how to make a protein—or even just a piece of a protein—that triggers an immune response inside our bodies. That immune response, which produces antibodies, is what protects us from getting infected if the real virus enters our bodies.
J&J and Astra Zeneca are DNA based. These companies added the gene for the coronavirus spike protein to a deactivated common virus, an adenovirus, that typically cause colds or flu-like symptoms.
Novavax has developed a protein subunit vaccine. It uses a lab-made version of the SARS-CoV-2 spike protein. It also includes an ingredient called an adjuvant, which signals the immune system to activate.
Measuring Safety and Efficacy
While each COVID-19 vaccine is unique, each one has followed the same required clinical trial path. The same path that vaccines have followed before any of us had heard of SARS-CoV-2.
All five of these COVID-19 vaccines have gone or are going through rigorous clinical trials to ensure they are as safe as possible.
Clinical trials are designed to evaluate safety and efficacy based on a complete view of all participants and their experiences. The full safety and efficacy results are shared at the conclusion of the trial to regulatory authorities for consideration.
The COVID-19 clinical trials are Randomized, Double-blind, Placebo-controlled Studies. These protocols are considered the most convincing research design . By randomly study participants, the studies eliminate the influence of unknown or immeasurable variables that may otherwise lead to biased and incorrect estimates of treatment effect. In these trials, some study participants receive a placebo injection while others receive the vaccine. The Study Participants, Investigators, and Study Staff do not know who receives a vaccine and who receives a placebo. Study Participants receive the injection of the study vaccine or placebo and are then monitored over the life of the clinical trial which can extend for years. For Example, the J&J ENSEMBLE2 clinical trial is designed to run for over two years.
Studies are designed to determine:
Vaccine safety
What side effects may be caused by the vaccine
If the vaccine helps to prevent or lessen the severity of COVID-19.
Unexpected adverse events, including illnesses, can occur in study participants during any clinical study, especially large studies; they can occur in both vaccine and placebo groups and require evaluation. When they occur, they are carefully evaluated to ensure it is safe for the trial to proceed.
Over 200,000 people across the world have stepped forward to volunteer as clinical trial participants to support the development of one these vaccines.
Once a study has been completed, the data is provided to the FDA for Review. Following that review of the data, a recommendation is provided to the Advisory Committee on Immunization Practices (ACIP), part of the CDC for its recommendations for vaccine use in the U.S. The FDA then makes its final determination.
Currently the Pfizer and Moderna vaccines have received Emergency Use Authorizati0n from the FDA. According to the FDA, an Emergency Use Authorization (EUA) is a mechanism to facilitate the availability and use of medical countermeasures, including vaccines, during public health emergencies, such as the current COVID-19 pandemic. Under an EUA, FDA may allow the use of unapproved medical products, or unapproved uses of approved medical products in an emergency to diagnose, treat, or prevent serious or life-threatening diseases or conditions when certain statutory criteria have been met, including that there are no adequate, approved, and available alternatives.
Vaccine manufacturers include a plan for active follow-up for safety, including deaths, hospitalizations, and other serious or clinically significant adverse events, among individuals who receive the vaccine under an EUA, to inform ongoing benefit-risk determinations to support continuation of the EUA.
FDA also expects manufacturers who receive an EUA to continue their clinical trials to obtain additional safety and effectiveness information and pursue licensure (approval).
Post-authorization vaccine safety monitoring is a federal government responsibility shared primarily by FDA and the U.S. Centers for Disease Control and Prevention (CDC), along with other agencies involved in healthcare delivery. Post-authorization safety monitoring during the COVID-19 pandemic vaccination program will aim to continuously monitor the safety of COVID-19 vaccines to rapidly detect safety problems if they exist.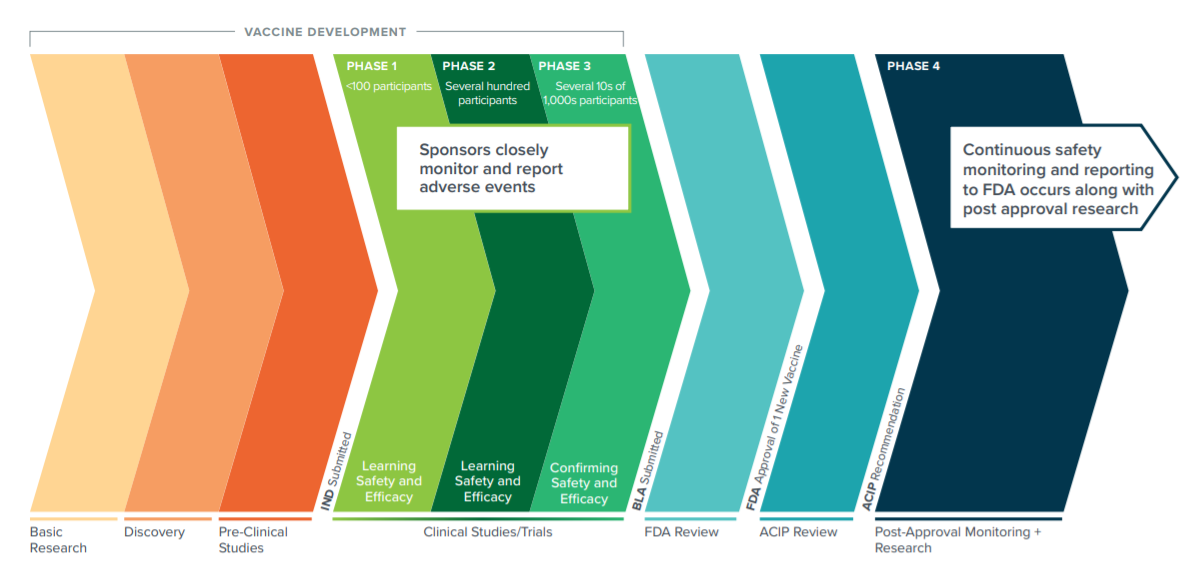 GUIDE
ACIP: Advisory Committee on Immunization Practices, part of the CDC (Reviews to inform recommendations for vaccine use in the U.S.)
BLA: Biologics License Application
CDC: The U.S. Centers for Disease Control and Prevention (Supports medical use and access recommendations and a communication network for vaccine information.)
FDA: U.S. Food and Drug Administration (Reviews to inform recommendations for vaccine use in the U.S.)
IND: Investigational New Drug Application
Graphic by PhRMA. Source: https://www.cdc.gov/vaccinesafety/ensuringsafety/history/index.html
Safety Monitoring Does Not End
Systems that allow FDA and CDC to watch for safety issues are in place across the entire country as the COVID-19 Vaccine rollout continues.
The CDC FAQ page outlines the different monitoring tools that are already in place to monitor the ongoing safety characteristics of the COVID-19 vaccines.
V-safe is a new smartphone-based, after-vaccination health checker for people who receive COVID-19 vaccines. V-safe uses text messaging and web surveys from CDC to check in with vaccine recipients following COVID-19 vaccination. V-safe also provides second vaccine dose reminders if needed, and telephone follow up to anyone who reports medically significant (important) adverse events.
Vaccine Adverse Event Reporting System (VAERS) is the national system that collects reports from healthcare professionals, vaccine manufacturers, and the public of adverse events that happen after vaccination; reports of adverse events that are unexpected, appear to happen more often than expected, or have unusual patterns are followed up with specific studies. Reports to VAERS help CDC monitor the safety of vaccines. If experts detect an unexpected adverse event, they quickly study it further to assess whether it is a true safety concern. Experts then decide whether changes are needed in U.S. vaccine recommendations. This monitoring is critical to help ensure that the benefits continue to outweigh the risks for people who receive vaccines.
Healthcare providers are required to report certain adverse events following vaccination to VAERS. Healthcare providers also have to adhere to any revised safety reporting requirements according to FDA's conditions of authorized use throughout the duration of any Emergency Use Authorization; these requirements would be posted on FDA's website.
---
By: Joan Koerber-Walker, President & CEO, Arizona Bioindustry Association, Inc. (AZBio)
February 6, 2021