TUCSON, Ariz.– The steel frame and concrete floors are coming to completion at The Refinery. The final beam of The Refinery was placed, topping off the steel framework for the 120,000 square foot structure. The Refinery is the kickoff building to the new UA Tech Park at The Bridges, an extension campus birthed from the success of the UA Tech Park near Interstate 10 and Rita Road.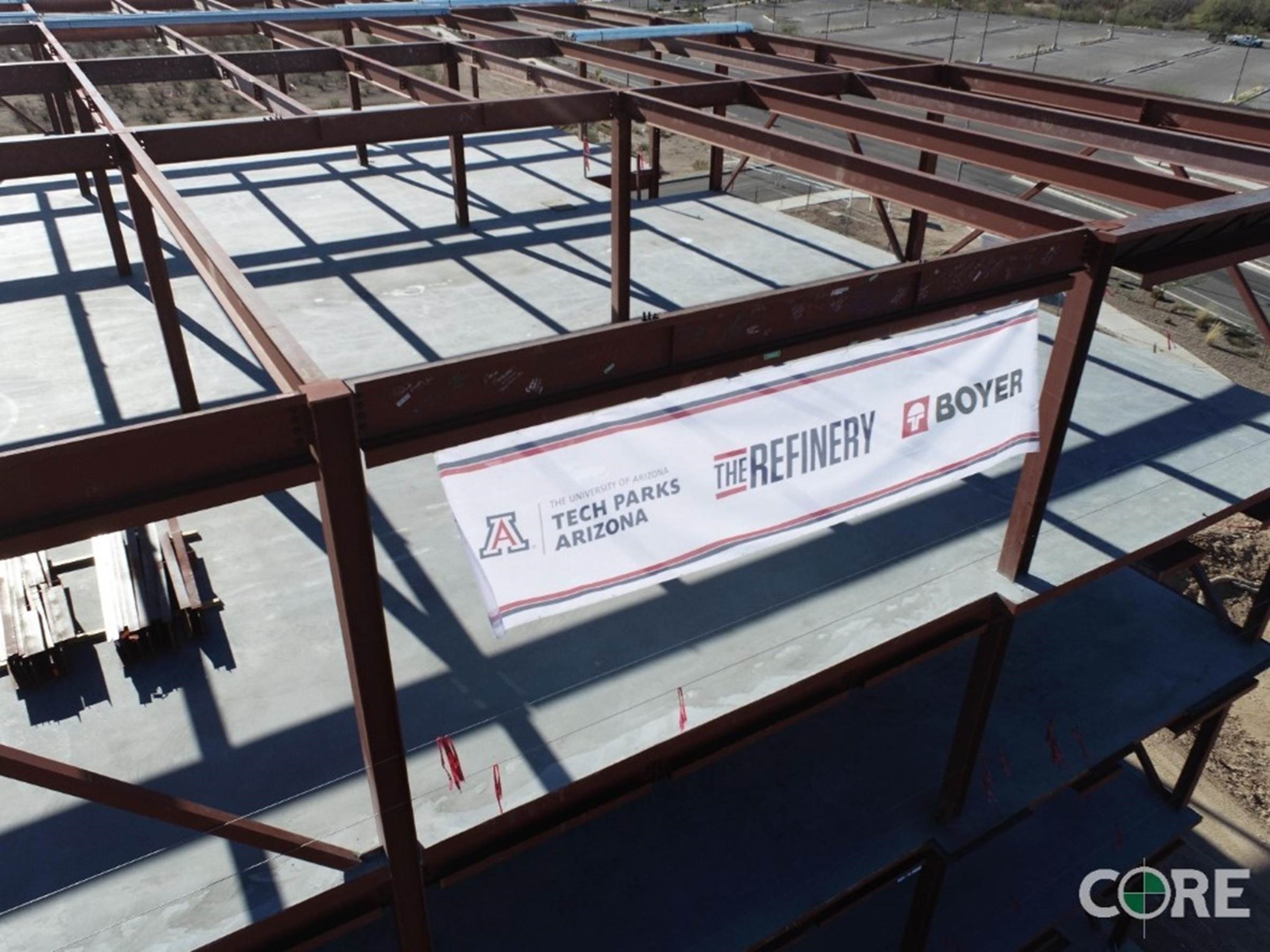 Construction at the UA Tech Park at The Bridges, just 3 miles from the University's main campus, did not miss a beat due to the pandemic. Because of the endurance and resilience of our collaborators, The Boyer Company, Swaim Architects and Core Construction, The Refinery is set to open on schedule and on time during the fall of 2021.
The four-story building will also serve as the University of Arizona's innovation and commercialization hub creating a centralized location that bridges resources and accelerates the most promising inventions. The University of Arizona will occupy 50% of the space at The Refinery. Activities housed at The Refinery will include the University of Arizona Applied Research Corporation (UA ARC) and the University's cyber operations program; the new offices for Tech Launch Arizona; an additional regional outpost of UA Center for Innovation; UA Digital Futures Studio, plus space for students and faculty. The remainder of the Class A office space is available to businesses looking to co-locate with the University of Arizona expertise.
Watch real-time construction progress of The Refinery on demand from this link https://app.oxblue.com/open/boyer/refineryatthebridges
About Tech Parks Arizona
Tech Parks Arizona creates the "Interactive Ground" that generates, attracts and retains technology companies and talent in alignment with the research, mission and goals of the University of Arizona. Tech Parks Arizona directs the UA Tech Park, the UA Tech Park at The Bridges and the University of Arizona Center for Innovation, placing the highest priority on recruiting companies desiring connectivity to the University of Arizona.
About The Boyer Company
The Boyer Company is a full-service developer and manager of office, retail, industrial, medical, government, and other specialty property types. Boyer is one of the largest development firms in the Western United States having developed over 35 million square feet of commercial space since 1972. Boyer is headquartered in Salt Lake City and also maintains an office in Phoenix. The company is one of the largest full-service real estate development firms in the Western United States.