CHANDLER, Ariz — (BUSINESS WIRE) — The Arizona Bioindustry Association (AZBio) today announced that Brigadier General Ronald E. Shoopman (USAF Retired), Chairman of the Arizona Board of Regents is the recipient of the 2018 AZBio Award for Public Service. Shoopman will be honored by Arizona's bioscience and business communities for his leadership and service to the people of Arizona at the 2018 AZBio Awards on October 3, 2018 at the Phoenix Convention Center.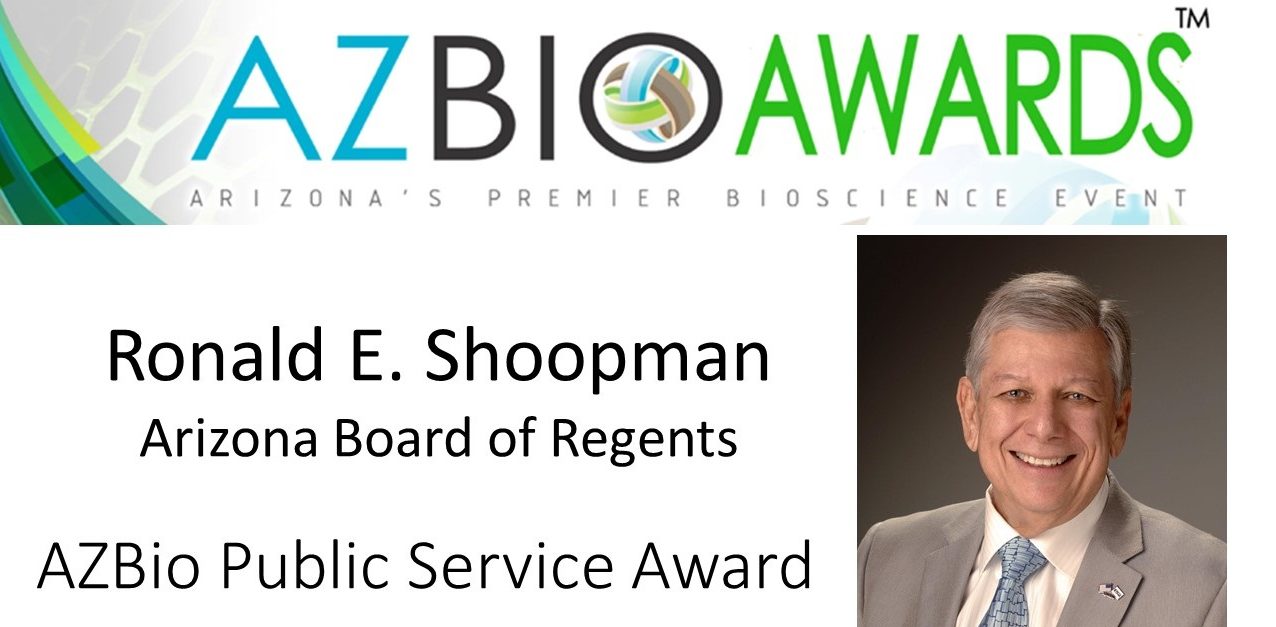 Brigadier General Ronald E. Shoopman (USAF Retired) was a recognized and accomplished leader long before Arizona had a bioscience industry. As it emerged, he has devoted his talents and expertise to help our bioscience industry grow to where it is today and to where it can be tomorrow.
The Air Force core values—integrity first, service before self, and excellence in all we do—are a commitment each Airman makes when joining the Air Force.
America's veterans often bring the core values that they have lived by in the service into civilian life. Ron Shoopman, a former General Officer and Wing Commander of the 162nd Fighter Wing, commanding the International F-16 Training Wing for the United States Air Force is a notable example of this.
Integrity First
Shoopman is well known in the Arizona leadership community for his sense of fairness, his ability to build consensus and an ability to bring people together to achieve shared goals.
Service Before Self
Gov. Jan Brewer appointed Ron Shoopman to an eight-year term on the Arizona Board of Regents in March 2014. He currently serves as chair of the board and chair of the Regents Executive Committee and Regents Award Selection Committee. Regent Shoopman is an ex officio member of the Finance, Capital and Resources Committee, Audit Committee, Academic Affairs and Educational Attainment Committee and the Research and Health Sciences Committee. He also represents the Arizona Board of Regents on the Campus Research Corporation Board. Additionally, he serves on the board of the Center for the Future of Arizona and as Chair of the Southern Arizona's Making Action Possible Dashboard Advisory Board.
Shoopman served as president/CEO of the Southern Arizona Leadership Council (SALC) from 2004 – 2018. Under his leadership the group has doubled in size and has compiled an impressive list of accomplishments. The nearly 150 CEO's of SALC are actively involved in creating a vibrant future for the Tucson region and state of Arizona by engaging the critical issues of education, infrastructure, healthcare, governance as well as science and technology.
"The recognition of Ron's leadership and lifetime of service is well deserved," said Ted Maxwell, President/CEO of the Southern Arizona Leadership Council. "Ron's ability and desire to bring people and resources together through collaboration has changed the playing field for bioscience and venture capital communities in Arizona."
Excellence In All We Do
As chair of the Arizona Bioscience Roadmap Steering Committee, along with vice chair Mark Slater, PhD of the Honor Health Research Institute, Shoopman leads a coalition of over 90 executives in guiding activities designed to achieve the Roadmaps objectives.
The Arizona Bioscience Roadmap is a long-term strategic plan originally commissioned by the Flinn Foundation in 2002 and updated in 2014 with the goal of Arizona becoming globally competitive and a national leader in select areas of the biosciences by 2025.
He has been a strong advocate for building Arizona's educational infrastructure in our K-12 educational systems, at our community colleges, and at Arizona's three public universities. He is also a founding board member of Tucson Values Teachers which is an education and business partnership created to address the issues of the teacher workforce and positively impact the quality of the region's education system.
Shoopman is the founding co-chair of the Arizona Bioscience Board (ABB) along with bioscience industry veteran Mara Aspinall. ABB is led by CEOs in multiple industries dedicated to improving the availability of venture capital in Arizona to help drive the growth of the state's innovation economy.
For his commitment to building a thriving bioscience community in Arizona and his work on behalf of today's and tomorrow's life science innovators, Brigadier General Ronald E. Shoopman (USAF Retired), Chairman of the Arizona Board of Regents is being honored with the 2018 AZBio Public Service Award.
A key component of Arizona Bioscience Week, The AZBio Awards & Life Science Fiesta brings together Arizona's life science and leadership community with visitors from around the country to celebrate life-science innovation and innovators. The AZBio Awards takes place on the evening of October 3, 2018 at the Phoenix Convention Center. Highlights of the evening will include honoring Dr. Daniel D. Von Hoff with the AZBio Pioneer Award for Lifetime Achievement and a celebration of the achievements of leading researchers, educators, and innovator companies. The Life Science Fiesta following the award ceremony features a Student Discovery Zone that showcases the work of fifty students from Arizona high schools, community colleges, and universities along with exhibits featuring Arizona companies and patient advocacy organizations. The AZBio Awards & Life Science Fiesta are presented by AZBio and the Arizona Commerce Authority.
The White Hat Life Science Investor Conference (White Hat 2018) brings together the next generation of biotech and healthcare pioneers from across the Rocky Mountain & Southwest Region with investors locally, nationally, and internationally. Held at the Phoenix Convention Center on October 4, 2018, White Hat 2018 is a collaboration between the bioscience industry associations across the region. The conference showcases investment opportunities for investment into privately-held companies in the areas of diagnostics, therapeutics, medical devices, and health information technology. Thirty-two companies have been competitively selected by a committee of experienced life science investors to present at White Hat 2018. Companies that presented at White Hat in 2014 and 2016 have gone on to receive almost $200 million in investment from private investors and corporate investors.
For more information on Arizona Bioscience Week, visit www.AZBio.org/AZBW2018.
For more information on the 2018 AZBio Awards, visit www.AZBioAwards.com
For more information about White Hat 2018, visit www.WhiteHatInvestors.com.
About AZBio
For 15 years, the Arizona Bioindustry Association (AZBio) has supported life science innovation and life science innovators in Arizona. A key component in Arizona's life science ecosystem, AZBio is the only statewide organization exclusively focused on Arizona's bioscience industry. AZBio membership includes patient advocacy organizations, life science innovators, educators, healthcare partners and leading business organizations. AZBio is the statewide affiliate of the Biotechnology Innovation Organization (BIO) and works in partnership with AdvaMed, MDMA, and PhRMA to advance innovation and to ensure that the value delivered from life-changing and life-saving innovation benefits people in Arizona and around the world.
For more information visit www.AZBio.org and www.AZBio.TV
AZBio Media Contact:
Joan Koerber-Walker, Arizona Bioindustry Association
jkw@azbio.org 480-332-9636
Images available upon request.