Dr. David S. Alberts of the University of Arizona Cancer Center and Dr. Raymond L. Woolsey of AZ CERT to be honored at the 2012 AZBio Awards for Achievements that have shaped our state and our industry.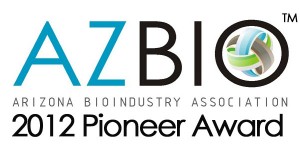 The Arizona Bioindustry Association announced today that Dr. David S. Alberts of the University of  Arizona Cancer Center and Dr. Raymond L. Woolsey of AZ CERT are to be honored at the 2012 AZBio Awards for Achievements that have shaped our state and our industry.
"Arizona is the land of the pioneers.  This year as we celebrate 100 years of statehood, AZBio is shining the spotlight on two pioneers who exemplify Arizona's pioneer spirit and led in the creation of new discoveries and built up  institutions that will pioneer new innovations for decades to come," shared Joan Koerber-Walker, president and CEO of the Arizona Bioindustry Association. "It is a great honor for us to be able to bestow the 2012 AZBio Pioneer Award on Dr David S. Alberts and Dr. Raymond L. Woosley at this year's AZBio Awards on October 23, 2012 at the Phoenix Convention Center."
The hallmark of a great pioneer is the ability to collaborate and build for the future by working with others to blaze new paths.  Both Dr. Alberts and Dr. Woolsey have demonstrated the success this can bring repeatedly through long and productive careers that have not only birthed innovations and built up organizations designed to foster future innovations; their work has saved countess lives.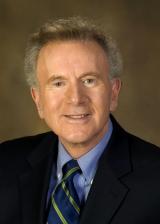 David S. Alberts, MD.
Throughout his career, Dr. Alberts has focused on translational cancer prevention and treatment research. The emphasis of his laboratory-based and clinical research has been on the chemoprevention and treatment of such pervasive and potentially deadly diseases as cancers of the breast, colon, ovary, and skin. He has been the UA Cancer Center's director since 2005.  Under Dr. Alberts'  leadership the extensive research portfolio of The University of Arizona Cancer Center includes more than $60 million in annual research funding, including four large NCI interdisciplinary programs, and two Special Programs of Research Excellence, one in gastrointestinal cancers and one in lymphoma.  Clinically, Dr. Alberts pioneered new treatments for advanced ovarian cancers, including in vitro tumor cell chemosensitivity testing for personalized medicine strategies, intraperitoneal chemotherapy, and maintenance chemotherapy. Presently, Dr. Alberts helps to coordinate Phase I and II and pharmacokinetic drug studies at The University of Arizona Cancer Center for molecularly-targeted chemopreventive agents.
His laboratory research is concentrated on the evaluation of new surrogate endpoint biomarkers for cancer prevention trials with a special focus on precursor lesions for bladder, breast, colon, cervical, endometrial, ovarian, prostate, and skin cancers, using quantitative histopathology (i.e. karyometric) approaches.  His NCI funded drug and diagnostics research has resulted in more than two dozen patents and the co-founding of five Arizona pharmaceutical and biotechnology companies.
Dr. Alberts has authored or co-authored over 550 peer reviewed publications, more than 100 book chapters and 60 invited articles, and has served as Editor and Co-Editor of eight books (e.g. Fundamentals of Cancer Prevention, Second Edition, Springer Verlag, 2009 and Intraperitoneal Therapy for Ovarian Cancer, Springer Verlag, 2010). He has served on the editorial boards of several peer-reviewed scientific journals including Associate Editor for Cancer Research from 1989-2002. Between 2002 and 2008, he acted as the Co-Editor-in-Chief of Cancer Epidemiology, Biomarkers & Prevention, the leading cancer public health research journal worldwide.
Dr. Alberts is currently Regents Professor of Medicine, Pharmacology, Nutritional Science, and Public Health at the University of Arizona College of Medicine, and Director of the Arizona Cancer Center. During his career, Dr. Alberts has served as an advisor to numerous cancer research foundations and committees, such as Chair of the Oncologic Drug Advisory Committee to the FDA (1984-1986), and was a member of the NCI's Board of Counselors (to the Division of Cancer Prevention, 1990-1994), the Board of Scientific Advisors (1999-2006), and on the coordinating subcommittee to the Clinical Translational Advisory Committee, NCI (2006-2009).
In June 2001, he was acknowledged by Science to be one of the top three National Institutes of Health-funded clinical researchers in the United States. In 2003, the American Association for Cancer Research (AACR) recognized his contributions to clinical care in the field of cancer with the Joseph H. Burchenal Clinical Research Award, and in 2004, the American Society for Preventive Oncology gave him its Distinguished Career Award for research excellence.
Also in 2004, the AACR awarded Dr. Alberts with its AACR-Cancer Research and Prevention Foundation Award for Excellence in Cancer Prevention Research Worldwide.
Dr. Alberts received his MD in 1966 from University of Virginia School of Medicine. He conducted his internship at the University of Wisconsin, before becoming a Clinical Associate in medical oncology at the National Cancer Institute's Baltimore Cancer Research Center. Dr. Alberts conducted his internal medicine residency at the University of Minnesota and then served on the faculty of the University of California, San Francisco, for five years and obtained Board certification in Medicine and Medical Oncology in 1973. He joined the University of Arizona College of Medicine in 1975 as an Assistant Professor, where he has served for nearly 37 years.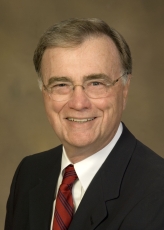 Raymond L. Woosley, MD, PhD
Raymond L. Woosley earned a Ph.D. in Pharmacology from the University of Louisville and an M.D. from the University of Miami. He began his career as the first scientist in the US operations for Glaxo, now known as GlaxoSmithKline. Dr. Woosley specialized in Internal Medicine and Clinical Pharmacology at Vanderbilt University where he rose to the rank of Professor of Medicine. At Georgetown University he served as Chairman of the Department of Pharmacology and in 2000 was appointed Associate Dean for Clinical Research. In 2001 he became Vice President for Health Sciences at the University of Arizona and Dean of the College of Medicine. In January of 2005 he assumed the position of President of The Critical Path Institute (C-Path), a non-profit corporation formed by the Food and Drug Administration, SRI, International and the University of Arizona to accelerate the development of safe innovative medicines. Since 1999, he has directed one of seven federally-funded (Agency for Healthcare Research and Quality) Centers for Education and Research on Therapeutics (CERT).
Under Dr. Woosley's leadership,  C-Path (the Critical Path Institute) orchestrated the  acceleration of medical product development through a unique collaborative process among industry, academia, and the FDA. Our collaborations among 6 global consortia, 1000+scientists, and 41 companies has already produced these notable successes:
First preclinical safety biomarkers (7) qualified by the FDA, EMA, and PMDA (the Japanese counterpart)
First CDISC (Clinical Data Interchange Standards Consortium) therapeutic area data standard
First and largest open database of CDISC aggregated clinical trial data for Alzheimer's disease (6,100 patients and 22 clinical trials) Read more
First drug-disease trial model & clinical trial simulation tool submitted and under review by the FDA
First imaging biomarker for trial enrichment qualified by the EMA
Dr. Woosley's research has investigated the basic and clinical pharmacology of drugs for the treatment of arrhythmias and the cardiac toxicity of drugs, and has been published in over 260 publications. His research discovered the mechanism of the toxicity of the antihistamine Seldane®. He is the recipient of the Rawls-Palmer Award from the American Society of Clinical Pharmacology and Therapeutics for his contributions to medicine and the FDA Commissioner's Special Citation for his work to advise the agency on the toxicity of dietary supplements containing ephedra. Dr. Woosley is a Past-President of the Association for Medical School Pharmacology and the American Society for Clinical Pharmacology and Therapeutics. He has served on numerous boards including the US Pharmacopeia. He is a member of the Biodesign Institute at Arizona State University. As a member of the University of Arizona's Sarver Heart Center and Bio5 Institute, he conducts research on the prevention of adverse drug interactions.