Key Equipment Available for Researchers in Downtown Phoenix
Life science researchers in Arizona have a powerful tool to tackle some of their most difficult issues with the addition of flow cytometry and immunology core lab at the University Of Arizona College Of Medicine – Phoenix.
The medical school is now playing host to flow cytometry technology and the expertise associated with it on the downtown Phoenix campus for use by its basic medical science faculty, researcher institutes and biotech companies in the area.
The flow cytometer helps in identifying as well as purifying a single cell type from a heterogeneous population and increases productivity for researchers in a wide variety of topics.
"This system is easy to use and will help in a wide range of applications for studying immunology and cell biology both in normal and diseased state," said Mrinalini Kala, PhD, director of the flow cytometry core at the UA College of Medicine – Phoenix.
The flow cytometer and the expertise available at the UA College of Medicine – Phoenix flow core lab can be used in basic, clinical translational research, new flow based assay development, testing sites for kits developed by local companies and collaborative work.
Flow Cytometry Core: Provides services for cell phenotyping, sorting, data interpretation and analysis, DNA and cell cycle analysis, apoptosis, cell proliferation assay, intracellular calcium in flux, training of users (instruments and analysis), maintaining and upgrading Instruments, Research Support Services (Study Design, Assay Selection, Grant and paper writing support), collaboration, develop and validate flow based assays.
Immunology Core: The Immunology Core develops, validates, and applies innovative or specialized immunology assays which accelerate research in any field of immunology. Isolation of peripheral blood monocytes (PBMC) for staining, cell sorting, or viable cryopreservation, cytokine/chemokine analysis, develop ELISA, flow cytometry and luminex based assays. Murine model of autoimmunity.
Core faculty helps to stimulate inclusion of flow cytometry and immunology research in new studies through consultations and educational initiatives that inform the community of recent advances in flow cytometry and immunology.
Flow cytometry is a laser-based, biophysical technology employed in cell counting, sorting, biomarker detection and protein engineering. It allows simultaneous analysis of up to thousands of particles per second. Flow cytometry is routinely used in the diagnosis of health disorders, especially blood cancers, but has many other applications in basic science research.
Kala recently entered in a contract with MSDx, a company based at the University of Arizona's Tech Park business incubator in Tucson. The flow cytometry core lab served as one of the testing site for their flow based kit.
"MSDx utilized the services of the UA Phoenix Flow Cytometry Core Lab to conduct studies as one of our Alpha testing sites," said Marie Wesselhoft, president of MSDx. "As a manufacturer of research testing kits, MSDx needed a high quality laboratory to test our kits, measure the performance and produce a report that meets the needs of our quality system.  Dr. Kala, led our work with the core laboratory and was an performed excellent 'Alpha' testing. Their work provided insight that we incorporated into the design of the final release of the product.  We will continue to use the UA Phoenix Core lab in the future."
Ray Jacolik, product development and operations manager at MSDx, said, "Dr. Kala provides great insight and advice on various methods to improve design and ease of use of our research products."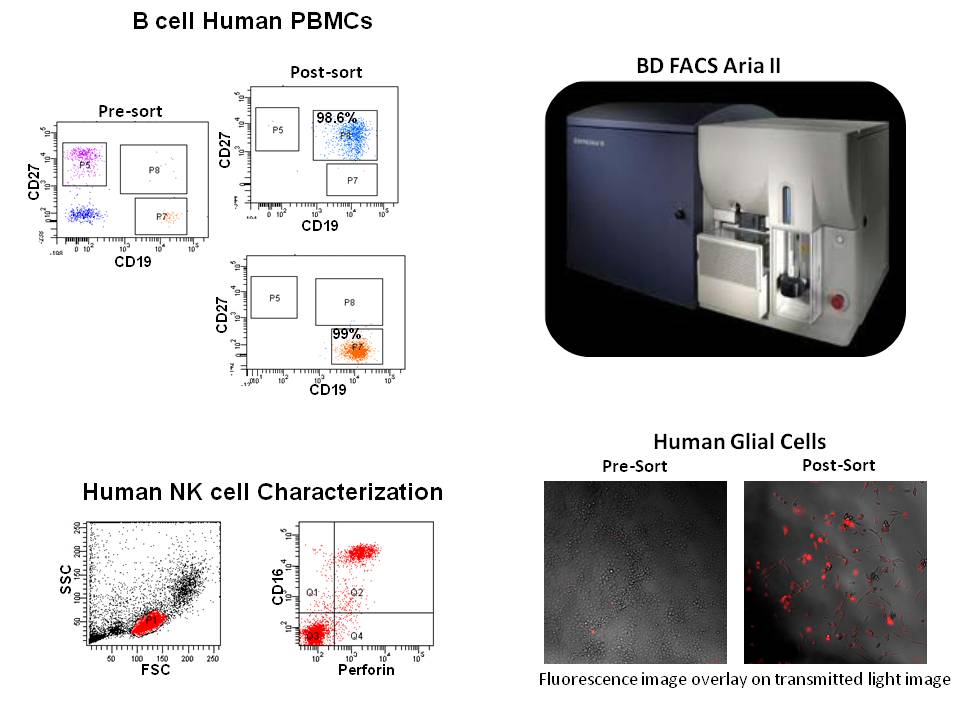 A glossary of terms:
Immunophenotyping: The most common application performed on the cytometer is immunophenotyping. This technique identifies and quantifies populations of cells in a heterogeneous sample usually blood, bone marrow or lymph. These cell subsets are measured by labeling population-specific proteins with a fluorescent tag on the cell surface. In clinical labs, immunophenotyping is useful in diagnosing hematological malignancies such as lymphomas and leukemia.
Cell Sorting: The cell sorter is a specialized flow cytometer with the ability to physically isolate cells of interest into separate collection tubes. The cytometer interrogates and characterizes each cell as it passes through the laser. The sorter then uses sophisticated electronics and fluidics to identify and "kick" the cells of interest out of the fluidic stream into a test tube.
Cell Cycle Analysis: Flow cytometry can analyze replication states using fluorescent dyes to measure the four distinct phases of the cell cycle. Along with determining cell cycle replication states, the assay can measure cell aneuploidy associated with chromosomal abnormalities.
Apoptosis: Apoptosis, or programmed cell death, is a normal part of the life cycle of eukaryotic cells. Cells die for a variety of reasons: through necrosis, brought on by external physical and chemical changes to the cell or through apoptosis, a process in which cells initiate a "suicide" program through internally controlled factors. These two distinct types of cell death, apoptosis and necrosis, can be distinguished by flow cytometry on the basis of differences in morphological, biochemical and molecular changes occurring in the dying cells.
Cell Proliferation Assays: Cell proliferation assays are widely used in cell biology to measure cellular metabolic activity in response to stimuli such as growth factors, cytokines and other media components. The flow cytometer can measure proliferation by labeling resting cells with a cell membrane fluorescent dye, carboxyfluorescein succinimidyl ester (CFSE). When the cells are activated, they begin to proliferate and undergo mitosis. As the cells divide, half of the original dye is passed on to each daughter cell. By measuring the reduction of the fluorescence signal, researchers can calculate cellular activation and proliferation.
Intracellular Calcium Flux: Cells interact with each other and their environment through signal transduction pathways. When these pathways are activated, membrane-bound calcium ion channels pump calcium into the cell and rapidly increase the intracellular calcium concentration. The higher calcium levels provide energy to the cell to respond to the external stimuli. The cytometer can monitor the flux of calcium into the cell and measure the extent to which cells respond to the stimuli.
###
The University of Arizona College of Medicine – Phoenix admitted its first class of first-year medical students in August 2007. The College of Medicine – Phoenix has 265 students training to be physicians. The college seeks to promote health and improve the prevention, diagnosis and treatment of disease for the people of Arizona and beyond through education, research and patient care.
To Learn More, Contact:
Mrinalini Kala, PhD Cores Director
Phone (work): 602-827-2251 Phone (cell): 602-908-9193 Fax: 602-827-2249
Email: mkala13@email.arizona.edu