Leaders from across Arizona will be sharing insights on stage at BIO 2014 in San Diego.

The BIO International Convention brings together thought leaders from around the world to share insights on the trends, best practices, and innovations  that are shaping the industry.
Arizona Thought Leaders Speaking on panels at BIO 2014 include:
(Listed in order of Panel Schedule)     Joan Koerber-Walker (AZBio)   "Maximizing the ROI in Quality Innovation" 9 AM on Tuesday, Room 31 C     Phil Schneider (UA College of Pharmacy- Phx) & Marcia Horn (ICAN) "Ensuring the Safety and Commercial Success of Biosimilars in the United States"  1:45 PM–2:45 PM Jun 24, Tuesday   Room 31B       Ron King (BioAccel) Transforming "Academic Innovation: A Systems Approach" 4:15 PM–5:15 PM Jun 24, Tuesday   Room 11A     Mara Aspinall (Ventana)   "EY 2014 Biotechnology Industry Report"
 (Super Session) 
10:00 AM–11:30 AM Jun 25, Wednesday  Room 6AB     Louis Bretton(Calimmune) "Stem Cells and Gene Therapy, a Great but Challenging Marriage" 1:45 PM–2:45 PM Jun 25, Wednesday   Room 9     Martha Brumfield (C-Path)    "FDA's Critical Path Initiative: Progress in the First Decade and Promise for the Next" 9:00 AM–10:00 AM Jun 26, Thursday   –   Room 31B     Diane Stephenson (C-Path) & Robert Bowser (Barrow) "Leveraging Clinical Trials for Biomarker Discovery" 9:00 AM–10:15 AM Jun 26, Thursday   Room 7AB  
Check out what is happening in the Arizona Pavilion #5515
This year's Arizona Pavilion (#5515) illustrates how innovation is in our DNA with demonstrations from Breezing.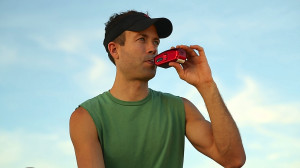 Breezing, a startup based on technology developed by researchers at Arizona State University, is offering the world's first portable device that can track an individual's metabolism and use that information to provide diet and exercise recommendations for maintaining or reaching a healthy weight.
BIO 2014 attendees will have the opportunity to register to try out Breezing on the main stage at the Arizona Pavilion hosted by the Arizona Commerce Authority.
With a newly designed display area thanks to BizBox, Arizona is ready to connect with the world at the BIO International Convention in San Diego June 23 – 26, 2014.