Get the latest AZBio Expo Coverage from the Phoenix Business Journal
Date: Wednesday, May 16, 2012, 5:35pm MST
Angela Gonzales  Senior Reporter- Phoenix Business Journal
More than 250 people from across the Southwest are scheduled to attend the Arizona BioIndustry Expo at Grand Canyon University Grand Canyon University  on May 17.
While the attendee roster is more than last fall's expo, AzBio CEO Joan Koerber-Walker said she is disappointed that more people haven't signed up.
They are going to miss out on some "amazing speakers and really important contacts," she said.
Currently Arizona's bioscience industry represents $28.8 billion in annual revenues, according to the group.
"The expo will bring together our researchers, innovators and entrepreneurs who are discovering and developing new ways to feed the world, creating alternate sources of energy, and delivering innovations that sustain, improve and save lives," Koerber-Walker said. "Our statewide conference will explore new technologies, develop new partnerships for collaborations and funding and get the latest information about forces that impact our industry."
Area bioscience leaders will speak on topics such as algae biofuels, environmentally friendly technologies, how to access capital funding and create key partnerships.
Notable speakers include Greg Yap of Ventana Medical Systems, Paul August of Sanofi, Robert Bowser of Barrow Neurological Institute Barrow Neurological Institute, Alan Nelson of VisionGate, Robert Penny of the International Genomics Consortium  and representatives from all three state universities.
Click here for more on the conference.
About the Author: An AZBio Side Note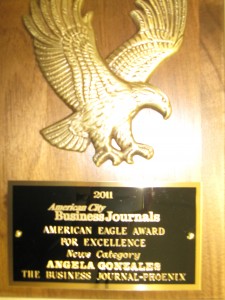 Angela Gonzales covers health, biotech and education for the Phoenix Business Journal and always stays closely connected to the newsmakers and the heartbeat of  our industry.
Perhaps that is why the American City Business Journals recently honored Angela with its highest honor, The American Eagle Award For Excellence.
Congratulations Angela!