Az Business honors the Most Influential Women in Arizona. They are the best business minds in Arizona. They are innovators, trailblazers and leaders of industry. — Michael Gossie, Editor, AZBusiness Magazine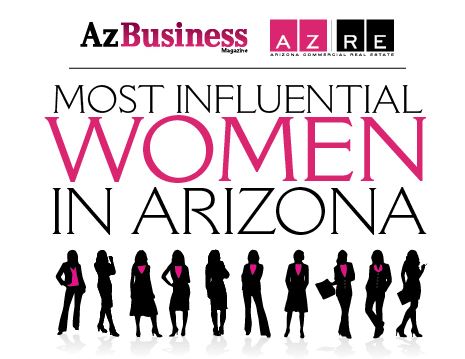 "While their resumes and career paths may differ, the women we selected have all procured influence in their respective fields through hard-earned track records of profitability, business ethics and leadership," said AZ Big Media  Publisher Cheryl Green. "Az Business magazine is proud to congratulate the women who earned the right to call themselves one of the Most Influential Women in Arizona Business. They are changing the face of Arizona business."
The women from AZBio Member Organizations selected to this prestigious list for 2015 are:
Karen Anderson, researcher, ASU's Biodesign Institute
Rita Cheng, president, NAU
Judith S. Gordon, head of research, University of Arizona
Melissa Ho, Polsinelli
Becky Kuhn, executive vice president, Banner Health
Betsy Kuzas, chief operating officer, Phoenix Children's Hospital
Michelle Lawrie, economic development director, Goodyear
Tammy McLeod, vice president, APS
Suzanne Pfister, president and CEO, St. Luke's Health Initiatives
Sherri Slayton, Alliance Bank of Arizona
Molly Stockley, vice president of hospital growth, CTCA
Generation Next
In addition to the Most Influential Women in Arizona Business, Az Business also selects five "Generation Next" women who are making an impact on Arizona, even though they are less than 40 years old.  AZBio congratulates members:
Denyse Airheart, interim director of economic development, City of Maricopa
Jessica Benford, shareholder, Ryley Carlock & Applewhite
Dr. Ivana Dzeletovic, Banner MD Anderson Cancer Center
To see the full list of 2015 honorees, click here
Members of the 2015 list will be recognized at the Most Influential Women in Arizona Cocktail Party on August 27, from 5:30 p.m. to 7:30 p.m. at Chateau Luxe.  Click here to purchase tickets.
The List is building…
AZBio congratulates all of the inspiring women selected as 2015's Most Influential Women in Arizona Business. They join a growing list of women from across our membership and our  industry committed growing businesses and a brighter Arizona future.
Az Business also does not allow a woman to appear on the list most than once.  Each year,a honorees  join a growing list of women of influence across our industry and our state:
2014 Most Influential Women in Arizona Business from AZBio's Membership:
Nanzeen Aziz, PhD (Phoenix Children's Hospital), Anca Bec (AllianceBank of Arizona), Karen Dickinson(Polsinelli), Mary Ann Guerra, (BioAccel), Maria Harper-Marinick (Maricopa Community Colleges), Joan Koerber-Walker (AZBio), Deb Krmpotic (Banner Health), Jessica Langbaum, PhD (Banner Alzheimer's Institute), Mayor Georgia Lord (City of Goodyear), Sherry Lund (Celebration Stem Cell Centre), Scarlett Spring (VisionGate), NancK. Sweitzer, MD (UA Sarver Heart Center)
2013 Most Influential Women in Arizona Business from AZBio's Membership:
Mara Aspinall (Ventana Medical Systems), Kathleen Goeppinger (Midwestern University), Amy Hillman, PhD (ASU), Laura Robertson (Banner Health), Kristen Rosatti (Polsinelli), Adrienne Scheck, PhD (Barrow Neurological Institute), Sandra Watson (Arizona Commerce Authority), Ann Weaver Hart,PhD (University of Arizona)