We're Getting Ready for
Arizona Bioscience Week
"Arizona's bioscience industry is committed to discovering, developing and delivering innovative medicines, medical devices and healthcare technologies that make life better for people in Arizona and around the world"
Learn more about Arizona's Bioindustry in this video produced by the Flinn Foundation.
Proclaiming Arizona Bioscience Week
On March 15, 2018, the Arizona Senate recognized the men and women in our bioscience industry who are working to discover, develop, and deliver lifesaving and life changing innovations and proclaimed September 30 to October 6, 2018 as Arizona Bioscience Week. (View the proclamation)
Thank you to Senate President Steve Yarbrough and Senator Sean Bowie for honoring our industry members and for helping AZBio celebrate 15 years as Arizona's life science industry association.
Life Science Innovation is blooming in the desert
Located in the heart of the Rocky Mountain Southwest Region, Arizona is home to one of the fastest growing life science sectors in the country. Arizona's Bioscience Roadmap, a long-term strategic plan originally commissioned by the Flinn Foundation in 2002 and updated in 2014 with the goal of Arizona becoming globally competitive and a national leader in select areas of the biosciences by 2025 has provided a framework for growth and levels of collaboration that are rarely found outside of Arizona.
Global leaders including Bard Peripheral Vascular, Celgene, Medtronic Tempe Campus, Ventana Medical Systems, Inc., a member of the Roche Group, and W.L. Gore call Arizona "home".
Working alongside them, Entrepreneurs are creating innovative products and services in the form of therapeutics, diagnostics, medical devices, and health information tools.
Research Institutes including the Biodesign Institute and the BIO5 Institute are housed in Arizona's world class universities and work in partnership with researchers and clinicians at private institutions including the The Banner Alzheimer's Institute, the Barrow Neurological Institute, the Critical Path Institute, the Translational Genomics Research Institute (TGen), and the Virginia G. Piper Cancer Center at HonorHealth.
The latest innovations in patient care are delivered by nationally recognized physicians at Banner Health, Cancer Treatment Centers of America, Dignity Heath, HonorHealth, Mayo Clinic, and Phoenix Children's Hospital.
Join us for Arizona Bioscience Week, September 30 - October 6, 2018. It is your opportunity to connect, to engage, and to learn how life science innovators are making LIFE better today and for generations to come.
Arizona Bioscience Week Partnering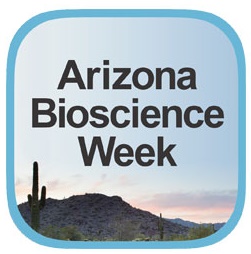 Each person registered to attend the AZBio Awards and/or White Hat 2018 event during Arizona Bioscience Week (AZBW) event will receive an invitation to AZBW Partnering. This is your opportunity to connect and engage with Arizona's vibrant bioscience and healthcare community. Look for the people you want to connect to and reach out! If that person agrees to meet with you, the system can even help by scheduling your meeting.
AZBW Partnering invites will be extended to registered attendees beginning Sept 1. 2018.
Arizona Bioscience Special Supplement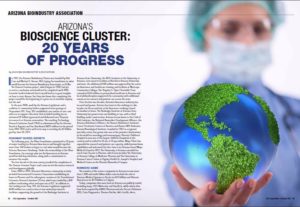 The Arizona Bioscience Special Supplement in the Sept./Oct. issue of Az Business Magazine reaches 25,000 readers in print and 122,500 online and helps the community get engaged in the weeks leading up to AZBW.
Click here to learn about sharing your story in the Arizona Bioscience Special Supplement.
Arizona Bioscience Week Opportunities
Connect - Engage- Collaborate
Leading Women: Biotech and Beyond
Arizona's Bioscience Community has a great cross section of great women leaders.
Join us for cocktails, connections, and a stimulating conversation with some of biotech's leading women hosted by AZBio & Perkins Coie. This event will take place on Monday, October 1, 2018 from 5:30- 7:30 PM. Registration will open in July of 2018.
Family Office Forum
The Family Office Forum will be presented by one of the nation's leading peer to peer family office networks. This event will take place on Tuesday, October 2, 2018 from 8:00 AM 5:00 PM. The Family Office Forum is by invitation only and will be held on the Phoenix Biomedical Campus. To request an invitation, click here.
WEDNESDAY, OCTOBER 3, 2018

Celebrating Excellence
The AZBio Awards Ceremony Celebrates Arizona's leading Educators, Innovators and Companies.
Join us for an inspirational celebration of the best of Arizona's Bioscience Industry on October 3, 2018 at the Phoenix Convention Center's West Ballroom.
Tickets are required for the AZBio Awards. Join the Celebration on Wednesday, October 3, 2018 from 3:00 p.m. – 8:30 p.m. in the Phoenix Convention Center - West Ballroom Click here to learn more.
White Hat Life Science Investors Conference
Join us to meet a new generation of biotech and healthcare pioneers at White Hat Investors 2018, the biotech and healthcare investor conference that showcases the best of the Rocky Mountain & Southwest Region at the Phoenix Convention Center on October 3 & 4, 2018 at the high point of Arizona Bioscience Week.
Public Health Conference 2018
The 2018 Public Health Law Conference will include more than 40 sessions exploring law and policy pathways to Improving access to health care; Protecting vulnerable populations against health risks and injury; Developing protections against discriminatory practices; and Strengthening efforts of local, Tribal and state public health agencies
Bioscience Family Night at the Arizona Science Center
We hope you and your families will join us to Celebrate the Arizona Bioscience Industry at Arizona Science Center!
This special celebration is free of charge to members of our bioscience community, AZBio Member Companies AND their families/guests. Arizona Science Center will be ours for the evening to enjoy.

Submit Your AZBW Event
Arizona Bioscience Week is a collaborative community event.
All members of the Arizona Life Science Ecosystem are encouraged to host AZBW events during Arizona Bioscience Week. Click here to request more information...

Connecting Talent with Opportunity
"Connecting Talent with Opportunity" takes on a new meaning with up to ten FREE 30-day Standard Job Postings for AZBio Member Companies on the AZBio Career Center. Take take advantage of this special offer for AZBio Member Companies beginning June 1st and ending September 30th, 2018 . Click here to learn more.
Post your positions so that our community and our AZBW visitors see your job opportunities.

Arizona Bioscience Week is made possible thanks to our community and industry supporters.