Each Sunday, BioCentury This Week focuses on key issues in the bioindustry.  On Sunday July 22, 2012, the focus of the program zeroed in on the recent news from Washington on the FDA Investigation regarding "whistle blowers" and the protection of industry confidential information.
On Jul 14th, the New York Times reported that a Vast F.D.A. Effort Tracked E-Mails of Its Scientists.
On Sunday July 22nd,  BioCentury This Week television examined the legal landscape, the employees' rights and the pressures on FDA management to address tough scientific and medical issues, as well as protect confidential information.
FDA is under attack in the wake of revelations about an aggressive investigation of leaks by agency staff and a massive cyber security breach.
Sen. Chuck Grassley has accused FDA of operating as a secret police, using spyware to monitor the use of computers by its employees to communicate with journalists, members of Congress and government investigators.
Meanwhile, thousands of pages of confidential information unearthed during the investigation inadvertently became public on the Internet, compromising confidential information about companies and individuals.
FDA is being sued by present and former FDA employees who say the agency has violated their rights under whistleblower statutes — but the agency says it has a legal obligation to investigate leaks and protect confidential information.
The show featured Washington Editor Steve Usdin and his guests:
| | |
| --- | --- |
| • | David   Rosen,   partner at Foley & Lardner, who dealt with confidentiality and trade   secret issues over 14 years as a reviewer and attorney at FDA. |
| • | Stephen   Kohn   of the law firm Kohn, Kohn & Colapinto, who is executive director of the   National Whistleblowers Center, and also represents current and former FDA   employees who are suing the government. |
| • | Mary   K. Pendergast,   an attorney who served as deputy commissioner of FDA and senior advisor to   Commissioner David Kessler. |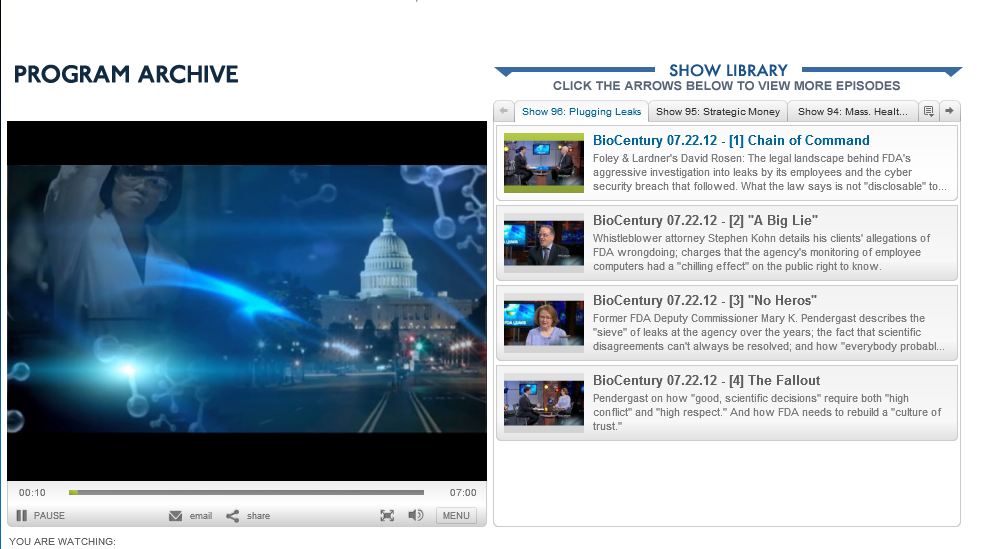 To watch the video series, visit BioCentury This Week