AZBio Board Member Russ Yelton joined Matthew Battaglia for the Business Roundtable on 1100 KFNX to discuss some of the ways that pubic private partnerships are acceleratng the growth of Arizona's bioscience sector.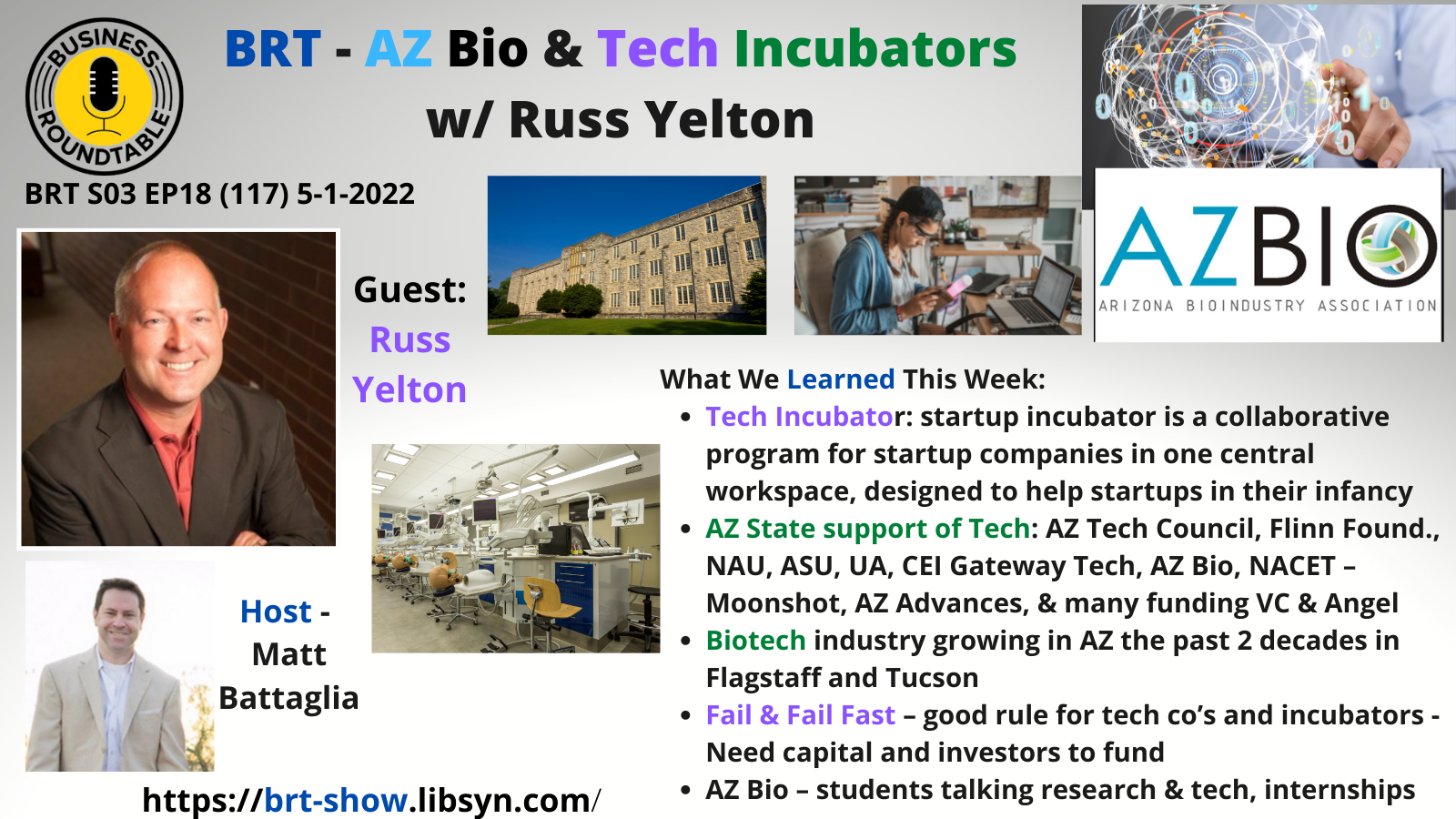 BRT S03 EP18 (117) 5-1-2022 – AZBio & Tech Incubators w/ Russ Yelton
Things We Learned This Week
Tech Incubator: startup incubator is a collaborative program for startup companies — usually physically located in one central workspace — designed to help startups in their infancy succeed by providing workspace, seed funding, mentoring and training.
AZ State supporters of Tech: AZ Tech Council, The Flinn Foundation, NAU, ASU, UA, CEI Gateway Tech, AZBio, NACET – Moonshot, AZ Advances, & many funding VC & Angel groups – ATI, Desert Angels, Canyon Angels
Biotech industry growing in AZ the past 2 decades in Flagstaff and Tucson
Fail & Fail Fast – good rule for tech co's and incubators – Need capital and investors to fund incubators at Universities, plus community (City) support
AZBio – students talking research and tech, internships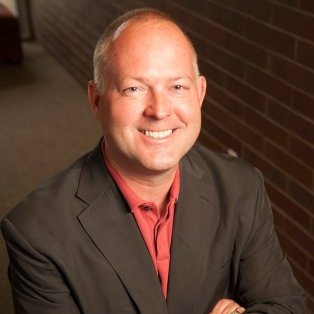 ABOUT RUSS YELTON
Russ Yelton served as Chairman of the AZBio Board of Directors from January 2015 to December 2017. He has been an active board members since being elected in 2009.
He is currently president of Yelton and Associates. The firm provides economic development services as well as early stage business solutions. Yelton and Associates has experience both domestically and internationally and has assisted thousands of entrepreneurs to raise funding and bring their products to a variety of markets. The firm also has a long history of assisting municipalities with the development of co-work, incubators and accelerators as well as loan funds, student focused entrepreneurial programming as well as shared facilities.
As a Board Member at Pinnacle Transplant Technologies, Inc., Yelton provides executive level leadership to a rapidly expanding tissue bank and medical device company. Yelton served as Pinnacle Transplant's CEO from 2014 to 2017.
Pinnacle Transplant Technologies is a multi-service tissue bank dedicated to ethical participation in the donate life process. U.S. Food and Drug Administration (FDA) registered and American Association of Tissue Banks (AATB) accredited, Pinnacle only works with federally chartered Organ Procurement Organizations (OPOs) and agencies accredited by AATB to help safeguard our employees, provide superior allografts for transplantation and assure reverence to our donor families.
Prior to joining Pinnacle Transplant Technologies, Yelton was President and CEO of the Northern Arizona Center for Entrepreneurship and Technology located in Flagstaff. NACET is a business incubation program that assists companies with commercializing their technologies in both domestic and international markets. NACET is supported by the City of Flagstaff and Northern Arizona University where it functions as the Technology Transfer Office for NAU. Clients in NACET's program received individual business consulting, access to mentors, venture and angel capital and domestic and international student research teams.
Prior to coming to Arizona in 2009, Yelton oversaw the creation of a business incubation program in Asheville, North Carolina in an abandoned 141,000 sq feet former BASF manufacturing plant. That program, located at a community college, included a commercial food kitchen, biotechnology space with wet, dry and core laboratories, light manufacturing and executive offices.
Yelton received his Bachelor of Science in Business Administration at Appalachian State University, a Masters of Business Administration from Western Carolina University and Doctoral studies in Educational Leadership also at WCU. In addition, he received a European Union Grant in 2008 to complete Evaluation of Sustainability Training from Vienna University of Economics and Business Administration.
AZBio: Supporting Arizona's Life Science Industry for 19 Years (2003 – 2022)
Learn more at www.AZAdvances.org
MOVING LIFE SCIENCE INNOVATIONS ALONG THE PATH FROM DISCOVERY TO DEVELOPMENT TO DELIVERY
OUR VISION OF THE FUTURE: Arizona is a top-ten life science state.
OUR MISSION: AZBio supports the needs of Arizona's growing life science ecosystem.
Learn more about Arizona's bioindustry: www.azbio.org
AZBio is part of a movement to create sustainable funding for life science innovation in Arizona.
About the Business Roundtable with Matt Battaglia
The show where Entrepreneurs, High Level Executives, Business Owners, and Investors come to share insight and ideas about the future of business. BRT 2.0 looks at the new trends in business, and how classic industries are evolving. We Profile the current Players weekly in an Interview format to give you an inside look, to learn from their own experiences.
Popular Topics Discussed: Business, Entrepreneurship, Investing, Stocks, Cannabis, Tech (AI, VR, Biotech, Chips, Electric Battery), Blockchain / Crypto, Real Estate, Legal, Vehicles, Franchising, Farming, Sales, Charity
BRT Podcast Home Page: https://brt-show.libsyn.com/
BRT 'Best Of' Page: Click Here
More Info: https://www.economicknight.com/podcast-brt-home/
* Sign Up for 'All New' the BRT Show Newsletter at the EK Website
Contributor: Denver Nowicz @ https://wealthforlife.net/
KFNX Info: https://1100kfnx.com/weekend-featured-shows/
SOURCE: https://brt-show.libsyn.com/brt-s03-ep18-117-5-1-2022-az-bio-tech-incubators-w-russ-yelton