The award will go towards the development of CTX-002 in preparation for clinical studies.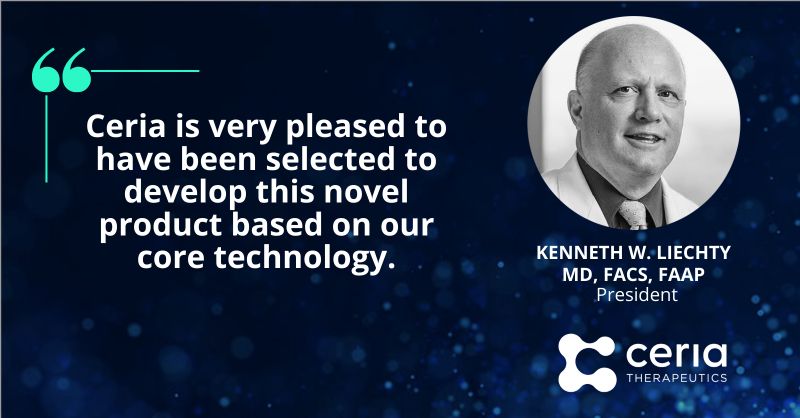 Tucson, AZ – October 3, 2023
–
Ceria Therapeutics, Inc.
(Ceria), an Arizona-based biotech startup focusing on the development of novel therapeutics to address several inflammatory diseases, today announced that the company has been awarded a contract from the United States Department of Defense's (DoD) U.S. Army. This award is directed to the development of CTX-002 and a portable delivery device for the prevention and emergency treatment of acute lung injuries (ALI).
ALI can be caused by inhaled chemicals and toxins, smoke, respiratory pathogens, or chest trauma, which all result in lung inflammation. Inflamed lung tissue leads to fluid accumulation (edema), which can impair gas exchange, requiring hospitalization. Progression of ALI can lead to acute respiratory distress syndrome (ARDS) requiring admission into the intensive care unit (ICU). Once progression to ARDS occurs, mortality approaches 50%. Patients who recover from inflammatory lung disorders including ALI and ARDS may suffer long-term impaired lung function and gas exchange due to pulmonary fibrosis, with up to 50% being unable to return to work for over a year.
In battlefield situations, warfighters and first responders are frequently exposed to smoke, airborne burn pit debris, weaponized toxins, and other noxious inhaled chemicals. Only masks and filters can currently reduce the risk of ALI from these common agents. Thoracic trauma and respiratory pathogens further increase the risk of ALI and ARDS. In civilian populations, prior to the SARS-CoV-2 viral pandemic, there were >1.5 million annual cases of ALI in emergency departments and urgent care centers from multiple causes. Since March 2020, more than 25 million persons in the U.S., including warfighters and other military service personnel, have presented in emergency care settings with ALI from the virus. There are no FDA approved drugs to reduce the risk of, treat, or prevent the progression of ALI to more serious lung conditions like ARDS. Inflammatory lung disorders are considered a major unmet medical need with high morbidity and mortality, and significant long-term care costs.
Ceria's pipeline of therapeutic products addresses inflammatory conditions at the root cause with a suite of novel drug products that block the inflammatory signaling pathway and restore natural healing. In animal models of ALI, CTX-002 has been shown to block lung inflammation when administered as a preventative treatment before exposure to chemical and biological agents as well as when administered as a therapeutic treatment to reverse progressive ALI/ARDS resulting from exposure or infection.
This program was awarded as a result of collaborative research between Ceria, the University of Colorado Anschutz Medical Campus, and the University of Arizona Medical Center. David Jackson PhD, chief executive officer of Ceria, will serve as the principal investigator (PI). He is joined by Carlos Zgheib PhD, chief scientific officer of Ceria and co-PI of the program, Ken Liechty MD, inventor of the company's core technology, and Gino DiSciullo PhD, Ceria's head of operations. This team has extensive experience with the design and management of directed research and development programs. Dr. Liechty and Dr. Zgheib are well-published in this field, and Dr. Jackson and Dr. DiSciullo have led multiple development programs for regulated products for patients.
"This funding award to develop a field-use version of CTX-002 reflects recognition of the potential of this drug to reduce the impact of lung injuries from combat exposure, industrial accidents, mass casualty events, fires, traumatic chest injuries, and contagious respiratory pathogens," said Dr. David Jackson, CEO of Ceria. "If successful in clinical trials, the portable version of CTX-002 will be a first-in-class prophylactic and therapeutic option to prevent and treat ALI by blocking pulmonary inflammation and edema."
The program is funded through the U.S. Department of the Army under program award number HT94252310966. The work will support drug product formulation, manufacturing and analyses, device development and optimization, as well as confirmatory efficacy and GLP IND-enabling studies. The goal of the program is to prepare CTX-002 for submission of an Investigational New Drug (IND) to the Food & Drug Administration (FDA) to advance clinical studies of the drug.
"Ceria is very pleased to have been selected to develop this novel product based on our core technology," Added Ken Liechty, MD, FACS, FAAP, and Founder of Ceria. "The company is looking forward to adding the U.S. Department of Defense to our continuing fruitful collaborations with the University of Colorado Anschutz Medical Campus and the University of Arizona Medical Center."
About Ceria Therapeutics, Inc.
Ceria Therapeutics, Inc. is a preclinical-stage biotech company dedicated to improving the lives of patients suffering from unregulated inflammatory conditions. Ceria is headquartered in Tucson, Arizona with research and development facilities in Tucson and Aurora, Colorado. Founded in 2019, the company, along with collaborators and partners, is focused on developing and commercializing products derived from a core technology platform using nanoparticles to deliver microRNA therapeutics.
Ceria's mission is to deliver therapies that attack these diseases at the root cause to bring substantial benefit to patients, healthcare providers, and other stakeholders.
Ceria Therapeutics, Inc.
info@ceriatx.com
Source: https://ceriatherapeutics.com/news/prmrp-dod-award-2023/