CHANDLER, Ariz — (BUSINESS WIRE) — The Arizona Bioindustry Association (AZBio) today announced that Clara Curiel-Lewandrowski, MD, of the University of Arizona Cancer Center is the 2018 Arizona Bioscience Researcher of the Year. Dr. Curiel will be honored by Arizona's bioscience and business communities for her leadership and her work on both the treatment and prevention of skin cancers at the AZBio Awards on October 3, 2018, at the Phoenix Convention Center.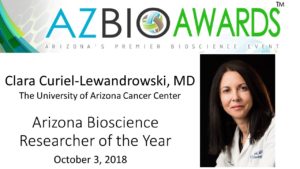 Dr. Curiel is a professor and vice chair of dermatology for the University of Arizona College of Medicine – Tucson. She holds joint roles as the director of the Multidisciplinary Cutaneous Oncology Program and the clinical director for the University of Arizona Cancer Center's Skin Cancer Institute (SCI).
Prevention and early detection are essential in the fight against skin cancers, but when they occur, we rely on Arizona's leading researchers and clinicians.
The SCI unites the UA Cancer Center's many skin cancer prevention endeavors, bringing together innovative research, clinical care, education and community outreach.
Since joining the UA Cancer Center in 2005, Dr. Curiel has impressed her colleagues with her immense talent, tireless work ethic and overwhelming motivation to fight skin cancer.
"Throughout her career, Dr. Curiel has provided exceptional and compassionate care to patients, translated basic science into innovative clinical applications, led groundbreaking clinical trials and invented several technologies," shared David Alberts, MD, founding director of the SCI. "Dr. Curiel's career trajectory has always been remarkable, and we expect her to continue to reach new heights. In my more than 45 years in academic medicine, she is one of the most brilliant investigators with whom I have had the pleasure to work."
Dr. Curiel's research interests are in photobiology, early skin cancer detection, biomarker development and primary prevention. She has taken the initiative to address important clinical gaps in the skin cancer prevention field through the innovative design and effective execution of clinical studies.
"Dr. Curiel's investigations into biomarkers for early skin cancer are essential for finding better methods for identifying those at risk for malignancy," said Andrew Kraft, MD, director of the UA Cancer Center. "She is interested in combining relevant biomarker assessment with novel noninvasive monitoring tools, which is empowering dermatologists to harness cutting-edge technology to better serve patients."
Dr. Curiel has published more than 80 peer-reviewed articles and has five patent applications. At the University of Arizona, she has trained more than 35 graduate and postdoctoral students. She has served as the principal investigator of 17 clinical trials, with the vast majority being investigator-initiated studies as part of the UA NCI/DCP Cancer Chemoprevention Consortium Agreement, P01 Skin Cancer Prevention studies and sponsored studies.
"Dr. Curiel has a deep commitment to bring every Arizonan access to skin cancer prevention, early detection and treatment at every stage of disease," said Monica Kraft, MD, chair of the Department of Medicine. "She is a passionate clinician and investigator, and is also an engaged community spokesperson."
Dr. Curiel is also the sponsor for novel IND indications for approved drugs in the skin cancer field.
"Dr. Curiel's work is an excellent example of the value created through the combination of scientific and clinical research," said Joan Koerber-Walker, president and CEO of AZBio. "Incidences of skin cancer are on the rise. This makes the work Dr. Curiel is doing for both cancer prevention and cancer treatment an important part of the fight against skin cancers."
For her commitment to pushing the frontiers of science for the betterment of people in Arizona and around the world, Clara Curiel-Lewandrowski, MD, is the 2018 Arizona Bioscience Researcher of the Year.
A key component of Arizona Bioscience Week, The AZBio Awards & Life Science Fiesta brings together Arizona's life science and leadership community with visitors from around the country to celebrate life-science innovation and innovators. The AZBio Awards takes place on the evening of October 3, 2018, at the Phoenix Convention Center. Highlights of the evening will include honoring Daniel D. Von Hoff, MD, with the AZBio Pioneer Award for Lifetime Achievement and a celebration of the achievements of leading researchers, educators and innovator companies. The Life Science Fiesta following the award ceremony features a Student Discovery Zone that showcases the work of 50 students from Arizona high schools, community colleges and universities along with exhibits featuring Arizona companies and patient advocacy organizations. The AZBio Awards & Life Science Fiesta is presented by AZBio and the Arizona Commerce Authority.
The White Hat Life Science Investor Conference (White Hat 2018) brings together the next generation of biotech and health care pioneers from across the Rocky Mountain -Southwest Region with investors locally, nationally and internationally. Held at the Phoenix Convention Center on October 4, 2018, White Hat 2018 is a collaboration between bioscience industry associations across the region. The conference showcases opportunities for investment into privately held companies in the areas of diagnostics, therapeutics, medical devices and health information technology. Thirty-two companies have been competitively selected by a committee of experienced life science investors to present at White Hat 2018. Companies that presented at White Hat in 2014 and 2016 have gone on to receive almost $200 million in investment from private and corporate investors.
For more information on Arizona Bioscience Week, visit www.AZBio.org/AZBW2018.
For more information on the 2018 AZBio Awards, visit www.AZBioAwards.com.
For more information about White Hat 2018, visit www.WhiteHatInvestors.com.
About Skin Cancers
Skin cancer is the most common form of cancer in the United States. It is estimated that more than 5 million new cases are diagnosed each year — more than all other cancers combined.
One in five Americans will get skin cancer in his or her lifetime with potential significant consequences in morbidity and mortality.
Detecting skin cancer before it becomes a serious problem is a team effort. Individuals should discuss with their primary provider their risk for developing skin cancer and perform skin cancer self-examinations at home. When patients have multiple risk factors, a more detailed assessment by a dermatologist might be indicated.
The best way to prevent skin cancer is to be sun smart, especially here in Arizona. This is one of the very few cancers you can prevent in your lifetime. When you are out in the sun, cover up, use sunscreen and reapply it frequently.
About AZBio
For 15 years, the Arizona Bioindustry Association (AZBio) has supported life science innovation and life science innovators in Arizona. A key component in Arizona's life science ecosystem, AZBio is the only statewide organization exclusively focused on Arizona's bioscience industry. AZBio membership includes patient advocacy organizations, life science innovators, educators, health care partners and leading business organizations. AZBio is the statewide affiliate of the Biotechnology Innovation Organization (BIO) and works in partnership with AdvaMed, MDMA and PhRMA to advance innovation and to ensure that the value delivered from life-changing and life-saving innovation benefits people in Arizona and around the world.
For more information, visit www.AZBio.org and www.AZBio.TV.
---
AZBio Media Contact:
Joan Koerber-Walker, Arizona Bioindustry Association
jkw@azbio.org 480-332-9636
Images available upon request.