SCOTTSDALE, AZ (September 24, 2020) –– James (Jim) Ratcliff, Ph.D., Chairman and CEO of Rowpar Pharmaceuticals Inc., the makers of the ClōSYS brand of oral care products, has been named a 2020 CEO Today USA Award winner.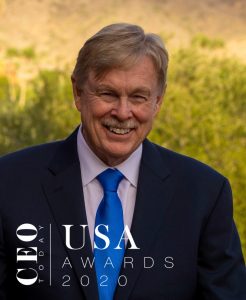 "This is really Rowpar's achievement and its great team of people who make every day an exciting one, helping people get well and stay well. It is our commitment to purpose and our core values which give us focus, give us meaning and fuel our passion." said CEO Jim Ratcliff.
The CEO Today USA Awards celebrate the success, innovation and strategic vision of CEOs across a number of sectors and industries within the country, identifying the most outstanding and forward-thinking leaders in business today.
Jim is the second generation of the Ratcliff family leading Rowpar. Prior to joining the company as Chairman and CEO in 2000, Ratcliff worked in higher education administration, assisting colleges, universities, accrediting agencies, NGOs, and ministries of education in countries on six continents.
As CEO of Rowpar Pharmaceuticals, Inc., an organization dedicated to providing innovative oral health solutions through research and development, Jim Ratcliff has been the driving force behind expansion of the ClōSYS product line and its penetration of global markets.
Jim is recognized, among other forward-thinking leaders, in the USA Awards 2020 edition of CEO Today Magazine and online at: https://usaawards.ceotodaymagazine.com/winners-edition/
About ClōSYS
ClōSYS Oral Care products are a Rowpar Pharmaceuticals brand designed to help improve whole-mouth health and are recommended by leading dentists and hygienists. ClōSYS products are available to professionals direct from Rowpar or major dental dealers and to consumers through major retailers: Amazon, CVS Pharmacy, Walgreens, Walmart, Wegmans, Kroger, Target, Meijer, HEB and others. For more information visit ClōSYS.com.
Contact
Miranda Flores, ClōSYS Oral Care
Miranda@CloSYS.com
480-948-6997 x25