Dr. Glen Weiss is a Translational Physician Scientist (TPS) with a joint appointment at TGen and Cancer Treatment Centers of America. He is board certified in internal medicine and medical oncology. He is currently Co-Head of the Lung Cancer Unit and Clinical Associate Professor at TGen, Director of Clinical Research at Cancer Treatment Centers of America, and holds a Clinical Assistant Professor of Medicine appointment at the University of Arizona College of Medicine-Phoenix.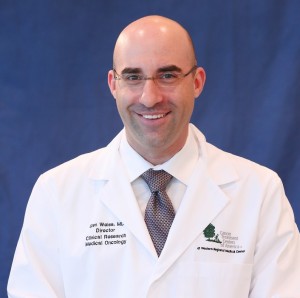 (GOODYEAR, Arizona — June 3, 2016) — Advances in lung cancer, ovarian cancer and new immunotherapy treatments are among the scientific studies presented this year at ASCO by Dr. Glen Weiss, Director of Clinical Research at Cancer Treatment Centers of America® (CTCA) at Western Regional Medical Center (Western).
Dr. Weiss has overseen a substantial number of innovative clinical trials since he began supervising clinical research at CTCA Western in 2013. The results of several of these projects will be presented at the annual meeting of ASCO — the American Society of Clinical Oncology — June 3-7 at McCormick Place in Chicago. With nearly 30,000 members from across the globe, ASCO is the world's largest organization of cancer physicians.
"At CTCA® at Western, through our clinical trials program, we have been privileged in recent years to bring some of the latest in technological and pharmaceutical advances to our patients in an effort to provide high-quality care," said Dr. Weiss. "In the process, we have documented clinical advances that should benefit our patients now, and in the years to come."
In one of the five ASCO studies, Dr. Weiss and a team of CTCA researchers in Arizona and Illinois, as well as collaborators at Chronix Biomedical in Germany, showed in a preliminary study how "liquid biopsies" might be able to help predict improvements in patient treatment as many as 3-12 weeks prior to conventional image-scanning technology.
Liquid biopsies are simple blood tests that potentially may help detect cancer at an earlier point in time compared to conventional imaging technology. They seek to identify "at risk" genetic biomarkers in a patient's blood circulatory system. Although more research is needed, they may also be able to help monitor a patient's progress during treatment.
"Tumor cell-free DNA provides minimally invasive, patient-specific biomarkers with which to monitor tumors," explained Dr. Weiss, who was the lead author of this study. This ongoing study began with 24 patients with various types of cancer who were treated with a combination of new immunotherapies and conventional chemotherapies or immunotherapy alone. Dr. Weiss will present the findings of this study June 5, 2016, at ASCO. (Abstract #3027; Tumor cell-free DNA copy number instability (CNI) to predict therapeutic response to immunotherapy prior to cycle 2.)
Liquid biopsies are designed to be less invasive, less risky, and perhaps even less costly than conventional tissue biopsies, which essentially are minor surgeries. Not only do they have the potential to help detect cancer before symptoms occur, but they may also better detect who is at risk for the reoccurrence of cancer.
"Because liquid biopsies can be obtained frequently, they may provide physicians with up-to-date information about how a patient's cancer might be changing. This, in turn, might help in the selection of the best possible treatments to combat the cancer," Dr. Weiss said. "Having the ability to know weeks in advance how a cancer is responding to treatment would potentially give us an advantage in helping the patient."
In another study involving 124 patients, Dr. Weiss and colleagues documented promising preliminary findings that an anti-PD-L1 antibody agent, avelumab, was safe and effective against recurrent-refractory ovarian cancer. This is the largest study to date of anti-PD-L1 agents in patients with this type of ovarian cancer. (Abstract #5533; Avelumab (MSB0010718C; anti-PD-L1) in patients with recurrent/refractory ovarian cancer from the JAVELIN Solid Tumor phase Ib trial: Safety and clinical activity.)
Immune checkpoint blockade inhibitors such as anti-PD-1 and anti-PD-L1 agents have the potential to revolutionize care for cancer patients by providing clinical benefits with minimal side effects. They essentially uncloak the cancer so the patient's own immune system can help attack the tumor.
Dr. Weiss also was a co-author of a first-in-human study of the safety and effectiveness of anti-PD-1 antibody agent called REGN2810, in which 27 of 43 patients (62.8 percent) with solid tumors saw their cancer either stabilize or shrink. Although not conclusive, the results suggest a promising correlation between REGN2810 and tumor growth. (Abstract #3024; A first-in-human study of REGN2810, a monoclonal, fully human antibody to programmed death-1 (PD-1), in combination with immunomodulators including hypofractionated radiotherapy (hfRT).)
And, Dr. Weiss was co-author of two international studies — one at 10 sites and another at 15 sites — of patients with a rare type of non-small cell lung cancer (NSCLC), which showed promising preliminary results from an agent called brigatinib. In one study, of ALK NSCLC patients, brigatinib "yielded substantial antitumor activity … both systemically and in brain metastases." (Abstract #9057; Activity and safety of brigatinib (BRG) in patients (pts) with ALK+ non-small cell lung cancer (NSCLC): Phase (ph) 1/2 trial results.) In another study, ALK NSCLC patients resistant to conventional treatment with the drug crizotinib were found to have benefited from brigatinib. (Abstract #9060; Activity of brigatinib (BRG) in crizotinib (CRZ) resistant patients (pts) according to ALK mutation status.)
"Taken as a whole, these studies show that CTCA is contributing to the field of cancer research in a profound way," Dr. Weiss said. "We are proud of our efforts to find new ways to provide patients with ever expanding opportunities to receive the very latest in experimental therapeutic innovations."
Details of Dr. Weiss' studies may be found at abstract.asco.org.
###