On March 23, 2017, Insys Therapeutics, Inc. (NASDAQ:INSY) ("Insys" or the "Company") announced that the Drug Enforcement Agency ("DEA") has issued an interim final rule that would result in Syndros™ (dronabinol oral solution) being placed in Schedule II of the Controlled Substances Act. On July 1, 2016, the Food and Drug Administration ("FDA") approved the New Drug Application for Syndros.
Dr. Santosh Vetticaden, Ph.D., M.D., Interim CEO, and Chief Medical Officer, stated, "Insys is looking forward to bringing this new drug product to chemotherapy patients to help alleviate their nausea and vomiting and AIDS patients with anorexia associated weight loss, respectively."
"We look forward to interacting with the FDA to finalize the labeling and subsequent launch of Syndros in the second half of 2017," concluded Vetticaden.
Important Safety Information
Syndros is a cannabinoid indicated in adults for the treatment of:
Anorexia associated with weight loss in patients with AIDS, and Nausea and vomiting associated with cancer chemotherapy in patients who have failed to respond adequately to conventional antiemetic treatments
The use of dronabinol may cause psychiatric and cognitive effects and impair mental and/or physical abilities.
Patients with cardiac disorders may experience hypotension, hypertension, syncope or tachycardia.
May cause disulfiram-like reaction.
Weigh the potential risk versus benefits before prescribing Syndros to patients with a history of seizures, including those requiring anti-epileptic medication or other factors that lower the seizure threshold.
Assess risk for abuse or misuse in patients with a history of substance abuse or dependence, prior to prescribing Syndros and monitor for the development of associated behaviors or conditions.
Consider dose reduction or discontinuation, if worsening of symptoms while on treatment.
The safety and effectiveness of Syndros have not been established in pediatric patients.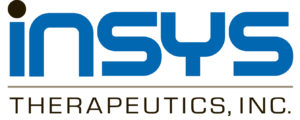 About Insys Therapeutics, Inc.
Insys Therapeutics is a specialty pharmaceutical company that develops and commercializes innovative drugs and novel drug delivery systems of therapeutic molecules that improve the quality of life of patients. Using proprietary sublingual spray technology and capabilities to develop pharmaceutical cannabinoids, Insys is developing a pipeline of products intending to address unmet medical needs and the clinical shortcomings of existing commercial products. Insys currently markets one product, SUBSYS® (fentanyl sublingual spray) but has received approval for the marketing of SYNDROS™ (dronabinol oral solution), a proprietary, orally administered liquid formulation of dronabinol that Insys believes has distinct advantages over the current formulation of dronabinol in soft gel capsule. Insys is committed to developing medications for potentially treating addiction to opioids, opioid overdose, epilepsy, and other disease areas with high unmet need.
SUBSYS® and SYNDROS™ are trademarks of Insys Development Company, Inc., a subsidiary of Insys Therapeutics, Inc.
Forward-Looking Statements
This press release contains forward-looking statements, including statements regarding (i) the anticipated scheduling and launch of SYNDROS™, (ii) the belief that the Company has the potential to benefit patients in areas of unmet medical needs and (iii) the belief that SYNDROS has distinct advantages over the current formulation of dronabinol in soft gel capsule. These forward-looking statements are based on management's expectations and assumptions as of the date of this press release, and actual results may differ materially from those in these forward-looking statements as a result of various factors, many of which are beyond our control. For a description of these risks facing the company, please see the risk factors described in our filings with the United States Securities and Exchange Commission, including those factors discussed under the caption "Risk Factors" in our Annual Report on Form 10-K for the year ended December 31, 2015 and any subsequent updates that may occur in our Quarterly Reports on Form 10-Q. Forward-looking statements speak only as of the date of this press release, and we undertake no obligation to update or revise these statements, except as may be required by law.
Contact:
Lisa M. Wilson
212-452-2793
E: INSYS@insysrx.com
Insys Therapeutics, Inc.
Source: http://investors.insysrx.com/phoenix.zhtml?c=115949&p=irol-newsArticle&ID=2256036