"It is very clear that Dr. Sweitzer has a passion for professional excellence and delivery of high-quality cardiovascular care, combined with a curiosity that drives collaborative scientific discovery," Dr. Goldschmid said.  "She also displays a deep commitment to seeking ways to improve. She personifies the UA's 'Never Settle' vision – a vision that guides our strategic planning at the College of Medicine."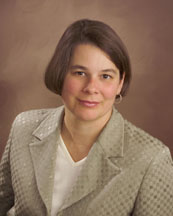 Currently, Dr. Sweitzer is an associate professor of medicine and director of numerous programs, including clinical research, quality, and the heart failure and cardiac transplant programs (interim director) at the University of Wisconsin Cardiovascular Medicine Division in Madison. She also directs the cardiovascular medicine and heart failure and cardiac transplant fellowship programs there.
"Dr. Sweitzer is nationally recognized for her strong leadership and experience in clinical research. These unique talents will help her build impactful bridges between the clinical and basic science enterprises, and increase discovery in the areas of translational and personalized cardiovascular medicine," said Joe G.N. "Skip" Garcia, MD, senior vice president for health sciences and professor of medicine at the University of Arizona.
Dr. Sweitzer has a clinical research program focused on the interaction of the dysfunctional heart muscle in heart failure with the vasculature and kidneys to better understand how to improve symptoms and organ function in heart failure patients.  She has done extensive work on the physiology of heart failure with preserved systolic function, a disease that disproportionately affects elderly women. She has led and collaborated on numerous studies sponsored by the National Institutes of Health as well as studies supported by industry and academic sponsors. She also has served on numerous NIH committees and currently serves as a member of its Clinical and Integrative Cardiovascular Science Study Section and the American Heart Association's Cardiac Biology and Regulation Committee.
"I believe in the mission of the current leadership of the University of Arizona, the College of Medicine, and The University of Arizona Health Network. Together, we are able to provide the highest level of unique advanced and specialized service to patients with heart disease in Tucson and the Southwest  and to support other cardiovascular and primary care providers in the region. The leadership at UA, combined with the strong faculty already in place, offer tremendous opportunity to grow the division's regional and national presence and increase its prestige and recognition. I plan to build the cardiovascular division so that we will provide consistently excellent and comprehensive advanced and specialized cardiovascular disease services. As an advanced heart failure and transplant cardiologist, my focus has always been on providing the best care to the sickest patients with heart disease," said Dr. Sweitzer.

"Dr. Sweitzer's expertise will have a huge impact on the future advances that come from the Sarver Heart Center. Her experience as a translational researcher will be extremely valuable in terms of boosting collaboration between Sarver Heart Center members who have a strong basic science focus on cardiovascular diseases and those who understand the clinical advances that are within our grasp. We are grateful for the support we received from both the College of Medicine and The University of Arizona Health Network for making this recruitment possible," said Carol C. Gregorio, PhD, director of the Molecular Cardiovascular Research Program and head of the Department of Cellular and Molecular Medicine at the UA College of Medicine, who has served as interim director of the Sarver Heart Center since July 2013, following the retirement of Dr. Gordon A. Ewy, who served as director since 1991. Dr. Gregorio also chaired the director search committee.

"I am looking forward to the unique opportunity to lead both cardiology and cardiovascular research efforts, coupled with a successful center of excellence in the UA Sarver Heart Center. The potential to make a significant impact is far greater than most cardiology opportunities. This is largely due to the tremendous legacy of Dr. Gordon Ewy. His amazing work in both research and public outreach, saving lives and increasing understanding and awareness of cardiovascular disease is an awe-inspiring and motivating legacy. The Sarver Heart Center and the talented and dedicated staff are poised to be a real force in the Tucson community as well as the regional Southwest for improvement of care disparities and cardiovascular disease awareness, and large-scale preventive heart disease efforts," said Dr. Sweitzer.

More about Dr. Nancy Sweitzer
In 1993, Dr. Sweitzer received both her medical degree and doctorate in physiology at the University of Wisconsin in Madison. Prior to joining the faculty there in 2001, Dr. Sweitzer completed her internship and residency in internal medicine, and fellowships in cardiology, heart failure and cardiac transplantation at Harvard Medical School and Brigham and Women's Hospital, where she remained as an instructor in medicine from 1999-2001.
Dr. Sweitzer is a member of the American Medical Association, American College of Cardiology (where she is a member of COCATS 4 Task Force 8, Training in Heart Failure), American Heart Association, Heart Failure Society of America (where she is a member of the Guidelines Committee), American Society of Echocardiography, International Society of Heart and Lung Transplant, American Society of Hypertension, American Society of Transplantation, and Society of Geriatric Cardiology.  She has been named a fellow of the American Heart Association, the American College of Cardiology and the American Society of Echocardiography.
In addition to publishing numerous journal articles, books and book chapters, she also serves on the editorial board for Circulation: Heart Failure, and has reviewed articles for American Heart Journal, American Journal of Cardiology, American Journal of Medicine, American Journal of Physiology, American Journal of Transplantation, Archives of Internal Medicine, Circulation, Diabetic Medicine, Journal of Cardiac Failure, Journal of the American College of Cardiology, Journal of the American College of Cardiology: Heart Failure, Journal of the American Society of Echocardiography, and Texas Heart Journal.
—–
The University of Arizona Sarver Heart Center in Tucson, Ariz., emphasizes a highly interdisciplinary research environment fostering innovative translational or "bench-to-bedside" research. Working toward a future free of cardiovascular disease and stroke, the center's more than 170 scientist and physician members collaborate with the goal of applying new findings from the basic sciences to the clinical arena as quickly as possible.
# # #
 Contact:  Katie Maass, 520-626-4083