The College of American Pathologists recently awarded Dr. Robert Penny the 2012 Distinguished Patient Care Award at its annual meeting.  Dr. Penny was recognized for his extensive scientific translational research to accelerate the adoption of molecular pathways and associated therapies into the field of pathology and oncology to improve the lives of cancer patients.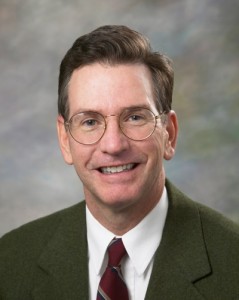 "I am deeply honored to be recognized by my peers," Dr. Penny said. "As pathologists, we are the current and future innovators to drive molecular pathways and their associated therapies into clinical medicine. My work recognized here is a very small start to a remarkable future for the patients of tomorrow."
Dr. Penny recently launched Paradigm, an advanced diagnostics company, with the University of Michigan Health System. The non-profit company will help usher in the age of personalized medicine.
He is the co-founder and CEO of the International Genomics Consortium (IGC), a cancer research organization. He serves as a Principal Investigator of the Biospecimen Core Resource and Tissue Source Site network for The Cancer Genome Atlas (TCGA) project, funded by the National Institutes of Health.
Dr. Penny began IGC's national Expression Project for Oncology (expO), which provides a free public gene expression database of 2,000 cancers with clinical outcomes for translation. The National Institutes of Health cited expO's success as critical in deciding to launch TCGA.
Dr. Penny is the founder of the Molecular Profiling Institute and served as its first CEO and chairman of the board. His vision for his test "Target Now" was to create a surgical pathology, gene expression and immunohistochemical test associated with therapies for the practice of oncology.
He developed the Molecular Profiling Institute's portfolio of molecular testing and pharmaceutical services. Today tens of thousands of patients annually use the test throughout the United States.
Dr. Penny is a recognized expert in the translation of diagnostics into patient care as well as creating high-quality biorepositories. He has established two national esoteric reference medical laboratories, a national tissue bank and analysis center, and a national genomics program to help accelerate the translation of new diagnostics.
Dr. Penny earned his B.S., M.S., Ph.D. (genetics), and M.D. from the University of Arizona and then went on to receive his pathology training at Harvard's Brigham & Women's Hospital in Boston, where he served as chief resident and completed fellowships in hematopathology and surgical pathology.
Read More at the College of American Pathologists