The Arizona Bioindustry Association (AZBio) Board of Directors unanimously elected internationally renowned physician-scientist Raymond N. DuBois to its ranks.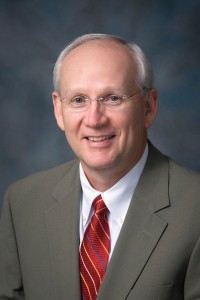 "AZBio is honored to have a physician-scientist and leader of Dr. DuBois' caliber join our leadership team," shared Joan Koerber-Walker, president and CEO of AZBio.  "In his first year in Arizona, he has been actively engaged in helping to shape our organization's future plans and goals."
DuBois was recruited to Arizona as the executive director of Arizona State University's Biodesign Institute. He is the Dalton Chair in the university's College of Health Solutions, with joint appointments in chemistry and biochemistry. With a joint appointment, DuBois leads a cancer prevention program project grant at the Mayo Clinic in Arizona.  In April of 2013, DuBois was among an elite group of scientists to be selected into the inaugural Class of Fellows of the American Association for Cancer Research.
Prior to his time in Arizona, he was provost and executive vice president, and professor of cancer biology and cancer medicine the University of Texas MD Anderson Cancer Center in Houston. There he developed and oversaw research strategy, faculty, the School of Health Professions, graduate education programs and initiatives, and Global Academic Programs.
"The Biodesign Institute and AZBio have a shared interest in growing the state's life sciences sector," says DuBois. "Our research has impact on mankind, so we need Arizona to be an atmosphere supportive of our spinoff companies and technologies."
The AZBio Board of Directors is made up of 26 leaders from across Arizona's life science community with representatives from each of Arizona's public universities, global medical device, diagnostics, pharmaceutical companies, venture-backed technology leaders, emerging life science companies, and strategic industry partners.  To see the full list, along with board member profiles, click here.
***
About the Arizona Bioindustry Association
As Arizona's statewide industry association, AZBio (www.azbio.org) is committed to working with members across Arizona to support the life sciences industry as together we move forward faster.  AZBio provides the biosciences sector access to key resources, connections and information. This foundation allows companies to connect, collaborate, innovate and succeed, supporting a thriving economic environment for Arizona's Bioscience Industry today and in the future.
AZBio is the state affiliate of the Biotechnology Industry Organization, located in Washington, D.C., and collaborates on national issues with AdvaMed, PhRMA and other national and international organizations.
Learn more about Arizona's Bioindustry at www.AZBio.org  and our video channel at www.AZBio.TV.