2012 AZBio Fast Lane Award Winner EmpowHer Media, the Leading Social Health Company for Women,  Releases New Tool for Healthcare Marketers and Industry Professionals Looking to Reach, Engage and Influence Female Health Consumers
SCOTTSDALE, AZ–(Marketwire – January 24, 2012) –
New features on EmpowHERMedia.com include: improved navigation making it easier to find marketing solutions for brands looking to target female health consumers; up-to-date pulse of actual conversations happening in real-time throughout EmpowHER Media's social media properties; and a slick new design and style highlighting smarter insights in marketing to women along with trends in digital and social media marketing in the healthcare space. EmpowHER Media tells the story of the evolution of online health consumer behavior from Health 1.0 to Health 3.0 — more specifically, the social health movement; the power and importance of the female health consumer, and how health and well ness marketers, practitioners and providers will need to reach, engage, and influence the female health consumers in social health environments.EmpowHER, an award-winning social health company for women, today announces the re-launch of EmpowHERMedia.com — a resource for health and wellness marketers, advertisers and practitioners looking to tap into the highly lucrative and influential market that controls 90% of the household healthcare decisions and wields a whopping $5T in annual spending power — women. The new site design and resources offers marketers a visually pleasing experience and powerful insights into tapping into the female health consumer market.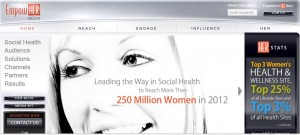 Other site enhancements include easier access to EmpowHER Media's newly launched social media channels, geared towards educating and connecting marketers to these highly influential consumers. Industry professionals can follow EmpowHER Media across several social media platforms including: the EmpowHER Media LinkedIn group — where professionals can engage in discussions and ask questions; the @EmpowHERMedia twitter handle, where marketers can stay updated on industry stats, latest reports and key insights in health care and social media, EmpowHER Insights: Marketing to Women Blog, and a market-focused Facebook page.
"Social Health is redefining the way people consume healthcare information," says Thom Brodeur (@thombempowher), Executive Vice President and CMO of EmpowHER Media. "Gone are the days when brands could simply dictate one-sided information to a captive audience. Health 3.0 suggests that brands will win in social health environments where they genuinely connect with, educate, and compel consumers to take action. EmpowHERMedia.com is the definitive resource for health and wellness marketers looking to reach, influence and engage female health consumers online."
Other enhancements to EmpowHERMedia.com include a new section showcasing examples of how top-tier brands, healthcare agencies and media companies are working with EmpowHER to improve their online marketing ROI. Additionally, a new press release section highlights corporate news from EmpowHER Media that informs the audience of exciting updates from The Company including new partners and programs, features and upgrades to the site, and executive and corporate award and milestone announcements. Marketers can also sign up to receive the news EmpowHER Media monthly newsletter.
Visit EmpowHERMedia.com to learn more about the evolution of consumer behavior on the web from Health 1.0 to Health 3.0 — more specifically, social health.
Click here to view this release on EmpowHER.com and share it with your social networks.
About EmpowHER Media
EmpowHER Media is an award-winning, HON-certified, social health company for women. The Company's flagship — EmpowHER.com — is the third most visited women's health and wellness destination on the Web (comScore Media Metrix). As the online home for female health consumers, EmpowHER.com offers a unique value proposition of a peer health community and premium, original women's health and wellness content. Health care professionals, brands and agency professionals rely on EmpowHER Media for reaching the most influential health and wellness buyer on the Internet — women.
EmpowHER reached more than 60 million women onsite and through syndication in 2011, and expects to reach more than 250 million in 2012.

Press Contact for EmpowHER
Lauren Moye, EmpowHER
(971) 832-1456  lmoye@empowher.com