Women's Social Health Company Continues Building Momentum with Several Industry and Trade Awards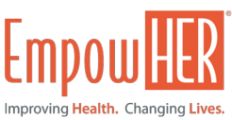 SCOTTSDALE, AZ–(Marketwire – Oct 27, 2011) – EmpowHER, an award-winning social health company for women, was recently recognized with several health care and marketing industry awards for its work in women's health and wellness. Honors included: The AZBio Fast Lane Award, a W3 2011 Silver Award, Ranked in Greatist's 45 Most Innovative Health and Fitness Startups, and named a Finalist in the Stevie Awards for Women in Business in two categories — Best Overall Company of the Year and Most Innovative Company of the Year.
"The recognition we've received from these esteemed organizations is truly humbling," says EmpowHER Media Founder, Chairperson and CEO Michelle King Robson. "My vision for EmpowHER was to create the resource for women's health that I wish I'd had when I struggled with a debilitating health issue years ago. Now, as a top-tier, award-winning online resource for women's health — we've done that. Our heads are down, and we are focused on building an even more robust social health platform for women and their loved ones. That healthcare industry trade groups, health media and marketing organizations, and professional business associations are taking note of the unique role we play in the emerging social health space — reinforcing our resolve to stay true to our mission of improving women's health and changing their lives."
EmpowHER's awards include:
2011 AZBio Fast Lane Award: The Fast Lane Award recognizes companies and organizations in the healthcare and health information fields that through recent innovations have yielded measurable results that are moving their organizations and the state of Arizona forward faster.
2011 Stevie Awards for Women in Business: The Stevie Awards for Women in Business are the world's premier awards for women executives, entrepreneurs, and the organizations they run. They were created to honor and generate public recognition of the achievements and positive contributions of organizations and business people worldwide
2011 W3 Award: The W3 Awards honors creative excellence on the web, and recognizes the creative and marketing professional behind award winning sites, videos and marketing programs.
Greatist's 45 Most Innovative Health and Fitness Startups: Startup companies are constantly coming up with ways to make health and happiness easier to achieve. As such, Greatist determined a list of the 45 most innovative, most epic, and all-around killer startups.
Today, the EmpowHER social community is unparalleled. With over 50,000 site members and 250 community groups, women are making meaningful connections with each other about their health and wellness. The site's community is made up of real women supporting one another by sharing first-hand experiences and offering advice so that no woman feels alone in dealing with her health issues. In addition to this, EmpowHER's unique ASK feature provides site members with answers to their health questions within 24 hours, and invites those with experience to weigh in on the discussion. It is this truly social experience, combined with one of the largest women's health and wellness content libraries on the web, which makes EmpowHER a game changer for women.
In just three years, competing against a field of peers that have been in the space a decade or more in most cases, EmpowHER has achieved a leading position in the women's online health and wellness categories. The company is now the fast growing social health company for women — with a 3x traffic growth in a field of peers reaching over 18M unique visitors and another 47M through syndication, while tracking towards 35M in 2012 plus another 68M through syndication; and, over 50,000 members, tracking towards 100,000 by 2012. The site categorizes over 700 women's health conditions and wellness topics, and has created nearly 110,000 pieces of original video, article and user-generated content — representing both the largest taxonomy of women's health conditions, and one of the largest libraries of women's health content on the web. The company has also experienced 4-fold growth in social media followers amassing a vibrant network of over 41,500 fans and followers on Facebook and Twitter.
"The awards and industry recognition bestowed on the company recognize our growth — of course. Most important is the validation for EmpowHER that our users — female health consumers — are driving change in peer health, and consequently are making an impact on healthcare overall," says EmpowHER Media Executive Vice President and CMO, Thom Brodeur. "We're making it possible for women to connect with those they trust the most about their health — other women. In doing so, we're paving the way for Health 3.0 — with peer health leading the charge. These are exciting times for women, the health and wellness category, and for health and wellness brands, practitioners and providers who want to reach, engage and influence women. We're proud to play an integral role in the movement."
Leading the way to redefine ROI in terms of engagement AND impressions, not just the latter as traditionally measured, EmpowHER has launched several new site features this year, such as a first-of-its-kind advocacy toolkit for women that rewards and incentivizes members to better take charge of their health and wellness. And, EmpowHER has created a patent-pending site sentiment system that rates the "life changing" impact of its content and members of its community. Unlike other rating systems in the market, brands that work with EmpowHER get a glimpse into the "improved, changed or saved" impact they are having on women's health and lives through this proprietary esteem system. Since its launch, more than 500 lives have been improved, changed and saved according to the women that use the site.
About EmpowHER
EmpowHER Media is an award-winning, HON-certified, social health company for women. The Company's flagship and Top 5 women's health and wellness site and community — EmpowHER.com — is the home for female health consumers. We call them Chief Health and Wellness Officers of the home. EmpowHER.com provides visitors access to one of the largest women's health and wellness content libraries on the Web, as well as one of the most active online communities of women discussing their health and wellness issues. Health care professionals, health and wellness marketers, and agency professionals rely on EmpowHER Media for reaching the most influential health and wellness buyer on the Internet — women. Millions of women visit EmpowHER.com every year, making it one of the largest and fastest-growing resources dedicated exclusively to women's health and wellness.
Contact Information:  Lauren Moye,   EmpowHER |   (971) 832-1456  |Email Contact