Thousands of  Informational Videos on Pregnancy, Diet, Nutrition, Weight Loss and More Now  Available on www.blinkx.com through EmpoHER partnership.
Source:  EmpowHER on blinkx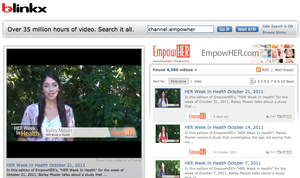 SCOTTSDALE, AZ–(Marketwire – October 26, 2011) – EmpowHER,  an award-winning social health company for women, announces today a  partnership with blinkx, the world's largest and most advanced video search  engine. This partnership will give blinkx users access to original video  content to improve their health and well-being. Leveraging its unique AdHoc  platform, blinkx will place contextually relevant advertising against the  videos and share resulting revenue with EmpowHER. Through this partnership,
blinkx will offer more than 7,000 EmpowHER videos — totaling more than 350  hours of original, premium women's health content — to its users.
As the pioneer in video search technology, blinkx has built a reputation  as the smartest way to find rich media on the Web. The company has made more  than 720 partners and indexed over 35 million hours of video and audio  content to date.
"EmpowHER is the fastest-growing resource for women's wellness on the  Internet," said Thom
Brodeur, Executive Vice President and CMO of EmpowHER Media. "By  partnering with the world's largest video search engine, we are able to  deliver our original content to a wider global audience, delivering vital
healthcare information and help for women seeking information about their  health."
"Health and wellness information is consistently among the most  popular, commonly searched subjects on the Web," said Julia Blystone,  CMO of blinkx. "EmpowHER is not only one of the most comprehensive and  up-to-date sources of this information, it offers personal insight and a  forum for women to connect and share their stories. We're very pleased to  bring this important content to our users."
Reaching over 18.3M unique visitors at EmpowHER.com and another 47M  through syndication, EmpowHER provides visitors access to one of the largest  and most comprehensive women's health and wellness content libraries on the  Web. From in-depth medical advice, to personal stories shared by women across  the nation, the online health and wellness destination covers hundreds of   important topics, allowing users to make informed health-related choices.  While keeping viewers well-informed on medical and emotional issues,  EmpowHER's video library also gives a human perspective and voice to the
issues at hand. EmpowHER video content can be viewed on blinkx, here: http://www.blinkx.com/videos/EmpowHER.
About EmpowHER
EmpowHER  Media is an award-winning, HON-certified, social health company for women.
The Company's flagship and Top 5 women's health and wellness site and  community — EmpowHER.com — is the home for female health consumers. We call  them Chief Health and Wellness Officers of the home. EmpowHER.com provides  visitors access to one of the largest women's health and wellness content
libraries on the Web, as well as one of the most active online communities of  women discussing their health and wellness issues. Health care professionals,  health and wellness marketers, and agency professionals rely on EmpowHER  Media for reaching the most influential health and wellness buyer on the  Internet — women. Millions of women visit EmpowHER.com every year, making it  one of the largest and fastest-growing resources dedicated exclusively to  women's health and wellness.
About blinkx
blinkx plc (AIM: BLNX) is the world's largest and most advanced video  search engine. Today, blinkx has indexed more than 35 million hours of audio,  video, viral and TV content, and made it fully searchable and available on  demand. blinkx's founders set out to solve a significant challenge — the  growing amount of TV and user-generated content on the Web means  keyword-based search technologies only scratch the surface. blinkx's patented  search technologies listen to — and even see — video on the Web, helping
users enjoy a breadth and accuracy of search results not available elsewhere.  In addition, blinkx powers the video search for many of the world's most  frequented sites. blinkx is based in San Francisco and London. More  information is available at www.blinkx.com.
Press Contact for EmpowHER
Lauren Moye | EmpowHER | (971) 832-1456
Press Contacts for blinkx
Tim Turpin | Sparkpr | (415) 321-1894 | tim.turpin@sparkpr.com
Nicole Love | Marlin PR | +44 207-869-8328 | nicole.love@marlinpr.com
Charles Lytle, Christopher Wren | Citigroup Global Markets Ltd, NOMAD and Broker for blinkx plc
+44 207-986-4000