Add to iCal Calendar
Date/Time
Date(s) - 9 Nov 2021
8:30 AM - 9:30 AM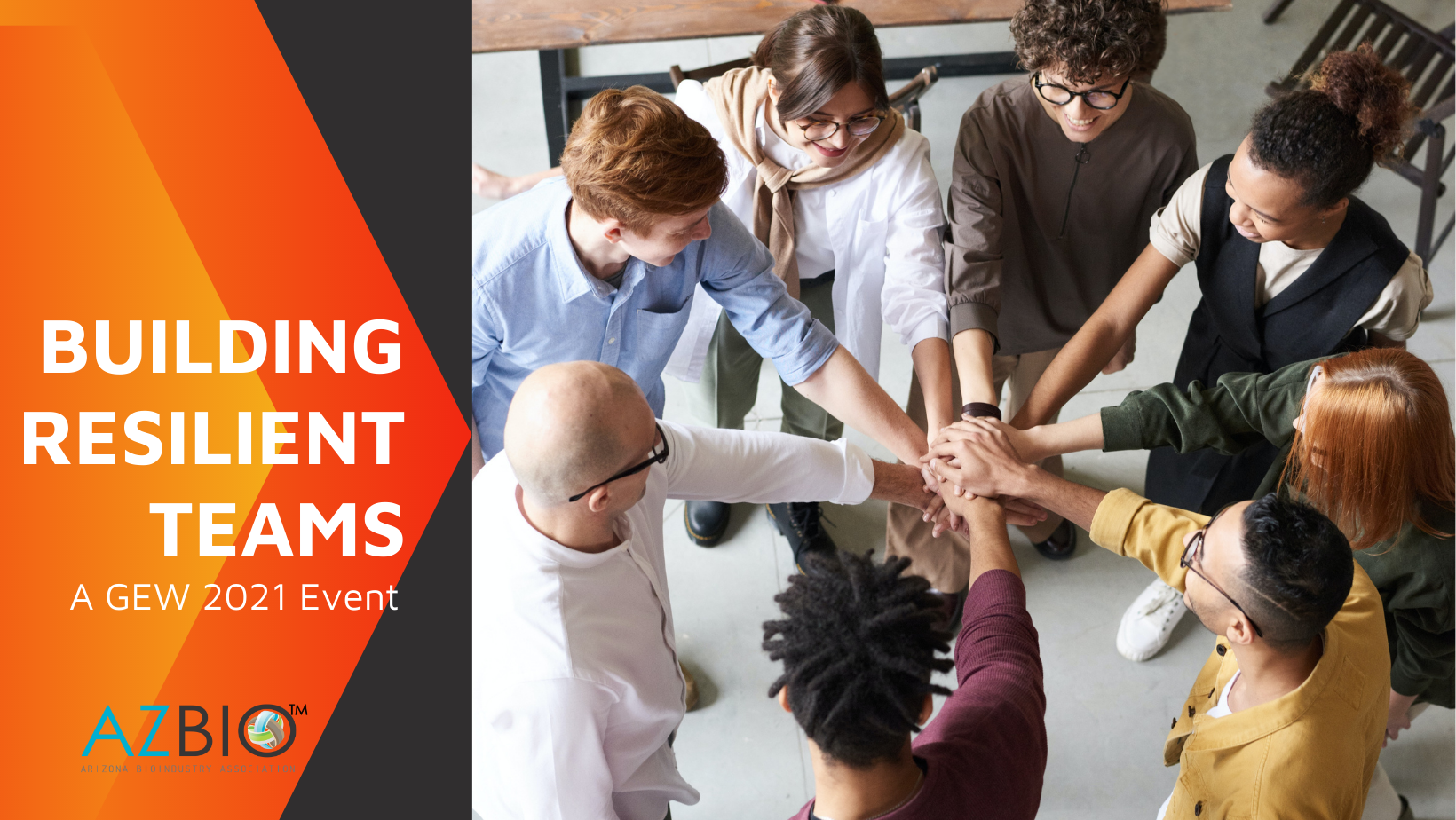 The world is forever different. Building high-performing global operations in the advanced technology sector of Healthcare and Life Sciences that innovate solutions, drive process improvements, optimize patient outcomes, and deliver ongoing shareholder value is more critical than ever. Organizational change drives value by focusing on the people-side of transformation – changing the behavior, mindset, capabilities, culture, and collaboration, to work in the new paradigm.
When working in Life Sciences, challenges are common. It may be a design challenge, a manufacturing challenge, the need to find funding, the need to find the right partners, the list goes on. Building a resilient team with the capacity to manage change and adapt quickly from difficulties is a key to success. This session addresses the critical areas of focus to help people be successful in an ever-changing world.
Join us for Building Resilient Teams – a GEW 2021 Event.
Presented by AZBio and Verigility
Tuesday, November 9, 2021
8:30 am – 9:30 am via Zoom
Panelists:
Brian Jung, Senior Partner, Verigility (Moderator)
Brian is an accomplished Executive Management Consultant with 30+ years consulting service delivery across multiple vertical industries with a focus on organization readiness and change for both private and public sector consultants.
Proven success in achieving results, serving as the trusted advisor to Senior Executives. Deep understanding of leading practices: strategy, business processes, technology and organization. Learn more about Brian
Melissa Ray, Senior Partner, Verigility Healthcare and Life Sciences Leader
Melissa is a Senior Partner with Verigility and leads the Healthcare & Life Sciences practice. She brings more than 20 years of experience building agile, high-performing operations supporting medical research institutes and medical device manufacturing. Melissa specializes in startup and fast growth companies focused on building operational infrastructure and fostering a culture of reliability and quality assurance internationally. She is an experienced leader, dedicated to continuous improvement and innovation. Learn more about Melissa
Jasmine Bhatti, CEO and Founder of Navi Nurses
Jasmine Bhatti is a Phoenix native, and has been a registered nurse for ten years. In April of 2021, she left Mayo Clinic to build Navi Nurses full time. Parallel to her entrepreneurial endeavor, she is finishing her PhD at Arizona State University examining the role of servant leadership on nurse resilience and innovative behaviors. Jasmine is rooted in her mission to shine the light on the critical work that nurses do. She firmly believes that every single person deserves a nurse to help them navigate the complexities of healthcare.
James Bates, CEO and Founder of AdviNow Medical (ANM)
James Bates is an accomplished CEO, entrepreneur, and board member who has created and led high-growth plans for a number of technology companies. Presently, Bates is CEO and Founder of AdviNow Medical (ANM), the world's first Artificial Intelligence and Augmented Reality driven automated medical visit platform. James conceptualized the idea, wrote the fundamental patents, raised $16 million in capital, recruited the team, and launched the company. Today, ANM leads the world in the medical automation. Previously, James was an officer at Freescale/ NXP responsible for the $1 billion revenues Analog and Sensor Group the world leader in self driving vehicle technologies.
About Verigility
Verigility, head quartered in Phoenix, provides flexible, innovative, and practical Management and Technology Advisory services to Healthxare and Life Sciences customers that are delivered by experienced, accessible, and ethical professionals. Singularly invested in Client Outcomes. Verigility is helping our clients as they pursue growth opportunities and tackle multiple scientific, business and regulatory challenges. Leveraging our experience and capabilities, we are helping our clients lead and shape the global life sciences marketplace.
About GEW 2021
Global Entrepreneurship Week is a massive campaign to celebrate and empower entrepreneurs in every country and community around the world – especially those individuals who face structural barriers or may have never considered the idea of launching their own startup. Each November, 10 million people take part in tens of thousands of activities, competitions and events that inspire them to act and provide them with the knowledge, experience and connections they need to succeed. Learn More