Add to iCal Calendar
Date/Time
Date(s) - 18 Feb 2021
8:00 AM - 9:00 AM
Finding a Home for Innovation, Part 2
Thursday, February 18th, 2021   08:00 – 09:00 AM
Featured speakers:
Kyle Jardine, Director of Development, Wexford Science + Technology
Please join us for a virtual tour of private and University-affiliated lab spaces currently available for Scientific companies and startups in Arizona, including the Wexford Building.  
Hosted by AZBio, The Arizona Partnership for Immunization, (and multiple community partners)
About Our Speaker
Kyle Jardine
Director of Development, Wexford Science + Technology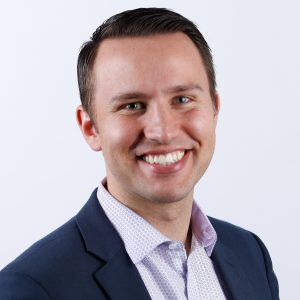 Kyle is the Director of Development for the Phoenix market and is responsible for marketing, leasing, community engagement, construction, and operations. The first project in the market is 850 N 5th Street, a 227,000 SF building, in partnership with the City of Phoenix and Arizona State University at the Phoenix Biomedical Campus. This building will provide a biomedical focused innovation and research space for ASU, CEI, and private tenants, resulting in a vibrant Knowledge Community in downtown Phoenix.
Prior to joining the Wexford team, Kyle was a Development Manager and Financial Analyst for PEG Companies, a full-service real estate firm based in Utah. He has completed extensive underwriting and due diligence throughout the United States and brings development experience in a variety of asset types and locations. His experience includes the development of a 1,600 bed student housing community at Utah Valley University, over 450 apartment units in Utah, and 3 select-service Marriott hotels in New Mexico and Wyoming.
He received his Bachelor of Science in Facility and Property Management from Brigham Young University and a Master of Business Administration in Real Estate from the University of Utah.