Add to iCal Calendar
Date/Time
Date(s) - 21 Jul 2021
9:00 AM - 10:00 AM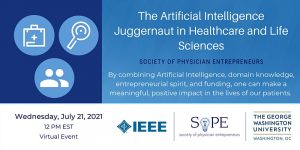 The Artificial Intelligence Juggernaut in Healthcare and Life Sciences
Examine case studies from personal experience in the health tech startup space and present a framework for successful health tech/AI venture
About this event
Making a dent in America's healthcare challenges seems daunting. Presently, many feel that Artificial Intelligence is a true juggernaut in Healthcare and Life Sciences…but how much is Hype, Hoopla, or Hope?
Do you believe that by combining Artificial Intelligence, domain knowledge, an entrepreneurial spirit and funding, one can make a meaningful, positive impact in the lives of our patients? Join this SoPE Webinar and learn from the experts, brought to you by the Society of Physician Entrepreneurs (SoPE) and the George Washington University Technology Commercialization Office (GW TCO).
Agenda
Virtual Webinar
12 noon EST
Q & A to Follow
Moderators
Jeffrey Hausfeld, M.D., M.B.A, F.A.C.S. – Chairman of the Board and Chief Medical Officer at BioFactura, Inc., Chairman and Co-Founder SoPE
Dr. Jeffrey Hausfeld has served on the national board and committees of specialty medical societies since he began his practice in Otolaryngology/Facial Plastic Surgery in 1982. He is an Associate Clinical Professor of Surgery at George Washington University School of Health Sciences and an alumnus of the Yale University School of Medicine. Dr. Hausfeld is widely published in the medical literature, is the pioneer of innovative laser surgery techniques, is the author of a lay oriented medical book on snoring and sleep apnea, and has appeared on numerous local and national television and radio shows as a medical expert. He has also served as a health care consultant, spokesperson, and executive coach for multi-national pharmaceutical companies, health care firms, as well as the U.S. military. Dr. Hausfeld stepped down from his clinical duties after receiving a Masters in Business Administration from Johns Hopkins University. Dr. Hausfeld is presently developing assisted living facilities specializing in Alzheimer's and dementia care. He serves as a consultant to several healthcare/life science startups in diagnostics, devices, biotech and Health IT. He also serves on the Investment Advisory Board of the Center for Innovation Technology's Life Science Gap Fund. The fund supports promising healthcare and life sciences ventures in the Commonwealth of Virginia. Dr. Hausfeld is the Chairman and Founder of the Society of Physician Entrepreneurs, a global network focused on educating healthcare and life science professionals in Bioentrepreneurship and Innovation. Dr. Hausfeld is orchestrating the Series C Financing of BioFactura and acted as the lead investor in previous rounds. He serves as Chairman of the Board of BioFactura as well as their Chief Medical Officer as the company develops its Biosimilar platform as well as its novel Bio-defense therapeutics.
Brian Coblitz, Ph.D. – Sr. Licensing Manager, GW Technology Commercialization Office
Brian Coblitz covers the life sciences Intellectual Property portfolio at George Washington University. Brian is a registered U.S. Patent Agent and comes from a marketing internship at the National Institutes of Health (NIH), Office of Technology Transfer. At the NIH, Brian applied his broad biological sciences background to perform targeted marketing of innovative technologies. Prior to starting his career in technology commercialization, Brian completed his postdoctoral studies on the sense of touch with Marty Chalfie at Columbia University.
Brian's Ph.D. and B.S. degrees came from the Johns Hopkins University School of Medicine and Tulane University, respectively.
Speakers
Arie Shen, CEO / P&L Executive
Specializes in: Sales and Business Development, Branding and Marketing, Technology Project Management, Software creation and Implementation, Entrepreneur and Investor.
For more than two decades, Shen managed and lead software projects, software creation and Implementations, and ran P&L operations with sales responsibility for publicly traded software vendors.
Subsequently, Shen has enjoyed a diverse and successful consulting career growing companies and leveraging business opportunities. With his broad international background, experience and training, he has successfully guided a wide range of companies, including B2B, B2C and non-profit organizations. In addition to technology project management, Shen is expert in creating and implementing management strategy: developing and executing market penetration, defining strategies for growth and allocating resources to achieve them, and selecting and negotiating joint venture opportunities.
Charles J. Andres, PhD, RAC, Shareholder at Greenberg Traurig Law
Charles J. Andres is a registered patent attorney focused on patent prosecution, strategic patent counseling, IP due diligence, drug and medical device FDA regulatory counseling, invalidity and non-infringement opinions, life-cycle management, Supreme Court and Federal Circuit amicus briefs, transactional work, and related business matters.
Charlie is experienced in drafting and prosecuting patent applications and developing high value patent portfolios in the U.S. and worldwide. He also has experience evaluating the claims of issued patents and has won cases before the Patent Trial and Appeal Board by brief and on oral argument, and has worked with foreign counsel to obtain favorable outcomes in European patent oppositions.
Acting as investor counsel, Charlie's diligence work has resulted in over $8B in investments. Charlie has built and sold patent portfolios and their associated companies for approximately $5B in aggregate. Charlie has co-counseled companies through acute public crises.
Jen Biermeyer, Chief Technolog Oficer at Upstartian
Jan Biermeyer went from coding at age 4 in the German countryside to co-founding a robotics lab in South Korea, an autonomous car lab at UC Berkeley and a health tech startup in a Palo Alto garage that was later acquired by Apple. He ran the Yahoo! foosball league, fixed the espresso machines at Cal and was known throughout Germany for motivating vocational IT students with children's chocolate during their exams in his classrooms. Jan also built a 300+ strong grass-roots data science community and first AI prototypes at a multi-trillion-dollar fund. In between, he managed to participate in 3 DARPA Grand Challenges, get two Masters, and most of a PhD.
Currently, Jan is working as (fractional) CTO for a handful of tech startups, coaching about a dozen first-time founders, and mentoring dozens of high potential data science/ AI individuals.
After a decade on the move, Jan happily settled back into the Southern California lifestyle in Newport. When he is not working, mentoring or brewing coffee, Jan spends most of his time being active on and along the ocean or tinkering in his evil lair garage.
Neil Sahota, Chief Innovation Officer, UC Irvine School of Law
Neil Sahota is an IBM Master Inventor, United Nations (UN) AI Advisor, author of the book Own the A.I. Revolution., and Chief Innovation Officer at UC Irvine. He is a business solution advisor to several large companies and sought-after keynote speaker. Over his 20+ year career, Neil has worked with enterprises on the business strategy to create next generation products/solutions powered by emerging technology as well as helping organizations create the culture, community, and ecosystem needed to achieve success such as the U.N.'s AI for Good initiative. Neil also actively pursues social good and volunteers with nonprofits. He is currently helping the Zero Abuse Project prevent child sexual abuse as well as Planet Home to engage youth culture in sustainability initiatives.
Carina R. Reisin, PhD, Chief Strategy Officer, Tesseract Health
Carina R. Reisin, Ph.D. is a technology executive with broad experience in medical devices. Her track record includes working on transformational medical devices and successfully bringing to market a number of market-leading products. Her career spans large multinational companies and entrepreneurial ventures as a member of executive management teams and as an advisor providing guidance in product development, technology roadmap, strategic planning and commercialization. At present, Dr. Reisin is the Chief Strategy Officer at Tesseract Health, a company developing a portable, affordable device for monitoring and preventing a wide range of diseases by utilizing state of the art technologies to peer into the eye and applying cutting edge A.I. She is also an EiR at UCLA, where she offers her industry and startup experience to help guide and bolster entrepreneurial efforts across campus. Dr. Reisin is an inventor of 20 patents and has several publications to her credit. She holds a Ph.D. in Physics from Technion – Israel Institute of Technology and a B.Sc. degree with distinction in Physics from Tel-Aviv University.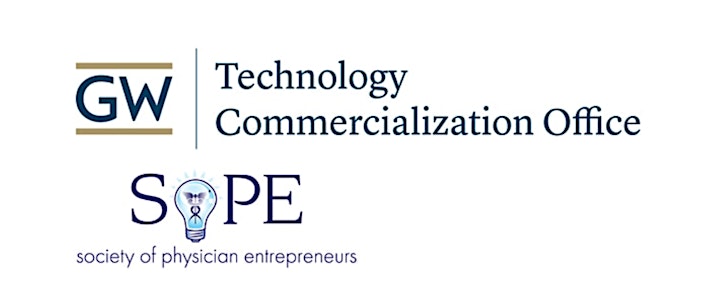 Date and time
Wed, Jul 21, 2021, 9:00 AM MST
Location