Add to iCal Calendar
Date/Time
Date(s) - 6 Jan 2019
4:00 PM - 7:00 PM
Location
The Marker San Francisco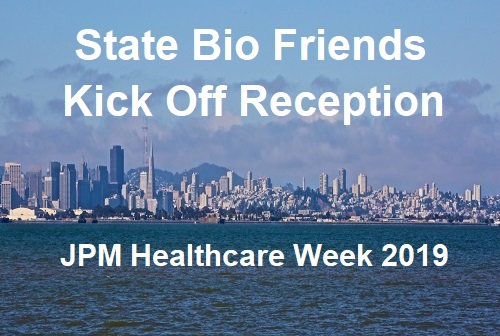 State Bio Friends Kick Off Reception
Sunday, January 6, 2019 – 4 PM to 7 PM
during JPM Healthcare Week 2019
Join us to kick of JPM Healthcare Week 2019 in style.
Hosted by AZBio, Biocom, BioNJ, MichBio, NewYorkBio, and more, the State Bio Friends reception kicks off the largest annual gathering of Healthcare Innovators and Healthcare Investors in the world.
Advance registration is required and tickets are limited.
An access code is required to register.
Access codes can be found on your IN THE LOOP or requested by contacting AZBio.
AZBio Tickets for this exclusive event are limited and preference for AZBio Tickets will be given to AZBio Members.