Add to iCal Calendar
Date/Time
Date(s) - 15 Nov 2021
12:00 AM - 11:59 PM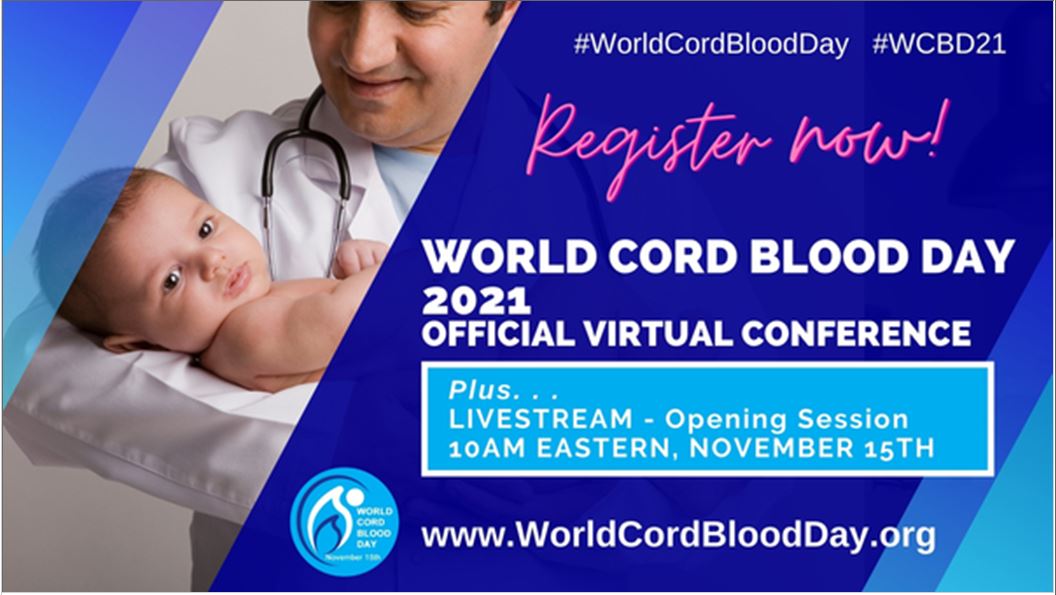 World Cord Blood Day 2021!
Educating Healthcare Professionals and Expectant Parents
about a Life-Saving Medical Resource
We are pleased to announce World Cord Blood Day 2021 (WCBD 2021) will take place on November 15th, 2021 for students, expectant parents and healthcare professionals around the globe. More than 40,000 cord blood transplants have been performed worldwide since 1988 to treat over 80 life-threatening diseases. Yet, cord blood is still thrown away as medical waste in the majority of births, often due to a simple lack of awareness. In the new post-Covid world, we can and must improve this.
Now in its 5th year, World Cord Blood Day 2021 will be held both online and live thanks to hundreds of local events hosted by WCBD Official Participants around the globe. Registration is now open at www.WorldCordBloodDay.org or via Eventbrite (free, public welcome, recommended for healthcare professionals).
Organized by Save the Cord Foundation, a 501c3 non-profit, World Cord Blood Day 2021 is officially sponsored by QuickSTAT Global Life Science Logistics, recognized leader in medical shipping and healthcare logistics. Inspiring Partners for this event include the Be the Match (NMDP), World Marrow Donor Association (WMDA-Netcord), AABB Center for Cellular Therapies, Cord Blood Association, and the Foundation for the Accreditation of Cellular Therapy (FACT).
"We invite you to join the global cord blood movement on November 15th. Join us for World Cord Blood Day 2021 to educate yourself and your community about this life-saving medical resource," said Charis Ober, Executive Director of Save the Cord Foundation.
In addition to the many live events globally, the free online conference will feature world-renowned researchers and transplant doctors leading a variety of presentations for the public as well as academic lectures specifically designed for those working in the medicine (Livestream launch at 10am EST Nov 15th, available on-demand until Nov 30th). In addition, a vibrant social media campaign will help build awareness (#WCBD21 #WorldCordBloodDay).
Attendees will learn about cord blood's vital role in stem cell transplants, particularly during Covid-19, to treat leukemia, thalassemia, sickle cell disease and more. Attendees will also discover cord blood's exciting potential in the field of regenerative medicine to potentially treat autism, cerebral palsy, stroke and more.
Visit www.WorldCordBloodDay.org to learn how you can participate on-line or host an event locally in your community.
*Please note: Official Participants from previous years will need to re-submit their updated event/activity for this year. New registration is required each year.

About Save the Cord Foundation
Save the Cord Foundation (a 501c3 non-profit) was established to advance cord blood education. The Foundation provides non-commercial information to parents, health professionals and the public regarding methods for saving cord blood, as well as current applications using cord blood and the latest research. Learn more at www.SaveTheCordFoundation.org .