Biomedical innovations in the area of molecular diagnostics are the framework for a new golden age of medicine.  Unfortunately, a hurdle on the path from discovery to development to delivery could block these life sustaining and life saving innovations from getting to the patient.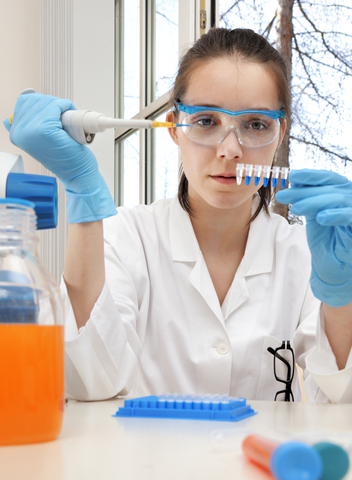 Last week, leaders from across the country met at the Brooking Institute's second annual conference on Biomedial Innovation to give us a look at the  work being done and the benefits to come.  From the development of new tests  to how cognitive computing will provide physicians with the insights they need to treat patients with precision and customize care, the impacts of these innovations will revolutionize medicine.
At the same time, AZBio was reaching out to members of our Congressional Delegation to address a hurdle that could restrict the availability of  these tests for patients.  The challenge is that  the 2013 Medicare Administrative Contractor (MAC) interim reimbursement rates for molecular diagnostic testing includes pricing  which does not cover the cost for the labs to run certain tests.
We can not afford for progress in this essential area of innovation to slow down. This is our best hope for early detection of life threatening diseases and for companion diagnostics that will help the medical community match the right therapies with the right patients.
These are tests that affect the sickest of patients and those who would be least likely  to be able to afford them outside the government or private insurance reimbursement models.  Yet, if the companies developing and delivering these tests cannot receive a fair and reasonable levels of reimbursement, they cannot afford to offer the tests the physician/patient community need 0r to continue to invest in the development of new lifesaving  tests.
The following is a message sent to members of Arizona's congressional delegation.  We need their help and at the bottom of this email we will share how you can help too.
As president and CEO of the Arizona Bioindustry Association (AZBio), I am writing you today to express my concern regarding the 2013 Medicare Administrative Contractor (MAC) interim reimbursement rates for molecular diagnostic testing, the pricing of which does not cover the cost for the labs to run certain tests. This development could set back dramatic advancements being  made in cancer care that have extended and enhanced the quality of life of thousands of cancer patients.

Here in Arizona, we are developing a center of excellence around personalized medicine and tests like these are at the core of this healthcare innovation. That's why, as a community, we have made major investments in research facilities including TGen and the International Genomics Consortium. Entrepreneurial ventures are developing these tests for early diagnosis of Breast Cancer and Lung Cancer while others are developing tests to help manage diseases like Diabetes, ALS and MS.

If CMS pricing is less than the costs to develop and administer these tests, then investors will not invest in their development and companies can not afford to deliver them. In both cases both the patients that need them and the payment systems that benefit from the cost savings related to early diagnosis and treatment suffer.

This is a critical issue that can be addressed with the Centers for Medicare and Medicaid Services (CMS).  The current unsustainable reimbursement rates will have severe consequences if not corrected. It is time to develop a secure, transparent, and data-driven process to determine 2014 rates so that access to this important testing is not jeopardized.

Molecular diagnostic testing helps physicians identify which therapies an individual's cancer or disease is more likely to respond to so that they can start the patient on the appropriate treatment immediately. These tests eliminate trial and error treatments, save valuable healthcare dollars, and dramatically increase life longevity and quality of care for many patients. In order for labs to continue offering this kind of testing, it is imperative that reimbursement for companion diagnostics be adequate to support the cost of FDA cleared tests.

If labs conducting molecular diagnostic testing have to close or offer inferior testing due to Medicare reimbursement rates well below the cost of testing itself, our entire industry will suffer, resulting in lost jobs and lack of investment in research and development. Such a potentially dangerous domino effect could compromise innovation, tie the hands of the physician, and deprive patients of access to life-saving diagnostics.

As a representative of an industry that is responsible for groundbreaking advances in cancer medicine and the tests that will change the future of medicine for all of us, I respectfully request that you, as our Member of Congress, ask CMS to address these unsustainable reimbursement rates immediately and institute a process that fully considers all the costs of providing high quality molecular diagnostics.

If this issue is not addressed, I am concerned that innovations in cancer care and as well as diagnostics and treatment strategies for other life threatening diseases will be stunted and patients will be denied access to the best possible outcomes science can offer.

Thank you for your attention to this matter and for all that you do for the people of our country and our state.
Now that you have read what AZBio shared with our Arizona Congressional Delegation, what would you like to add?  Each of us  has a voice and a story.  Simply click below to access the information on how to share your thoughts with our elected leaders.  Each voice matters and every story makes an impact.  Please take a minute to share yours.
To get started, please click here.
Looking for leaders from outside of Arizona?  You will find their information here.
Important note:  All residents of a state have access to their Senators through the specific website contact link.  In the case of Members of the House, email systems are often limited to residents of their congressional district.  (Fax numbers have been provided to allow you to reach these offices.