In 2015, the U.S. Food and Drug Administration set a new record for the number of drugs approved in one year, with 56 drugs getting the green light from the federal agency.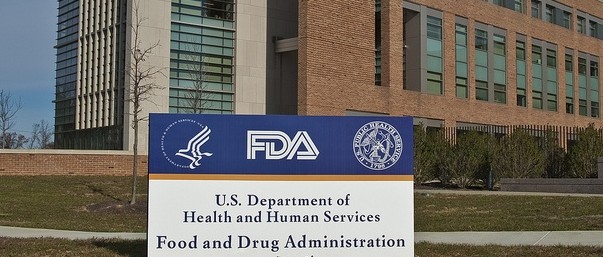 Last year's therapies, approved through the FDA's drug and biologics divisions, included 33 specialty drugs and 23 traditional drugs. The previous record number of FDA approvals was in 1996 with 53 drugs gaining clearance.
Specialty drugs to treat rare conditions, as well as complex diseases such as cancer, have accounted for the majority of FDA approvals for the past five years as drug manufacturers devote more time and money to developing specialized treatments. While the majority of drugs to gain approval in 2015 were specialty drugs, several new traditional drugs to treat heart failure present new treatment options for millions of Americans.
With new treatments for heart failure and high cholesterol, as well as the first biosimilar to gain approval, 2015 was a blockbuster year for drugs to gain FDA approval.
Biosimilars Reach the U.S.
On March 6, the FDA approved Zarxio® (filgrastim-sndz), a biosimilar product produced by Sandoz. The drug will compete with Amgen's Neupogen® (filgrastim) – a blockbuster treatment used to decrease rates of infection in certain cancer patients during chemotherapy.
Biosimilars have the potential to significantly lower the cost for safe and effective treatments for patients.
Cholesterol Breakthrough
Injected specialty drugs that lower cholesterol through inhibition of proprotein convertase subtilisin/kexin type 9 (PCSK9 inhibitors) also gained approval in 2015. These drugs offer additional treatment options for certain patients with high blood cholesterol and cost about $14,000 per patient annually.
Numerous ongoing clinical trials are looking at their use in concert with statins. If trials show they improve cardiovascular outcomes, use of these therapies could be extensive. Anywhere from 10 million to 20 million Americans may be candidates for therapy with a PCSK9 inhibitor.
Additional Breakthroughs
Nine new breakthrough therapies were approved in 2015, mostly to treat orphan conditions or certain types of cancer. These drugs represent new treatments for patients who previously had no options available.
The FDA approved a total of 15 new cancer drugs in 2015. Key breakthrough oral cancer drug approvals include Ibrance® (palbociclib), for the treatment of breast cancer; and Tagrisso™ (osimertinib) and Alecensa® (alectinib), which were approved for the treatment of certain patients with non-small cell lung cancer.
Key breakthrough orphan drug approvals include Orkambi® (lumacaftor and ivacaftor), for the treatment of cystic fibrosis; Strensiq® (asfotase alfa), for a rare metabolic bone disease; and KanumaTM (sebelipase alfa), for treatment for a specific enzyme deficiency.
New Treatments for Cardiac Patients
About 5.7 million Americans have heart failure – a chronic, progressive condition in which the heart is unable to pump enough blood to meet the body's need for blood and oxygen. Depending on the severity of illness, patients may manage their condition with dietary sodium and fluid restrictions, physical activity and attention to weight gain. Current prescription drug therapies include diuretics, vasodilators, inotropic agents, anticoagulants and beta-blockers.
Amgen's Corlanor® (ivabradine) can be used in heart failure patients who continue to have a high heart rate despite treatment. Novartis' EntrestoTM (sacubitril / valsartan) was approved in 2015 as therapy for heart failure patients and has been classified as a blockbuster drug.
About half of people who develop heart failure die within five years of diagnosis. These new drugs represent additional therapeutic options for patients with heart failure.
2015 FDA Approvals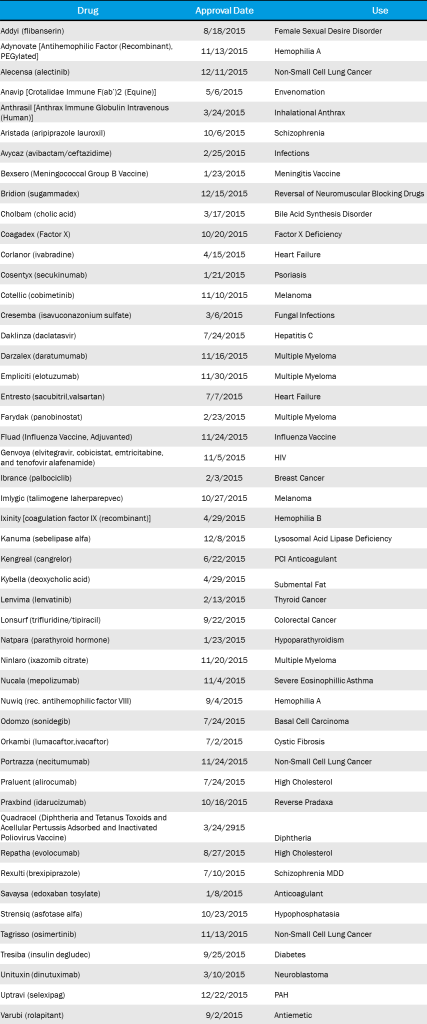 About the author:
Chris Peterson is a Director in the Emerging Therapeutics department at Express Scripts. He is responsible for monitoring and analyzing the pharmaceutical market, including the traditional drug pipeline and patent expirations. In his role, Chris contributes to timely communications on various clinical topics, including new drug approvals, generic drug approvals, new guidelines and landmark-study publications. Dr. Peterson also contributes to Express Scripts' Drug Trend Report. The Emerging Therapeutics department produces several proprietary reports on the pipeline and patent landscape for use by Express Scripts' employees and clients. The Emerging Therapeutics department is also responsible for the safety program that alerts patients, physicians and clients to important information regarding serious drug safety alerts and market withdrawals.

Dr. Peterson has spent 16 years in the pharmacy-benefit-management industry. He received his Doctor of Pharmacy degree from the University of Minnesota, College of Pharmacy. He also completed an Ambulatory Care residency at Regions Hospital in St. Paul, MN.
This post originally appeared on lab.express-scripts.com and is reposted with permission.