Flagship Biosciences' completes its 400th study with tissue image analysis, and fit-for-purpose IHC and ISH assay development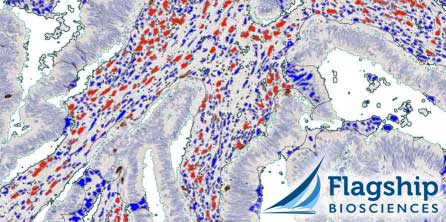 April 5, 2015 — Westminster, CO. Since 2009, Flagship Biosciences has grown to become recognized as the clear industry leader in the delivery of precision pathology reports quantifying a given endpoint in tissue studies. These reports are used in discovery and CLIA clinical trials for measuring a critical biological endpoint for drug or device development. Flagship has reached an important company milestone with the delivery of the 400th Flagship Report™. These publication quality reports provide a concrete foundation for critical decisions in biotech and pharmaceutical board rooms, and describe in detail the use of digital pathology and tissue image analysis for fit-for-purpose applications. In order to fulfill these services, Flagship Biosciences employs over 50 people, including multidisciplinary teams of pathologists, Ph.D. biology and image analysis scientists, histologists, project managers, regulatory and biostatistics personnel.
"This is an exciting milestone for Flagship Biosciences," said Dr. David Young, Chief Executive Officer of Flagship. "To be able to precisely measure pathology endpoints in tissue takes a remarkable coordination of cross—functional expertise, including veterinary and MD pathologists, Ph.D. scientists in biology and image analysis, histologists, biostatisticians, and technical and regulatory staff. We are proud of our accomplishments and growth since 2009, and the widespread usage of these Flagship Reports™ in the industry demonstrate the value they deliver."
Flagship provides assay development in immunohistochemistry (IHC) and DNA and RNA in situ hybridization (ISH) designed for use with tissue image analysis. Of the 400 studies, dozens have been successfully completed in the area of tumor immunology in the last several years, an area of growing demand with exciting impact on patient care. Flagship supports regulatory submissions for drugs and devices in NDA and IDE submissions, and excels in the creation of software utilized under regulated environments for tissue image analysis.
About Flagship Biosciences
Flagship Biosciences, the industry leader in tissue image analysis, advances personalized medicine by quantifying and simplifying complex pathology. The company's comprehensive "fit-for-purpose" image analysis platform transforms conventional, subjective methods of histopathology with clear actionable data to speed global drug development and approval.
Pathology. Precisely.
Contact Information:
For general inquiries and sales:
Email- PathServices@FlagshipBio.com
Phone- (303) 325-5894