Flagship Biosciences, the largest tissue image analysis provider for the drug development industry, is pleased to announce a website redesign, which highlights our advanced technology and clinical readiness needed to support image analysis based companion diagnostic strategies for the pharmaceutical industry.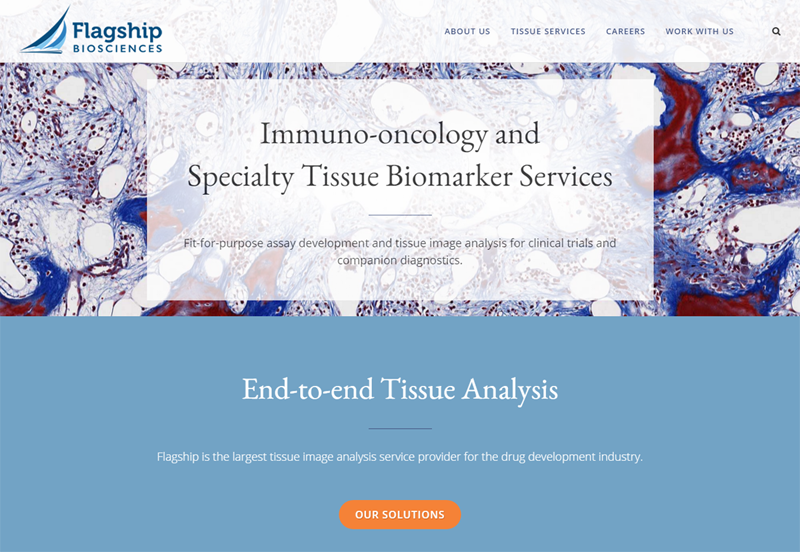 The website also highlights their 13,000 square foot histology and image analysis laboratory that hosts Flagship's fast growing quantitative pathology team, with a roster of dedicated pathologists, scientists, and technology experts who all collaborate to meet client objectives .
Flagship's growth has been accelerated by the adoption of our technology to assist in the creation and interpretation of high complexity IHC assays in the field of immuno-oncology.   The new website emphasizes our advanced capabilities and clinical readiness to support image analysis based companion diagnostic strategies in the immuno-oncology field.
"With the overhaul of our website, we hope to better communicate our message of quality and scalability to the drug development industry," said David Young, CEO and President of Flagship. "We have grown quickly over the past six years, and needed a new website to reflect our scalable processes and analysis systems."
The website can be found at flagshipbio.com.
– About Flagship Biosciences
Flagship Biosciences, the industry leader in digital tissue analysis, advances personalized drug development by quantifying and simplifying complex pathology.  The company's comprehensive "fit for purpose" image analysis platform transforms conventional, subjective methods of histopathology with clear actionable data to speed global drug development and approval.