Flagship Biosciencs expands quantitative histopathology services into neurodegenerative disease and neurotoxicity
Stereological and classical image analysis approaches help to more accurately quantify neuropathology and model treatment efficacy
Phoenix, AZ — July 9, 2012 — Flagship Biosciences, a leading provider of tissue analysis for pharmaceutical and medical device development, has expanded services with dedicated staff and novel techniques in neuroscience pathology services.
The central nervous system is a fundamental part of the human body's response system. As life expectancy lengthens, a wide range of disorders (including Alzheimer's, Parkinson's, Huntington's, MS, dementia and depression), are becoming increasingly widespread in the population creating an ever greater need for new pharmaceutical therapies.
The ability to measure changes associated with these disorders relies on two dimensional observations taken from histology sections and observed by trained scientists or pathologists. Flagship's brightfield and fluorescence whole slide imaging, combined with powerful custom image analysis techniques increases throughput, decreases variability and allows the evaluation of changes to both labeled and unlabeled neuronal and non-neuronal cells.
To drive Flagship's expansion in the neurodegenerative disease area, Dr. Anthony J Milici has joined the company as Director of Neurosciences and Inflammation. Dr. Milici was previously head of a neuroscience imaging lab with Pfizer, where he directed a team of researchers and novel histopathology imaging techniques in neuroscience, oncology, and inflammation areas. He is a well-respected leader in histopathology imaging in the neurosciences community with his work on amyloid plaque quantitation presented at multiple conferences.
"It is exciting to apply Flagship's novel whole tissue section mapping software to neurodegenerative and neurotoxicological problems," said Dr. Milici. "The ability to utilize automated computer-based algorithms in applying the most appropriate image analysis or stereological technique has the potential to open up a greater understanding of the pathological basis of disease."
"The critical piece in delivering excellence in a disease area like neuroscience is the biological domain expert scientist and leader who can bring together the strengths of pathology, histology, image analysis, and biostatistics," said Dr. Steven Potts, CEO of Flagship Biosciences. "Dr. Milici has been a leader and pioneer in the application of new whole slide imaging techniques in neurobiology for a number of years, and we are honored to have him join our team."
In addition to quantitative tissue assays like plaque load, tau, Huntingtins, astrocyte or microglial activation, Flagship is also developing a number of new approaches utilizing cross-sectional cell mapping to quantify endpoints such as cerebral microhemorrhage, vascularity changes, cell loss and synaptic changes. These assays will assist small molecule and biological drug development programs in the evaluation of efficacy and toxicity
With the recent acquisition of IHCtech histology services, Flagship adds a strong capability in neurological sectioning and immunohistochemistry techniques. IHCtech has optimized over 350 IHC research antibodies for use in research areas of neurology, oncology, inflammation, diabetes and other areas.
Flagship Biosciences is a fast-growing histopathology services firm staffed with world-class talent in image analysis, MD and veterinary pathology, and pharmaceutical science. Flagship supports multiple ongoing projects in the area of tissue-based companion diagnostics development.
_____________________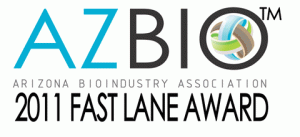 Flagship Biosciences was a 2011 recipient of the AZBio Fast Lane Award which recognizes  The select few companies that have achieved outstanding milestones in the past 18 months.  Significant progress can be measured by clinical results, regulatory approvals, certifications, collaborations, funding awards, product launches, job growth or product sales milestones.
Learn more about Flagship Biosciences, L.L.C. at http://flagshipbio.com/