Registry Study of GammaTile Surgically Targeted Radiation Therapy (STaRT) in Intracranial Brain Neoplasms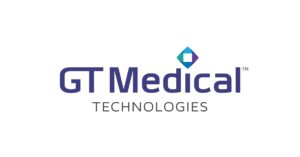 TEMPE, Ariz., May 30, 2023—GT Medical Technologies, Inc., a medical technology company dedicated to improving the lives of patients with brain tumors, announced its 200th patient enrolled in the clinical Registry study. There are currently 31 sites actively enrolling patients in the Registry to demonstrate further the clinical safety and efficacy of FDA-cleared GammaTile Therapy.
GammaTile Therapy is a groundbreaking brain tumor radiation treatment implanted immediately at the completion of brain tumor removal surgery. The bioresorbable collagen tiles are embedded with radiation sources. GammaTile delivers targeted radiation to help prevent brain tumor cell regrowth. This study is enrolling patients with newly diagnosed and recurrent brain tumors, including glioblastomas, metastatic brain tumors, aggressive meningiomas, and other brain tumor types.
"We are thrilled with the broad adoption of GammaTile Therapy by more than 90 hospitals in the U.S., including some of the world's leading brain tumor treatment centers," said Matthew Likens, president and CEO of GT Medical Technologies. "We continue to invest heavily in clinical trials while educating the neurosurgical community about the significant patient advantages of GammaTile Therapy.
Over 5 years, the Registry will collect follow-up information on local control, overall survival, quality of life, functional status, and surgical and radiation-associated adverse events. The data will help demonstrate why GammaTile Therapy should be considered as a preferred option for patients with operable brain tumors.
"We now have more than 30 sites participating in the Registry. We are excited to see their dedication to enrollment and providing us with valuable data on their patients' outcomes," said Lisa Campbell, PhD, vice president of Clinical Affairs. "We are hopeful that this wealth of real-world data will lead to increased availability of GammaTile Therapy in hospitals and institutions across the country for patients in need."
About GT Medical Technologies, Inc.
Driven to raise the standard of care and improve the lives of patients with brain tumors, a team of brain tumor specialists formed GT Medical Technologies with the purpose of improving the lives of patients with brain tumors. FDA-cleared GammaTile is a Surgically Targeted Radiation Therapy (STaRT) that treats patients with newly diagnosed malignant and recurrent brain tumors. This "one-and-done" treatment eliminates the need for one to six weeks of daily external beam radiation therapy, allowing patients to go about their daily lives without the burden of additional trips to the hospital or clinic for ongoing treatment. Since its full market release in the United States in March 2020, GammaTile Therapy is now offered in more than 80 hospitals, with more participating centers each month. For more information, visit www.gtmedtech.com and follow @GammaTile on Twitter and LinkedIn.
Media contact:
Lori Kagan