Financing Will Help Expand Access to GammaTile® Therapy for Patients with Newly Diagnosed and Recurrent Brain Tumors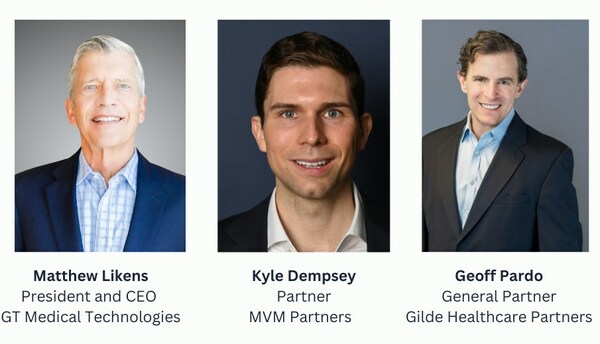 TEMPE, Ariz., March 23, 2023 /PRNewswire/ — GT Medical Technologies, Inc., a medical device company dedicated to improving the lives of patients with brain tumors, announced that it has raised $45 million in a Series C financing led by Gilde Healthcare Partners with participation from existing institutional investors MVM Partners, MedTech Venture Partners, and BlueStone Venture Partners.
Funds from this round will support the expanded commercialization of GammaTile Therapy, an FDA-cleared, Surgically Targeted Radiation Therapy (STaRT) for patients with operable brain tumors. In addition, the funding will support its clinical study plans to further validate improvements in overall survival, progression-free survival, and quality of life for patients with brain metastases, glioblastomas, and meningiomas.
"We are excited that this funding will help us reach more patients with operable brain tumors," said Matthew Likens, president, and CEO of GT Medical Technologies. "GammaTile is an important innovation for these patients who need better treatment options. Unlike traditional radiation therapy, which cannot be initiated until several weeks after brain tumor removal surgery, STaRT enables patients to begin receiving radiation treatment at the time of their tumor removal surgery. This gives patients a head start against tumor regrowth."
"Our focus is making state-of-the-art medical advancements like GammaTile more available to patients to address unmet clinical needs and ultimately improve the standard of care. It's gratifying to know that we're enabling GT Medical Technologies to improve the lives of more patients with brain tumors," commented Geoff Pardo, General Partner, Gilde Healthcare Partners.
"We are impressed by the company's strong commercial traction. Our confidence in the business led us to invest above our current ownership level, and we are excited by the opportunity to help make GammaTile transform the standard of care for patients with brain tumors," added Kyle Dempsey, Partner of MVM Partners and GT Medical board member.
GammaTile Therapy is a groundbreaking brain tumor treatment implanted at the completion of brain tumor removal surgery. GammaTile Therapy delivers immediate, targeted radiation helping to eradicate brain tumor cells before they can replicate post-surgery. GammaTiles are bioresorbable collagen tiles embedded with radiation sources. This latest advancement in brain tumor treatment has shown favorable clinical outcomes in patients with glioblastomas, metastatic brain tumors, and aggressive meningiomas.
About GT Medical Technologies, Inc.
Driven to raise the standard of care and improve the lives of patients with brain tumors, a team of brain tumor specialists formed GT Medical Technologies with the purpose of improving the lives of patients with brain tumors. FDA-cleared GammaTile is a Surgically Targeted Radiation Therapy (STaRT) that treats patients with newly diagnosed malignant and recurrent brain tumors. This "one-and-done" treatment eliminates the need for one to six weeks of daily external beam radiation therapy, allowing patients to go about their daily lives, without the burden of additional trips to the hospital or clinic for ongoing treatment. Since its full market release in the United States in March 2020, GammaTile has been offered in more than 80 hospitals, with more centers being added each month. For more information, visit www.gtmedtech.com and follow @GammaTile on Twitter and LinkedIn.
About Gilde Healthcare Partners
Gilde Healthcare is a specialized healthcare investor managing over $2B across two fund strategies: venture & growth capital and private equity. The Venture & Growth fund of Gilde Healthcare invests in fast growing companies active in therapeutics, digital health and medtech. The venture & growth companies are based in Europe and North America. The Private Equity fund of Gilde Healthcare participates in profitable lower mid-market healthcare companies based in North-Western Europe. For more information, visit the company's website at www.gildehealthcare.com.
About MVM Partners
MVM has invested in high-growth healthcare businesses since 1997. The firm has a broad, global investment outlook spanning medical technology, pharmaceuticals, diagnostics, digital health, and other sectors of healthcare. For more information, visit the company's website at MVM.com.
Media contact:
Lori Kagan
lkagan@gtmedtech.com
SOURCE GT Medical Technologies(PR Newswire0
https://www.prnewswire.com/news-releases/gt-medical-technologies-raises-45-million-in-oversubscribed-series-c-financing-led-by-gilde-healthcare-301780190.html