Representative Eric Meyer serves as House Minority Leader in the Arizona House of Representatives.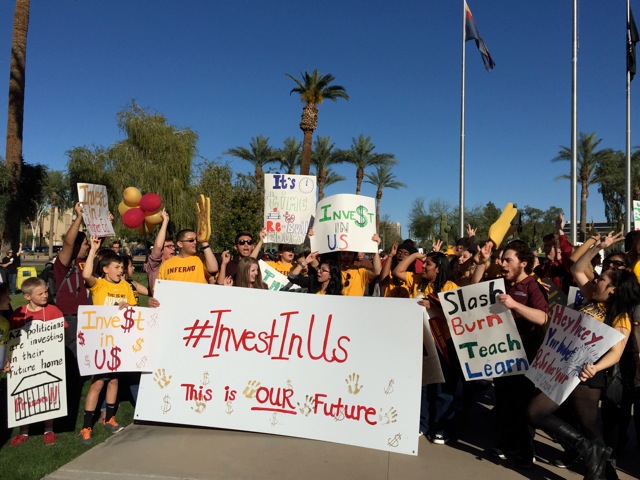 Chanting, "No More Cuts, No More Cuts," parents, students, teachers, and taxpayers marched in front of the Capitol during the budget debate, sending a message to Governor Ducey and state legislators that this new budget deal is bad for Arizona. ASU students marched from the downtown campus to the Capitol, school groups from Chandler, Gilbert, and Glendale joined the demonstration, and a number of senators and representatives left their offices to visit with protest participants.
Higley School District parent Meredith Simpson's four daughters walked with their high school graduation years marked on gold balloons: 2019, 2022, 2026 and 2030.  Three Phoenix Union sophomores spoke about having too many substitute teachers, losing the arts in their schools, and worrying that they won't be prepared for the colleges they hope to attend.  A local teacher said at times she has had up to 40 students in her class. She added that her ideal class size is 24 students. ASU students told everyone who would listen that they couldn't afford any additional tuition hikes and didn't want to take out any more loans.
The signs, balloons and strollers were a festive sight, but make no mistake; this is a serious fight over Arizona's future.  At a time when two-thirds of all jobs require post-secondary schooling and our state needs to invest in education, this budget's numbers don't add up.
Governor Ducey's proposed budget was bad; this budget, worked out behind closed doors and passed by the House and Senate, is worse.  Because the compromise excludes new revenue sources, the budget now increases the cuts to our universities from $75 million to $99 million and eliminates all state funding for community colleges in Pima and Maricopa Counties.  The governor defended the proposed budget, telling us to "tighten our belts" and saying "it's irresponsible to spend money we don't have."  But all along, he's been supporting tax-giveaways to corporations that amount to $675 million over the next three years.  Additionally, he supports sales tax loopholes and state income tax write-offs that could bring in millions more.
If tax cuts worked, our economy would be rebounding more quickly from the recession.  We've been cutting taxes in Arizona for ten years, yet our unemployment is a full percentage point above the national rate and our median income level is stagnant.  Former Speaker of the Arizona House of Representatives and current Board of Regents Chair Mark Killian addressed the House Appropriations Committee recently and said, "Our policies have been wrong."
I do not believe that Arizonans support these cuts to education.  The move to adopt this budget quickly did not give the public an opportunity to understand the details and did not give this important process the transparency it deserves.  My colleagues and I know that a mandate to public schools to cut "non-classroom" expenses by 5 percent is just a further elimination of essential educational services that support the learning process in our schools.  And the continued cuts to higher education have resulted in higher fees and tuition in the past that are just a de facto tax increase on our middle-class families.
What happened at the Capitol during the budget debate was important.  Education supporters raised their voices on behalf of our children and their schools.  It is unfortunate that our governor was not listening.  We have had a setback, and I am disappointed.  But our work must go on. Our kids and our state deserve better.
About the  Author: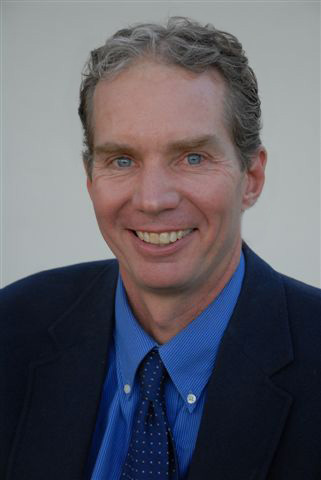 Representative Eric Meyer serves as House Minority Leader in the Arizona House of Representatives.
Dr. Meyer earned a degree in Economics from the University of Southern California and his medical degree from University of Arizona Medical School. His post-graduate training was in the specialty of emergency medicine at Oregon Health Sciences University.